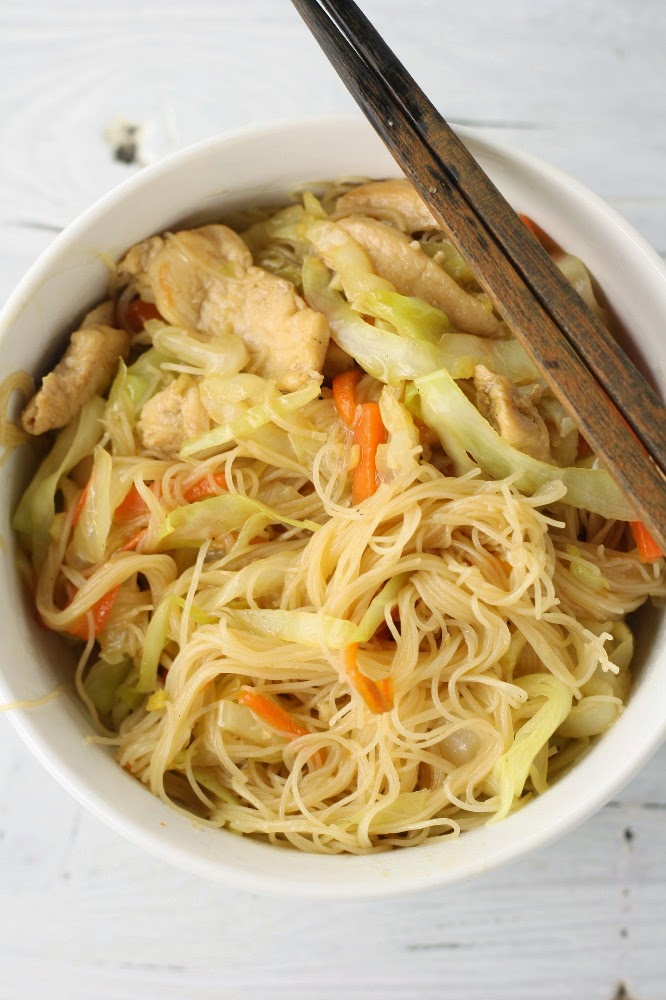 When you hear of Singapore street noodles, what's the first thing that comes to mind? If you're like us, it's probably the dish from the regular and gluten-free menus at P.F. Chang's. But what makes Singapore street noodles what they are? From what we can gather, it's the combination of vermicelli rice noodles, vegetables, often shrimp and/or chicken, and a light sauce. A hallmark of Western versions is curry, common to both the P.F. Chang's version and copycat recipes. However, according to at least one writer who's actually eaten noodle dishes on the streets of Singapore, the curry flavor profile is nowhere to be found.
Our version similarly foregoes the curry in favor of an easy-to-make sauce that's both complex and light in flavor. We opt for chicken, though you could easily substitute or add shrimp, or likewise omit both and bolster the vegetables to make it a more substantial vegetarian meal. Our last tip: do all the prep work first, then start your cooking. Making this dish is a snap when you have a few bowls lined up (mise en place) with your carrots, cabbage, chicken, garlic and ginger, and sauce.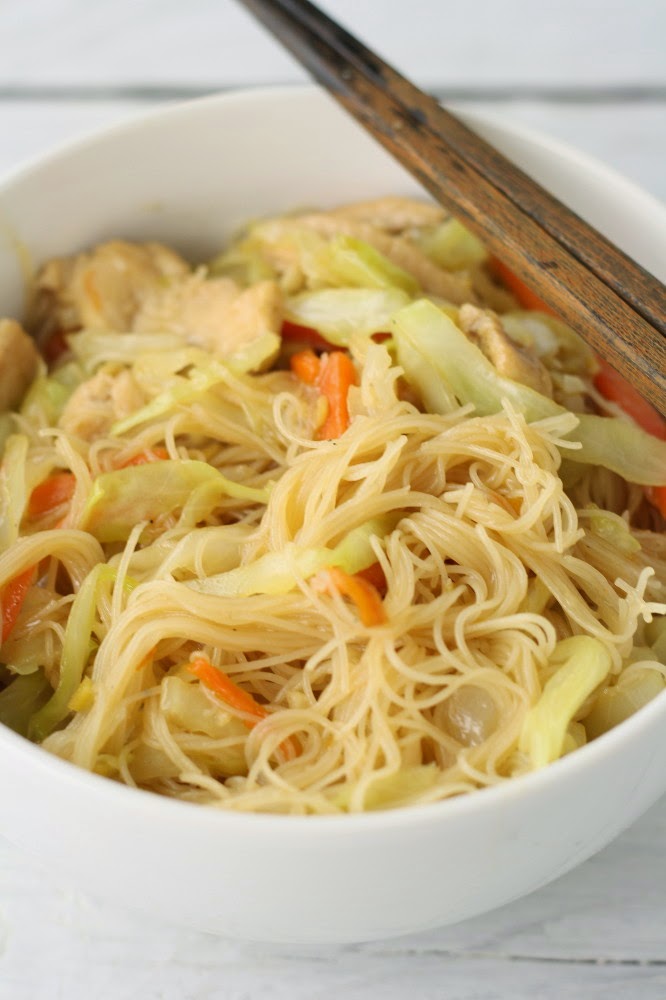 Singapore Street Noodles
Makes 4 servings
Ingredients
3 to 4 medium carrots, cut into matchsticks
1/2 head green cabbage, sliced thin or shredded
2 boneless, skinless chicken breasts, thinly sliced
4 large garlic cloves, minced
1 to 1.5 inches fresh ginger, minced
Olive oil
Salt
8 ounces vermicelli rice noodles
For the chicken marinade
1 tbsp GF tamari wheat-free soy sauce
1 tbsp sherry
1 tbsp sesame oil
For the sauce
1/2 cup water
3 tbsp mirin
2 tbsp GF tamari wheat-free soy sauce
2 tbsp fish sauce
1 tbsp olive oil
2 tsp cornstarch
1 tsp rice vinegar
1 tsp sherry
1/4 tsp sesame oil
Steps
1. Place the sliced chicken breast in a small bowl, add the marinade, toss to coat, and let sit while you prepare the first steps of the recipe. Bring a large pot of water up to a boil.
2. In a large skillet, saute the carrots in about 1 tbsp olive oil over medium-high heat until al dente.
3. Add the cabbage to the skillet, drizzle with an additional 1 to 2 tbsp olive oil, lightly salt, and continue sautéing to wilt and cook down the cabbage, until al dente and reduced in volume by 1/3 to 1/2. Remove the cabbage and carrots from the pan.
4. Add the chicken and marinade to the skillet, and cook until the chicken is done.
5. Add a tsp of olive oil to the chicken, then add the garlic and ginger and saute just until fragrant, about 1 minute.
6. Add the cabbage and carrots back to the skillet, and toss everything to evenly mix.
7. Add the vermicelli rice noodles to the pot of boiling water and cook until al dente, only 1 to 2 minutes. Drain and add the noodles to the skillet.
8. Whisk together all sauce ingredients, then pour the sauce over the noodles in the skillet. Toss to evenly coat the noodles, chicken, and veggies and cook for 1 to 2 minutes, until the flavor has melded.
Enjoy!
–Pete and Kelli