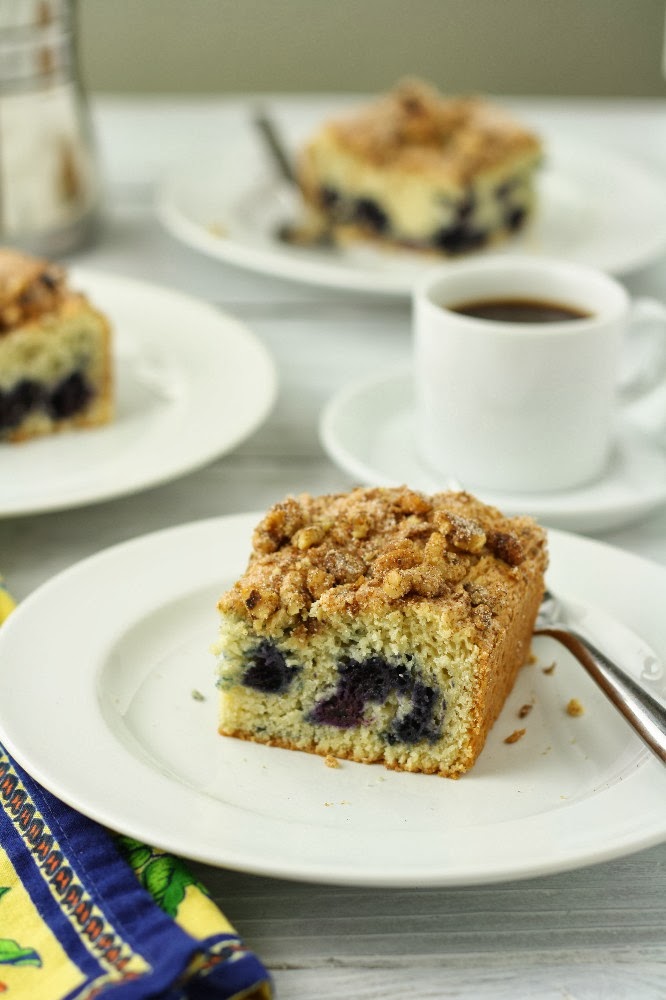 Between my mother and father's sides of the family, my mom's was by far the more "culinary" branch of the family tree. There were, of course, some exceptions, such as my paternal grandmother's nut cups. But one of my other strong food memories from that side of the family was the ubiquity of an Entenmann's coffee cake—a rich, moist cake with a cinnamon crumb topping and a generous dusting of powdered sugar. It was as much a part of that kitchen as a gallon of milk and a dozen eggs. You made sure you didn't run out of any of the three.
To this day I retain a strong fondness for a good square of coffee cake. In recent years, Kelly Brozyna's coffee cake recipe from Grain-Free Baked Goods and Desserts has been one of our go-to options. We've recently been experimenting, though, with a "more traditional" gluten-free coffee cake, built upon inspiration from an old recipe from the family of one of Kelli's childhood friends that's been sitting tucked away on a piece of paper in our recipe binder.
After a few iterations, this gorgeous (and delicious … though doesn't every food blogger say that about their own recipes!?) blueberry-walnut coffee cake is the result. It's both gluten-free and dairy-free.
You'll notice more gluten-free and dairy-free recipes coming from us in the near future. Timothy, already rapidly approaching his two month birthday, has proven to be a bit of a colicky baby. Don't get me wrong—on the average he's a very agreeable and happy baby. But he has times when he's pretty out of sorts. And so we're doing all we can to make him comfortable, including giving him a daily dose of infant-appropriate probiotics, which recent research suggests could help.
We're also avoiding what seem to be trigger foods in Kelli's diet, since we're breastfeeding Timothy. After an elimination diet and then adding back in foods one at a time to see how our little man responds, dairy has proven one of his red flags. And so as a family we've made a pretty big shift. Our refrigerator is absent cow's milk, replaced by soy, coconut, and almond milks. And our baking has moved to dairy-free alternatives to milk, cream, butter, etc.
But one bite of this delectable coffee cake and we're convinced you wouldn't know the difference.
Blueberry-Walnut Coffee Cake
Makes one 8-inch square pan
Ingredients
2 cups (250 g) Artisan Gluten-Free Flour Blend
3/4 cup sugar
1 tbsp GF baking powder
1 tsp xanthan gum
1/2 tsp kosher salt
1/2 cup coconut oil, melted (or vegan shortening)
3/4 cup almond milk (or coconut milk)
2 eggs
1 tsp GF pure vanilla extract
1 cup fresh or frozen blueberries
For the topping
1/3 cup chopped walnuts
2 tbsp sugar
1/2 tsp ground cinnamon
Steps
1. Preheat the oven to 350 degrees F. Grease an 8-inch square baking pan.
2. In a bowl, whisk together the flour, sugar, baking powder, xanthan gum, and salt.
3. Use your hands or a pastry blender to incorporate the coconut oil or shortening completely into the flour mixture.
4. In a separate bowl, whisk together the milk, eggs, and vanilla extract.
5. Add the wet ingredients to the dry and whisk to combine. The batter will be thick.
6. Stir in the blueberries.
7. Spread the batter into the prepared pan.
8. In a small bowl, mix together the walnuts, sugar, and cinnamon. Sprinkle the mixture over the batter.
9. Bake for 40 minutes, until a toothpick inserted in the center comes out clean.
Enjoy!
–Pete and Kelli