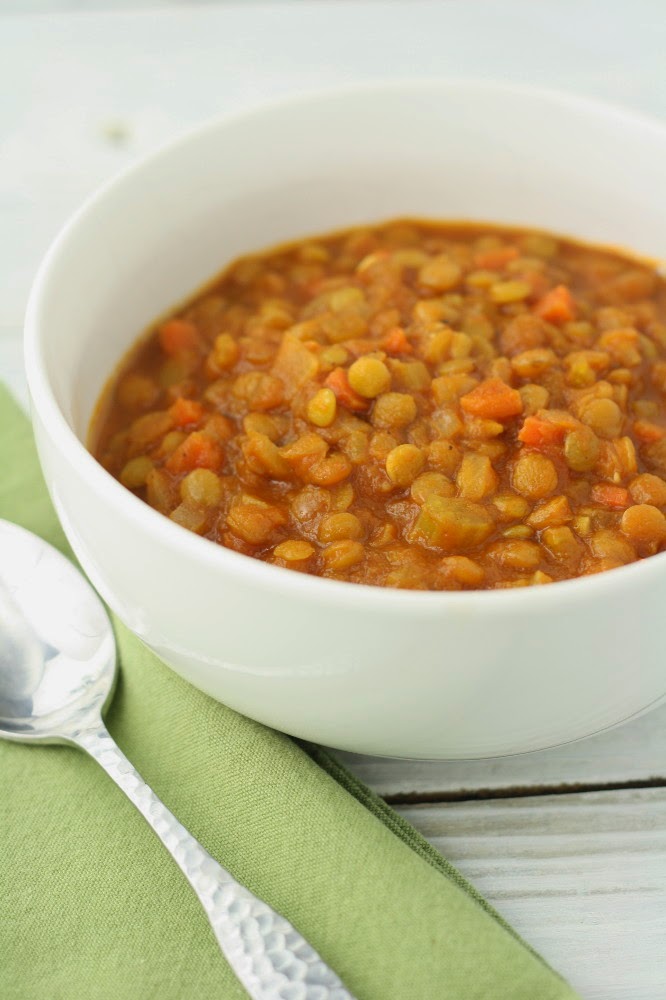 As I write these words, large swaths of the country are getting battered by another round of winter storms, not to mention yet one more cameo by the now-infamous Polar Vortex. A consistent drumbeat in my Facebook feed has been along the lines of "Enough cold! Enough snow! Let winter be over!"
I, for one, say "bring it on!" I'm not ready for winter to be over just yet. But that doesn't mean I don't appreciate a soul-warming bowl of mid-winter stew as much as the next person. That's where this recipe for lentil-tomato stew comes in.
It's easily made vegetarian/vegan, yet has a hearty quality that keeps you filled and satisfied.
Lentil-Tomato Stew
Makes 4 servings
Ingredients
2 tbsp olive oil
1 medium onion, diced (about 1 cup)
2 small carrots, diced small (about 1/2 cup)
2 small celery stalks, diced small (about 1/2 cup)
1/2 tsp ground cumin
1/2 tsp ground coriander
1/8 tsp ground cinnamon
1 cup green or brown lentils, rinsed
One 6-oz can tomato paste
4 cups GF low-sodium chicken broth or stock
1 cup water
1 bay leaf
Juice of half a lemon (about 2 tbsp)
Salt and pepper
Steps
1. Saute the onion, carrots, and celery in the olive oil over medium heat until very soft, about 10–15 minutes.
2. Add the cumin, coriander, and cinnamon and saute until fragrant, about 30 seconds.
3. Add the lentils, tomato paste, chicken broth, water, and bay leaf and bring up to a simmer.
4. Cook for 60 minutes until the lentils are soft.
5. Add the lemon juice, then salt and pepper to taste.
* To make this recipe vegetarian/vegan, simply substitute vegetable broth or stock for the chicken.
Enjoy!
–Pete and Kelli