So, it may still be August, but this recipe brings us back to holiday parties at our grandparents' houses as children. Nut cups like these were a regular seasonal staple. The combine an easy gluten-free crust with a tasty nut filling. They're not inherently very sweet, so topping them with a dusting of powdered sugar really balances out the flavors. Just be careful—like a Lay's potato chip, once you pop the first one, many more may be soon to follow.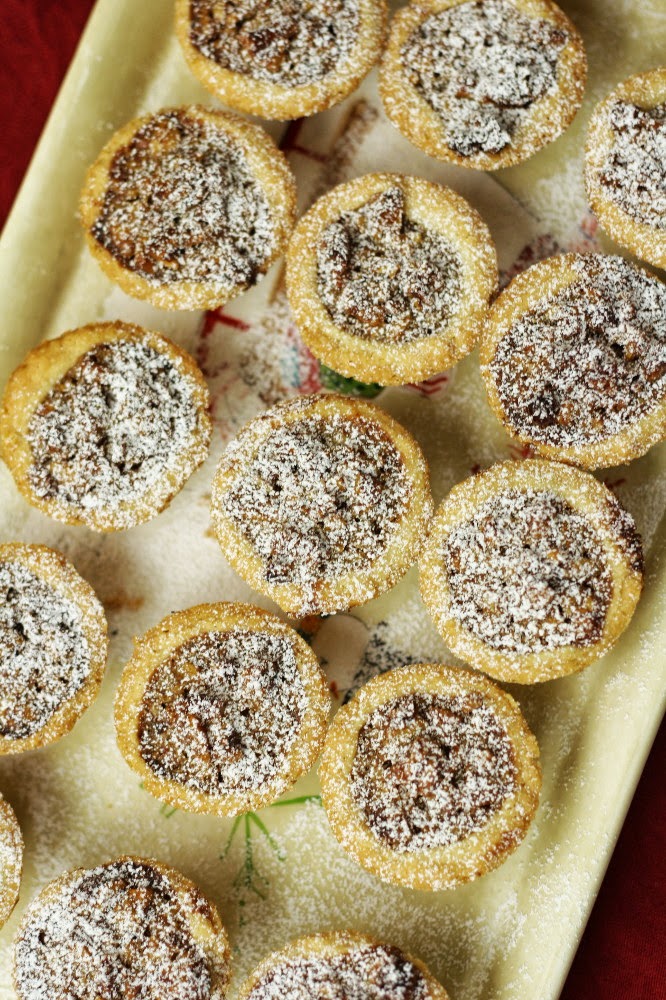 Nut Cups
Makes 24
Ingredients
For the crust
4 ounces cream cheese, room temperature
8 tbsp butter
1 cup (125 g) Artisan Gluten-Free Flour Blend
1/2 tsp xanthan gum
For the filling
1 tbsp melted butter
1/4 cup agave nectar
1 tsp GF pure vanilla extract
1 egg
1 cup chopped pecans or walnuts
Powdered sugar (optional)
Steps
1. Preheat the oven to 350 deg F.
2. Cream together the cream cheese and butter.
3. Whisk together the flour and xanthan gum, then add to the cream cheese and butter. Mix until a smooth dough forms.
4. Divide the dough into 24 balls and press each ball into the cups of a mini muffin tin to form the crust cups. Set aside.
5. Whisk together the butter, agave, vanilla, and egg.
6. Add the nuts, stir to mix, and divide between the mini muffin cups.
7. Bake for 25 minutes, until the edges are golden brown and the filling is slightly puffed.
8. Remove from the oven and let cool in the muffin tin. Sprinkle with powdered sugar before serving.
Degrees of Free-dom
This recipe is: gluten/wheat-free, peanut-free, soy-free, fish-free, shellfish-free, vegetarian.
To make this recipe corn-free, substitute arrowroot or another option for the cornstarch in our flour blend, and use a corn-free powdered sugar.
To make this recipe refined-sugar-free, simply omit the powdered sugar.
To make this recipe dairy/lactose/casein-free, try substituting vegan shortening for the butter and non-dairy cream cheese for the dairy cream cheese.
Enjoy!
–Pete and Kelli