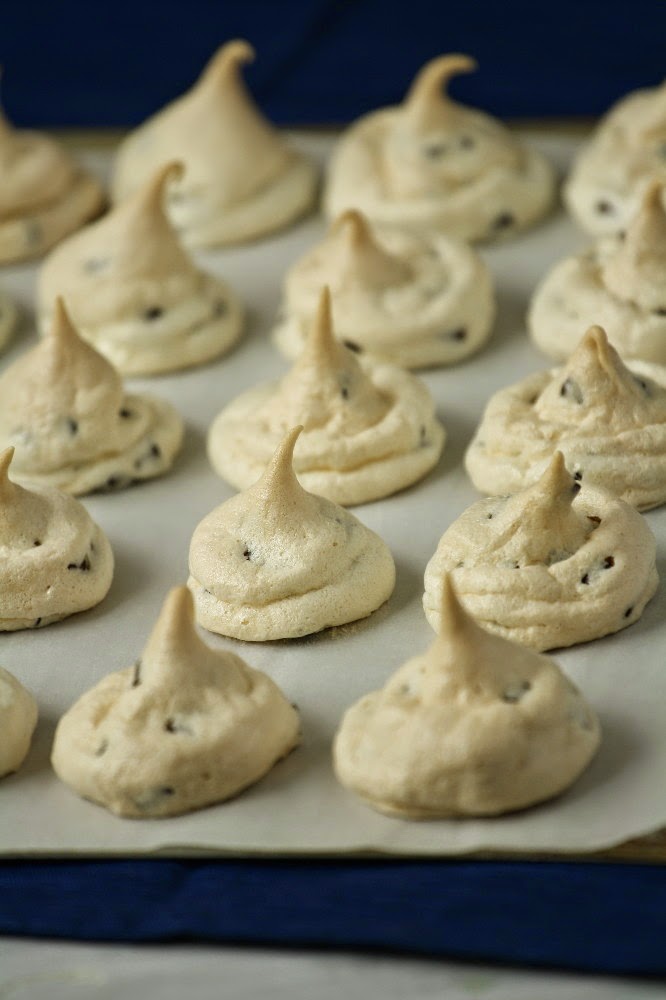 We've been in a major recipe development and testing mode lately. A good chunk of it involves baking, and invariably, that means that we sometimes end up with either surplus egg yolks or egg whites in our fridge that didn't make it into recipes. The question then becomes what to do with those ingredients? When it came to a recent surplus of egg whites, these simple but tasty meringues were the answer. You can pop 'em like candy. We sure did!

Almond Chocolate Chip Meringues
Makes 90
Ingredients
6 egg whites
1/4 tsp cream of tartar
1/4 tsp salt
1 tsp GF pure almond extract
1 1/3 cups granulated sugar
1 1/3 cups mini chocolate chips
Steps
1. Preheat the oven to 300 deg F.
2. In the bowl of an electric mixer, mix the egg, cream of tartar, salt, and almond extract, and with the whisk attachment, beat until soft peaks form.
3. Add the sugar a little at a time, until all is added and stiff peaks form.
4. Remove the whisk attachment and fold in the mini chips by hand with a spatula.
5. Line cookie sheets with parchment paper.
6. Use either a spoon or pastry bag with open or star tip to make about 1-tbsp-dollops of batter, 30 per sheet.
7. Bake for 30 minutes, until lightly golden brown and dry to the touch.
Degrees of Free-dom
This recipe is: gluten/wheat-free, peanut-free, fish-free, shellfish-free, soy-free, corn-free, grain-free, vegetarian.
Notes
If you bake more than one cookie sheet in your oven at a time, rotate them from the top to the bottom rack and vice versa half through the baking.
Enjoy!
–Pete and Kelli