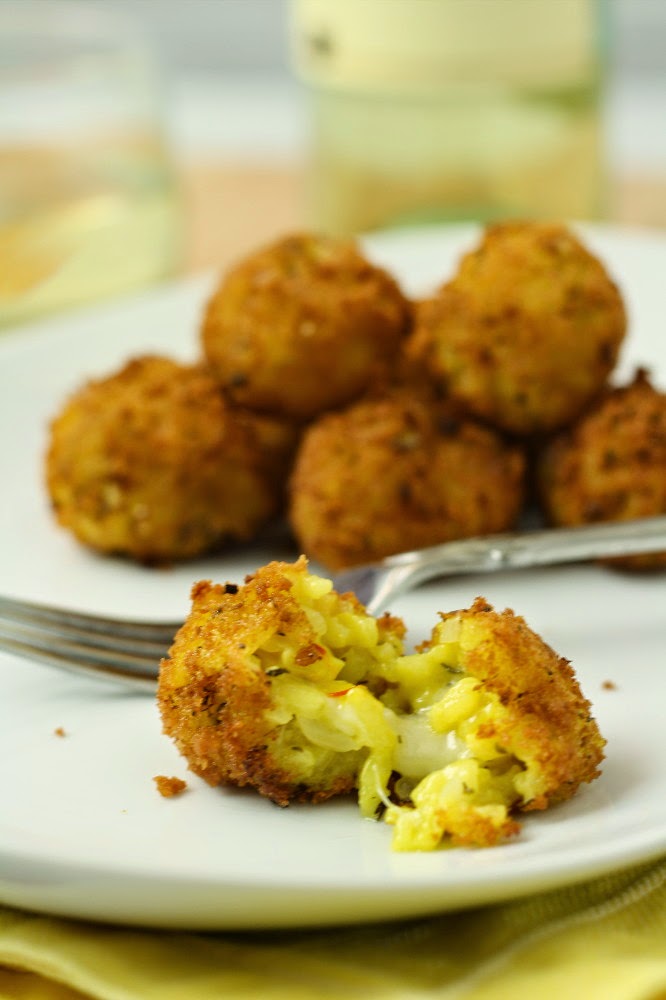 Heritage is a funny thing. When you grow up with a certain flavor profile and ingredients in your foods, it becomes a part of you. (Or was it already a part of you, since the heritage was quite literally in your blood?)
So it seemed with these arancini. They're a dish that originated in Sicily about one thousand years ago. Risotto, formed into balls, often stuffed with mozzarella or ragu or tomato sauce, breaded, and finally deep fried.
I don't know that I ever ate arancini as a kid. If I did I have no memory of them. But my grandfather's side of the family hails from Sicily (as I'm sure I've written before, they immigrated to the United States through Ellis Island), and both Sicilian and Italian-American fare were staples of my family's diet.
Which is perhaps why, when I bit into my first arancini while we were testing this recipe, I already felt like I was home. The flavors, the ingredients, the experience were all familiar, even as the recipe itself was new.
But you don't have to be Sicilian to appreciate these arancini.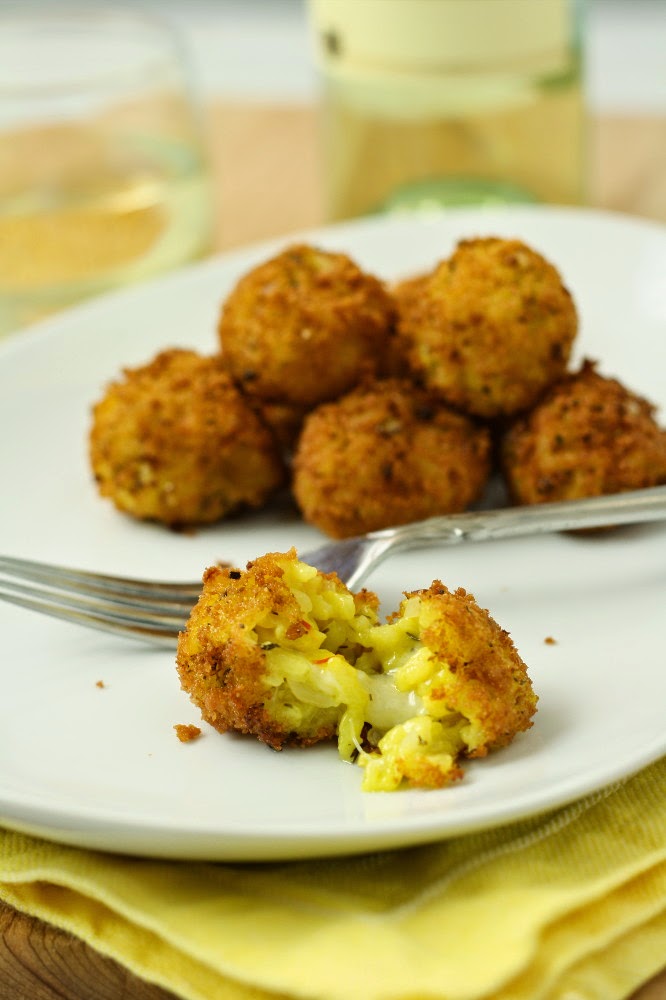 Arancini
Makes 30
Ingredients
For the risotto
1 large pinch saffron (optional)
1 cup dry white wine
3 tbsp olive oil
3 tbsp butter
1 medium yellow onion, finely diced
1 garlic clove, minced
3 cups GF chicken broth
2 tsp dried thyme
1 cup Arborio rice
1/2 cup shredded Parmesan cheese
For the arancini
30 quarter-inch cubes mozzarella cheese
1 cup Italian-seasoned GF bread crumbs
1 1/2 liters (48 fl. oz.) frying oil
Steps
1. Add the saffron to the white wine and set aside (in your liquid measuring cup is fine).
2. In a wide-bottom pot, heat the olive oil and butter until the butter is melted over medium-low heat.
3. Add the onions and garlic, and cook until softened, about 5 minutes.
4. Meanwhile, in a separate saucepan, bring the chicken broth to a simmer.
5. Add the thyme and rice to the onions and garlic, and saute for one minute.
6. Add the saffron wine to the rice and stir until the wine is absorbed.
7. Add about one cup of the chicken broth to the rice and stir continuously until the broth is absorbed.
8. Add another ladle-worth of broth and continue stirring frequently until absorbed. Repeat this process until all of the broth is used up and the rice is soft and creamy, 20 to 30 minutes. (Make sure all the liquid is absorbed—you want a relatively dry risotto so your arancini balls hold together.)
9. Remove the risotto from the heat, stir in the Parmesan, spread in a thin layer in pan (such as a baking pan), and cover and refrigerate until chilled. (You can leave it chilled overnight if you want to make the recipe in two stages.)
10. Using a one-tbsp cookie scoop (or similar), scoop slightly heaping balls of risotto.
11. Make an indentation in the ball with your finger, add a cube of mozzarella, close the hole, and roll to make a ball. Place on a cookie sheet and repeat the process to make the 30 balls.
12. Bring your frying oil up to 350 deg F.
13. While the oil is heating, roll each of the balls in the seasoned bread crumbs to evenly coat.
14. Fry the balls for 3 minutes, in small batches to prevent sticking, until golden brown.
15. Drain on a paper-towel-lined plate and repeat until you're done.
Degrees of Free-dom
This recipe is: gluten/wheat-free, peanut-free, tree-nut-free, fish-free, shellfish-free, soy-free, egg-free*.
*The egg-free status of the recipe is dependent on the bread crumbs you use.
The recipe is easily made vegetarian by substituting vegetable broth for the chicken broth.
Enjoy!
–Pete and Kelli