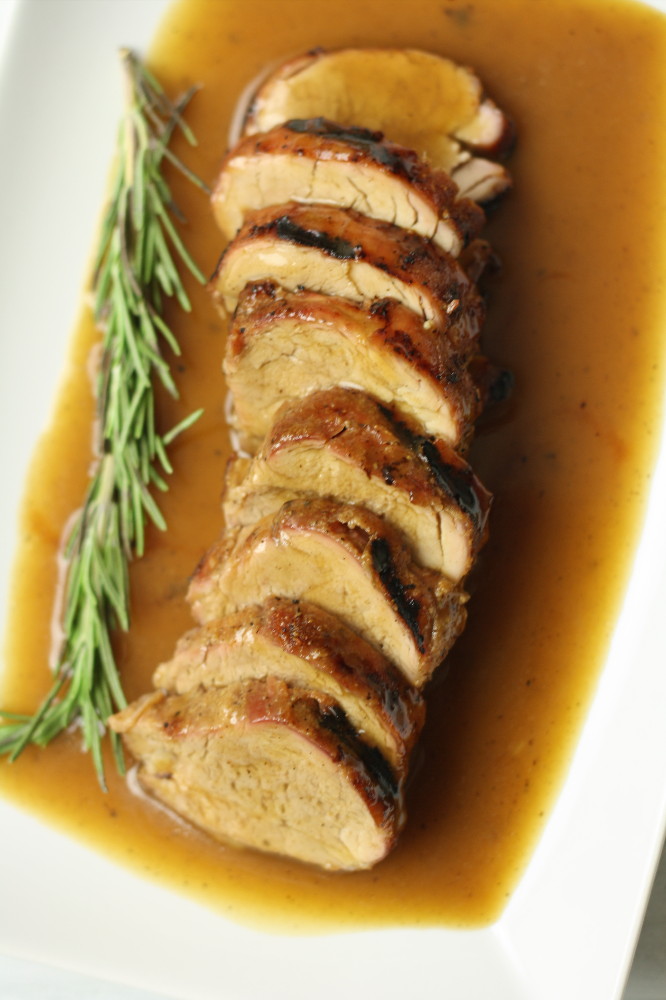 It's been an interesting spring here in Colorado. We thought winter was over, and then—wham!—we got nailed by several major snowstorms, all in the past few weeks, including a blizzard of sorts that closed portions of I-70 for several hours … on May 1.
All of this wintry weather has had a surprising effect on our cooking. We are well into spring, at least as far as the calendar is concerned, and so I'd expect our seasonally-inspired cooking to gravitate towards fresh fruits and vegetables that are coming into their prime. But frankly, the cold snowy weather has had us craving soul-warming foods more indicative of fall and winter. And what's more evocative of fall than apple cider? (Okay, maybe pumpkin pie would give it a run for its money, but you know what I mean…)
Instead, we're embracing apple cider (and bacon!) this spring to make a richly flavorful sauce that pairs wonderfully with grilled pork tenderloin rubbed in some basic spices. Plus, we're borrowing the amazingly successful technique from our filet mignon recipe earlier this year, and pre-warming the pork to an internal temp of 100 degrees before searing (or in this case, grilling) to finish it.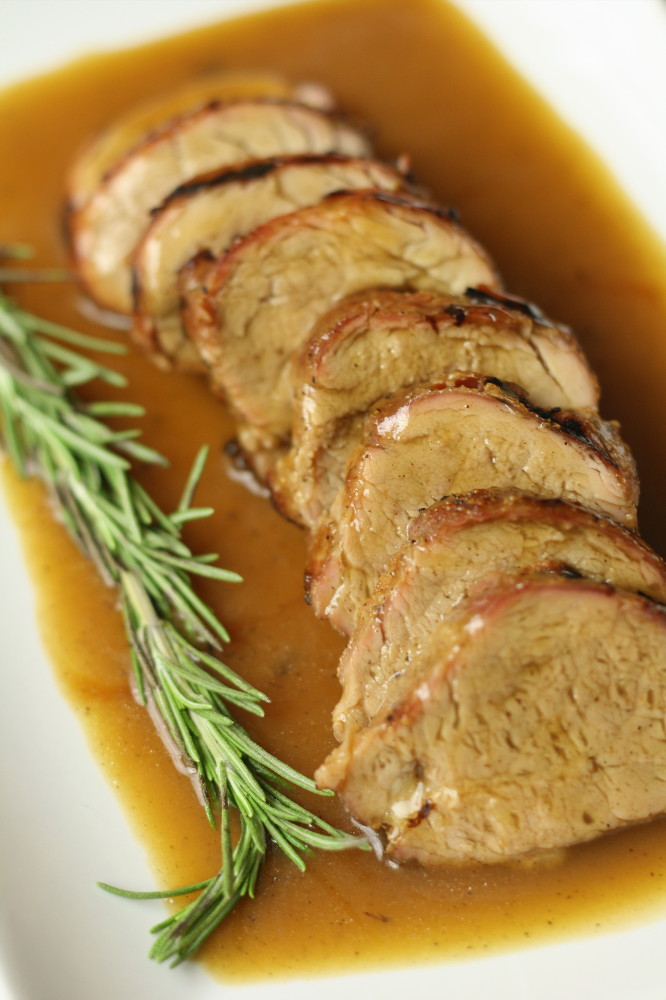 Grilled Pork Tenderloin with Apple Cider Bacon Demi Glace
Makes three 1-pound tenderloins
Ingredients

For the pork:
Three 1-pound tenderloins
1 1/2 tsp salt
1 1/2 tsp ground black pepper
2 1/4 tsp garlic powder
2 tbsp brown sugar
For the demi glace:
6–7 strips of bacon
75 g shallots, diced
5 large garlic cloves, minced
3 cups apple cider
2 cups chicken stock
2 tbsp GF Worcestershire sauce
3 bay leaves
20 black peppercorns
1 large sprig rosemary

Steps
1. Preheat the oven to 250 deg F.
2. Combine the salt, ground black pepper, garlic powder, and brown sugar to make a rub.
3. Divide evenly among the three tenderloins, rubbing to coat.
4. Place the tenderloins on a wire rack over a baking sheet or pan and pop in the oven until the internal temperature reads 100 deg F.
5. Meanwhile, start to prepare the demi glace: Slice the bacon into 1–2-inch pieces and cook in a medium saucepan (~2 L) until well done and the fat is rendered.
6. Remove the bacon and set aside. Pour off excess fat from the saucepan, retaining only 1–2 tbsp. Sweat the shallot and garlic in the retained bacon fat until soft and translucent.
7. Add the bacon back in, plus all remaining ingredients for the demi glace.
8. Bring to a boil and reduce by 1/3 (a volume of ~1.5 L should become ~1 L).
9. Pour the demi glace through a fine mesh strainer, then return the liquid to the saucepan and continue reducing by half. (An original volume of ~1.5 L should finish at a little less than 0.5 L.)
10. If the flavor of the demi glace becomes sufficiently intense but the sauce is still very runny, thicken with just a bit of cornstarch dissolved in water (or similar).
11. Heat your grill to medium-high.
12. Grill the pre-warmed pork tenderloins. Rotate periodically to get good grill marks on all sides, and remove from the grill when the internal temperature of the thickest part of the pork tenderloin reads 155 deg F. Let rest for at least 10 minutes.
13. Slice and serve with the demi glace.

Degrees of Free-dom
This recipe is: gluten-free, dairy/lactose/casein-free, shellfish-free, peanut-free, tree-nut-free, soy-free.

Enjoy!
–Pete and Kelli