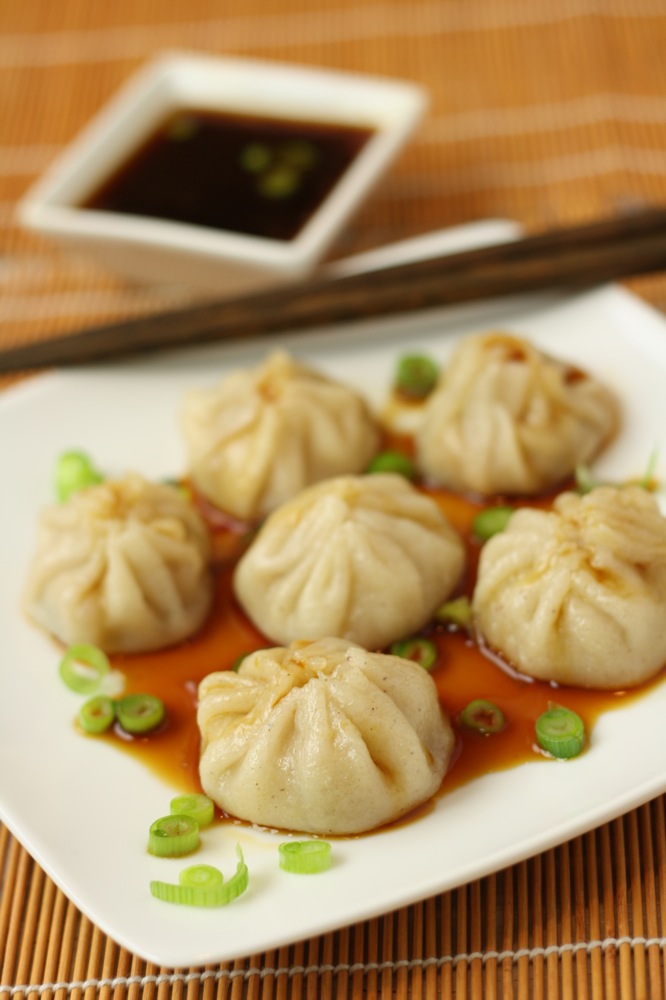 Do you ever get hit with a craving out of the blue? We do. Most of the time there's some immediate or otherwise identifiable instigator behind a craving … a nostalgic memory, a TV show, a restaurant experience. But sometimes, a craving just pops into our heads. Like these Shanghai street dumplings.
We can think of no good reason why we're so compelled to make them right now—close to St. Patrick's Day, during the season of Lent, coming from families with combined Sicilian, Belgian, Polish, and English heritage. Yet here we are. We're tempted to point a finger at P.F. Chang's, which serves Shanghai street dumplings on its menu, but it's literally been years and years (at least 7.5 years, and likely more) since we've had those, so that seems unlikely.
Regardless, these puppies are delicious. The filling and the ponzu sauce are both easy to make gluten-free via tamari wheat-free soy sauce. The real trick here is the dumpling wrappers. Our recipe combines inspiration from traditional wheat-based street dumpling wrapper recipes and the fabulous gluten-free dumpling wrappers from Laura Russell's The Gluten-Free Asian Kitchen.

The result is a gluten-free Shangai street dumpling that could go toe-to-toe with its gluten-ous counterpart any day. They're a little bit of work, but trust us, they're worth it.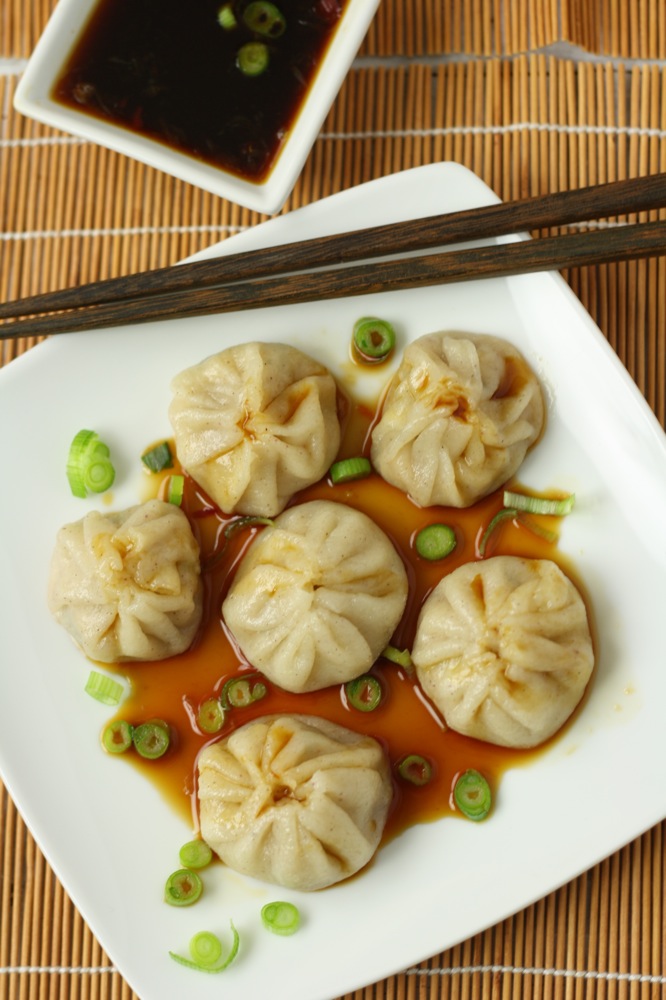 Shanghai Street Dumplings
Makes 24 dumplings
Ingredients and Steps

For the filling:
1/2 lb pork, minced
5 raw shrimp (26-30 count), minced
2 green onions (scallions), minced
2 tsp brown sugar
1 tbsp tamari wheat-free soy sauce
1 tsp grated fresh ginger
2 tsp dry sherry
1/4 tsp sesame oil
1. Combine oil ingredients in a small bowl and place in the refrigerator until ready to fill the wrappers.
For the wrappers:
1/2 cup (63 g) Artisan Gluten-Free Flour Blend
1/2 cup (60 g) tapioca flour
1/2 cup (60 g) glutinous (sweet) rice flour
1/2 tsp salt
1 tsp xanthan gum
1/2 cup boiling water
2 tbsp cold water
1 1/2 tbsp olive oil
2. Mix the three flours, salt, and xanthan gum, then add the boiling water and mix to combine. The mixture will be dry and crumbly.
3. Add the cold water and olive oil, mixing until a dough forms. Knead with your hands in the bowl to bring the bowl together, adding extra rice flour if the dough is sticky.
4. Divide the dough in half, and roll each half to form a thick snake. Cut each half into 12 pieces and cover with plastic wrap or put in a zip-top bag to prevent from drying out.
5. Roll each gum-ball-sized piece out between two pieces of plastic wrap, to form round wrappers 3 inches in diameter.
6. Place on a cookie sheet dusted with rice flour.
* Make only as many wrappers at a time as will fit in your steamer. For example, we made 8 dumplings per batch.
To make the dumplings:
7. Heat a pot of water with your steamer on top. Cover the bottom of the steamer with a single layer of Napa cabbage leaves.
8. For each dumpling wrapper, dust off any excess rice flour.
9. Place on a plate and put about 1 tbsp filling in the center of the wrapper.
10. Moisten the edge with water, and gather the dumpling at the top, squeezing to seal.
11. Repeat to complete the first batch.
12. Steam each batch of dumplings for 10 minutes.
13. While one batch is steaming, get started on the next batch. Repeat until all batches are done.
* Replace the cabbage leaves as needed.
For the ponzu sauce:
1/4 cup tamari wheat-free soy sauce
2 tbsp orange juice
2 tbsp lemon juice
2 tbsp mirin
1 tsp water
1/4 tsp chili garlic sauce
Green onions (scallions)
14. Combine all ingredients to make the ponzu sauce.
* We used fresh-squeezed orange and lemon juice for this recipe. 1/2 lemon yielded the 2 tbsp lemon juice. We didn't have oranges, and so used 2 clementines.
15. Plate the dumplings, drizzle with the ponzu sauce, garnish with chopped scallions, and serve with additional ponzu sauce on the side.
Degrees of Free-dom
This recipe is: gluten-free, dairy/casein/lactose-free, fish-free, peanut-free, tree-nut-free.
Enjoy!
–Pete and Kelli