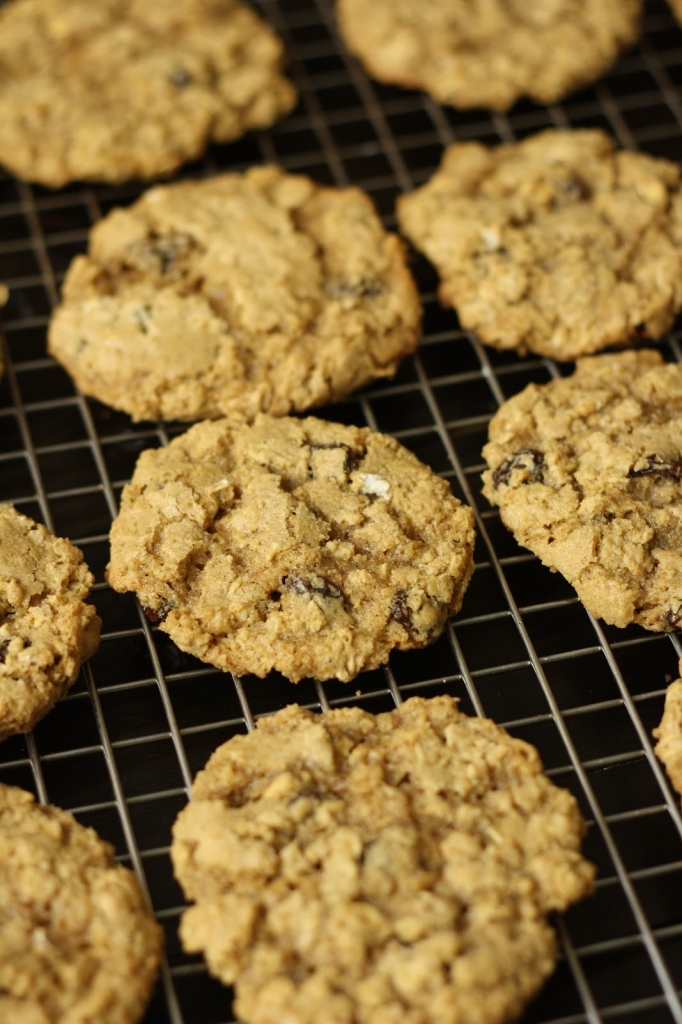 Later this year, Kelli and I celebrate 10 years of marriage. It's amazing to think that a decade has nearly passed since we tied the proverbial knot. In that time, we've almost always been of one mind on a variety of issues. That's especially true of the recipes we write for this blog and our cookbooks. With rare exception, the recipe you get—and the photo that goes along with it—is a collaborative effort that involves both of us.
But when it came time to plan this recipe, I learned something new about Kelli. She likes oatmeal cookies, and she likes raisins, but she does not like raisins in her oatmeal cookies. I, on the other hand, am an oatmeal raisin cookie traditionalist. It does not happen often in our relationship, but in this instance I drew a line in the sand and put my foot down—we were going to make proper oatmeal raising cookies. No oatmeal chocolate chip, like Kelli suggested. No oatmeal Craisin, as she also suggested when I vetoed the chocolate chips.
People would expect a tried and true oatmeal raisin cookie, I reasoned. Besides, I really wanted an oatmeal raisin cookie. Kelli eventually relented, and if I do say so myself, you're better off for it. Here, we offer up a gluten-free version of oatmeal raisin cookies. (Though do feel free to side with Kelli and omit the raisins and/or substitute other options, such as … ahem … chocolate chip cookies or Craisins.)
The cookies are delightfully chewy, with just the right amount of raisins, and thanks to a 1:1 gluten-free flour to oats ratio, plenty oat-y.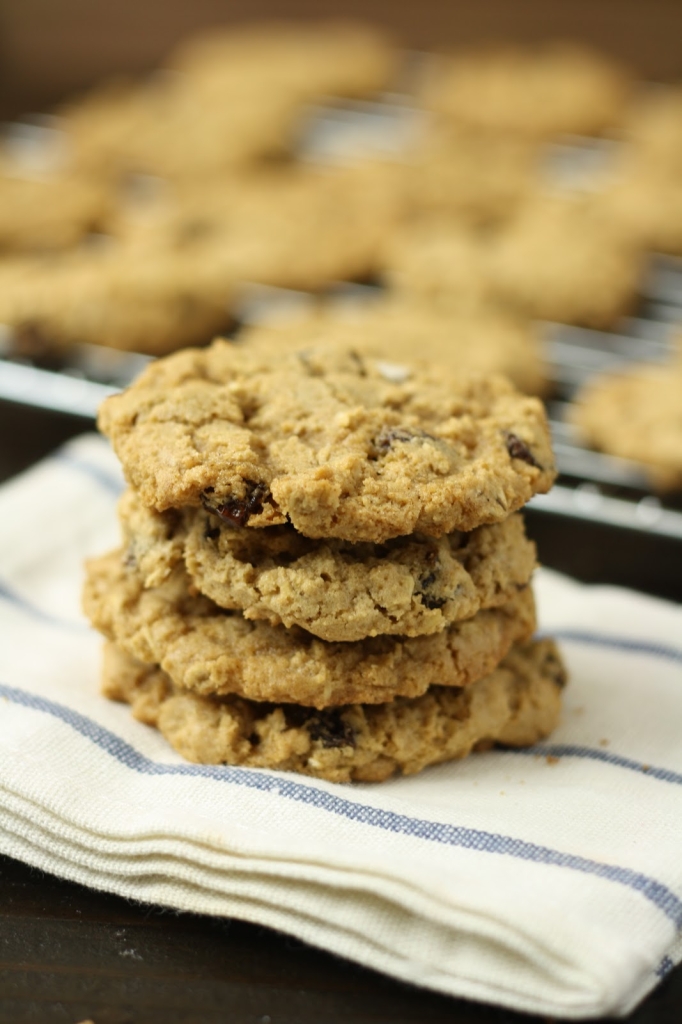 Oatmeal Raisin Cookies
Makes 38 cookies
Ingredients
3/4 cup (1 1/2 sticks) butter, room temperature
1 cup packed brown sugar
1/2 cup sugar
1 tsp GF pure vanilla extract
2 large eggs
1 3/4 cups* (219 g) Artisan Gluten-Free Flour Blend
1 tsp GF baking powder
1/4 tsp baking soda
1/4 tsp salt
1 tsp cinnamon
2 tsp xanthan gum
2 cups certified GF oats
1 cup raisins
Steps
1. Preheat the oven to 375 deg F.
2. In a stand mixer, cream together the butter, sugars, and vanilla, until fluffy.
3. Add the eggs and mix until incorporated.
4. In a separate bowl, combine the flour, baking powder, baking soda, salt, cinnamon, and xanthan gum. Add to the mixer and mix until incorporated.
5. Add the oats and mix. Then add the raisins and mix.
6. Use a cookie scoop or spoon to drop the dough on an ungreased cookie sheet, about 2 inches apart.
7. Baked 10–12 minutes, until lightly brown and the edges crispy.
8. Let cool for a few minutes on the cookie sheet, then transfer to a wire rack to let cool completely.
Notes
* When we made this recipe, we used 2 cups (250 g) of flour to account for the altitude here in Colorado. We wrote the recipe, however, down-calculating for sea level.
1. This recipe makes a thick dough. If your mixer is working too hard, you may mix the oats and raisins in by hand.
Degrees of Free-dom
This recipe is: gluten-free, peanut-free, tree-nut-free, fish-free, shellfish-free, soy-free, vegetarian.
Enjoy!
–Pete and Kelli