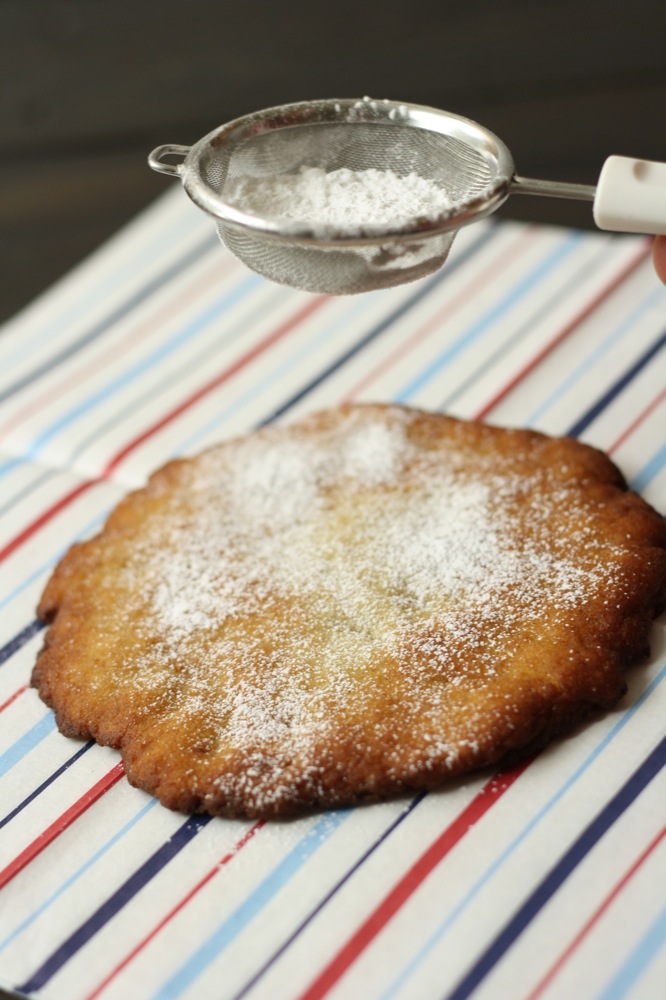 Growing up on Long Island in New York, I was surrounded by a large Italian Catholic population. Fairs were usually held in church parking lots, and with all those Italians around, fair food included zeppoli (an Italian form of fried dough) and sometimes funnel cakes.
Kelli, on the other hand, grew up in upstate New York's Finger Lakes region, about one hour from Syracuse, home of the Great New York State Fair. Going to the fair each late summer was an eagerly anticipated tradition throughout her childhood. At the NYS Fair, there was nary a zeppoli to be found. Instead, fried dough was the norm.
Hailing as I did from Long Island, I'd never even heard of such fried dough. In fact, when Kelli and I were recently updating our list of foods we want to re-create in gluten-free form, she accused me of purposefully omitting her beloved fried dough, because I'd included both zeppoli and funnel cake but not explicit mention of fried dough. Silly me, I'd simply assumed that her fried dough was redundant with the other two items. But I was wrong.
Kelli gave me a quick crash course in the finer points of proper fried dough. From that point forward, we had a melding of the minds—and a few test batches—to bring you this gluten-free version of her cherished childhood state fair treat.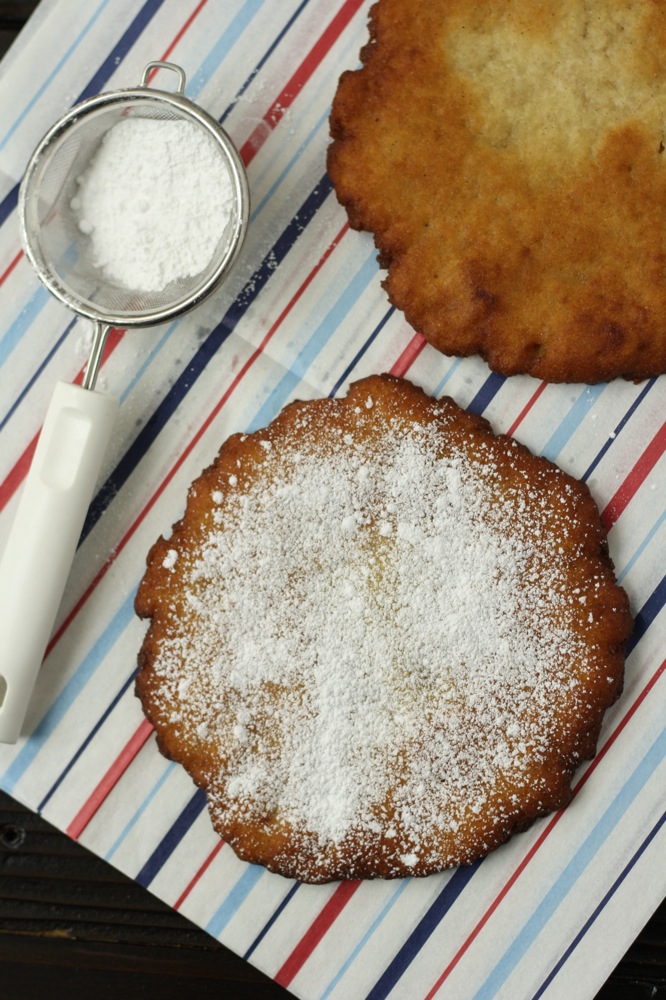 Fried Dough
Makes 4 pieces
Ingredients
2 tbsp sugar
3/4 cup warm water (~115 deg F)
2 1/4 tsp active dry yeast (1 packet)
175 g Artisan Gluten-Free Flour Blend (~1 1/3 cups plus 1 tbsp)
1 tsp xanthan gum
1/2 tsp salt
1 tbsp butter
1 tsp GF pure vanilla extract
Frying oil
Powdered sugar
Steps
1. Preheat the oven to 400 deg F.
2. In a small bowl, combine the sugar, water, and yeast. Let set for about 5 minutes until the yeast is frothy and active.
3. In a separate bowl, mix the flour, xanthan gum, and salt.
4. Cut the butter into the flour with your hands or pastry cutter, until you get coarse crumbles.
5. Add the vanilla to the yeast mixture, then mix the liquids into the dry ingredients, stirring to form a wet dough.
6. Divide the dough into quarters.
7. Lightly oil a cookie sheet or baking pan.
8. Lightly coat the palms of your hands with oil, then press each dough quarter onto the cookie sheet, forming flat "pancakes" about 6 inches across. (You may need to re-coat your hands with oil between each dough quarter.)
9. Set in a warm location and let rise for at least 10 minutes.
10. Meanwhile, add enough frying oil to a skillet (or similar) to a depth of 1 to 2 inches. Bring the oil to 350 deg F.
11. Bake the dough for 3 minutes, just until the edges are slightly dry. (This "sets" the dough so you can handle it and transfer to the oil.) Release the dough from the baking sheet with a spatula if necessary.
12. Fry in the oil for 1.5 minutes per side until golden brown on each side.
13. Transfer to paper towels or a clean paper bag to let an excess oil drain.
14. Finish with a generous dusting of powdered sugar.
Degrees of Free-dom
This recipe is: gluten-free, peanut-free, tree-nut-free, fish-free, shellfish-free, soy-free, vegetarian.
This recipe can easily be made dairy-free by substituting a vegan shortening, such as Spectrum.
Enjoy!
–Pete and Kelli