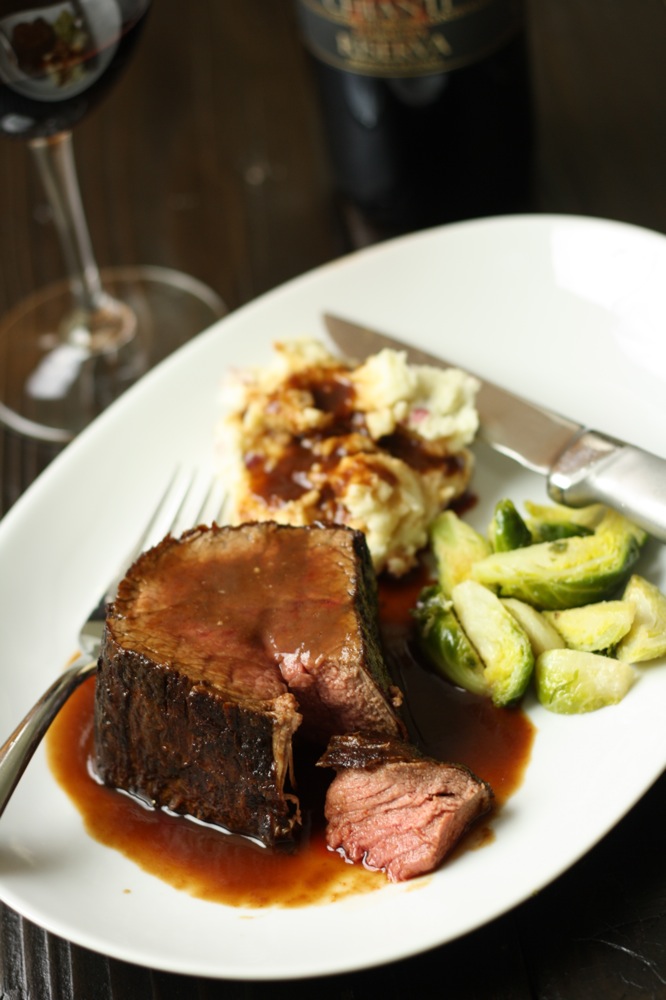 Over the past few years, our diet has gone through something of an evolution. For certain, there are aspects that remain unchanged. Our commitment to authentic, from-scratch recipes is as steadfast as ever, for example. But we eat way more healthy smoothies than we used to, and we eat far less red meat—beef especially—than we once did.
In fact, before Valentine's Day, the last time we'd had beef was around Christmas, a full seven weeks earlier. In other words, Kelli and I each have been averaging about half a pound of beef every two months. Meanwhile, per capita beef consumption among Americans is more than one pound per week, totaling more than 54 pounds of beef consumption per person per year. (We're on track to consume a scant 3 pounds of beef each this year…)
As Valentine's Day drew near and we were deciding what to cook for a special dinner, we settled on something special we don't eat all that often: filet mignon.
Given that we seldom eat beef, and that filet mignon is an expensive cut of meat, we really wanted to get this one right. Usually when we cook beef, we go one of two routes: 1) grill it, or 2) roast it. This time around, we put our faith in another technique we'd seen recently on America's Test Kitchen. We started by roasting the beef on a wire rack in the oven over low heat. This serves two important roles. It allows the whole mass of beef to slowly come up to temperature without overcooking the exterior while the interior is still raw, and it dries off the outside of the beef, so that you can get a nice, good sear during the next step. Once out of the oven, you sear the beef in a heavy skillet to both brown the outside and finish the cooking process.
Meanwhile, we wanted to pair the filet with a rich red wind demi glace. Traditionally, demi glace is made with reduced veal stock, wine, and other ingredients, and is frequently thickened with wheat flour (though a better approach is to thicken by reducing, which also intensifies the flavors). For our red wine demi glace, we built it off a beef broth base. We'd intended to use both tomato paste and a touch of brown sugar as well, but found that our pantry we devoid of tomato paste. Instead, we went with ketchup and omitted the brown sugar (since the ketchup had plenty of sugar for our needs).
The result was one of the best pieces of beef we'd have in a very long time, possibly competing with our personal lists of best pieces of beef of all time, including those we've had at steakhouses.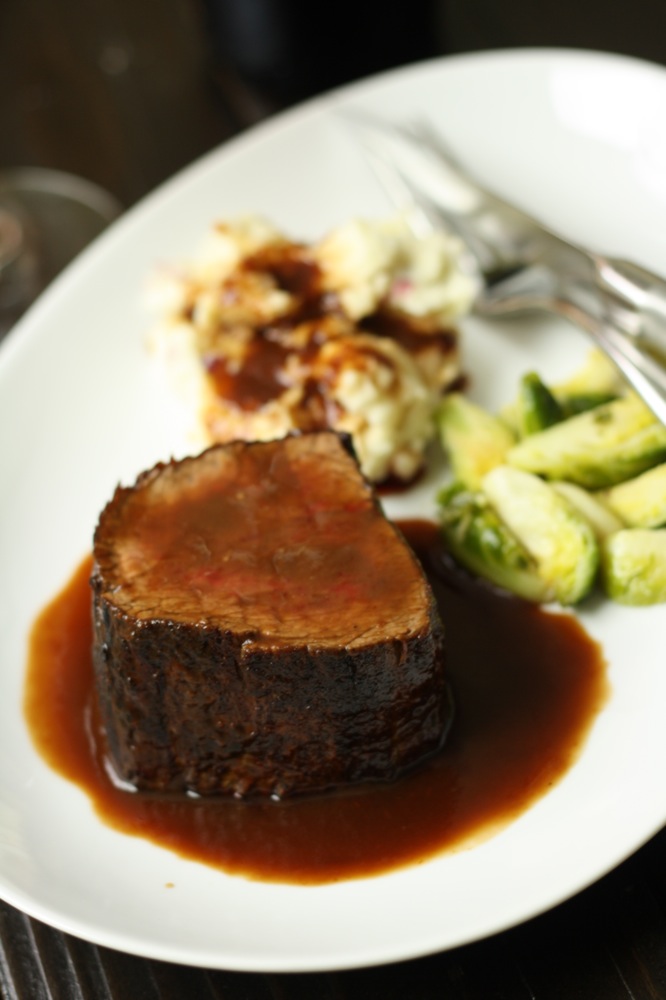 Filet Mignon with Red Wine Demi Glace
Makes 2–4 servings
Ingredients
1 to 1 1/2 pounds filet mignon
1 1/2 cups GF beef broth
1/2 cup red wine
1 tbsp tamari wheat-free soy sauce
3 tbsp ketchup
3-4 sprigs fresh thyme
Extra light olive oil
Salt
Steps
1. Preheat the oven to 250 deg F.
2. Rinse and pat dry the beef. Then roast on a wire rack (like you'd use for cooling baked cookies) over a baking sheet or roasting pan. Cooking time will depend on the weight and shape of your cut of meat. Pull the filet from the oven when the internal temperature of the meat reads 95 to 100 deg F.
3. Meanwhile, make the demi glace: add the beef broth through thyme to a small saucepan, whisk to combine, bring to a boil, and reduce to 25% or less of the initial volume.
4. When the filet is nearly ready to come out of the oven, heat a heavy skillet (such as cast iron) over the stovetop.
5. Add 2 tbsp or so of olive oil and sear the filet, rotating periodically for even browning on all sides. Don't forget to sear the ends! As you rotate the meat, salt each side. (The salt won't stick to the meat earlier, since it'll come out of the oven dry to the touch.) Use the squeeze test or a meat thermometer to determine when the meat is cooked to your preferred level of doneness.
6. Let rest 10 minutes before slicing and serving.
Notes
If you can, ask your butcher to cut a filet mignon of uniform thickness, which will facilitate even cooking.
Degrees of Free-dom
This recipe is: gluten-free, dairy/lactose/casein-free, fish-free, shellfish-free, peanut-free, tree-nut-free, corn-free.
Enjoy!
–Pete and Kelli