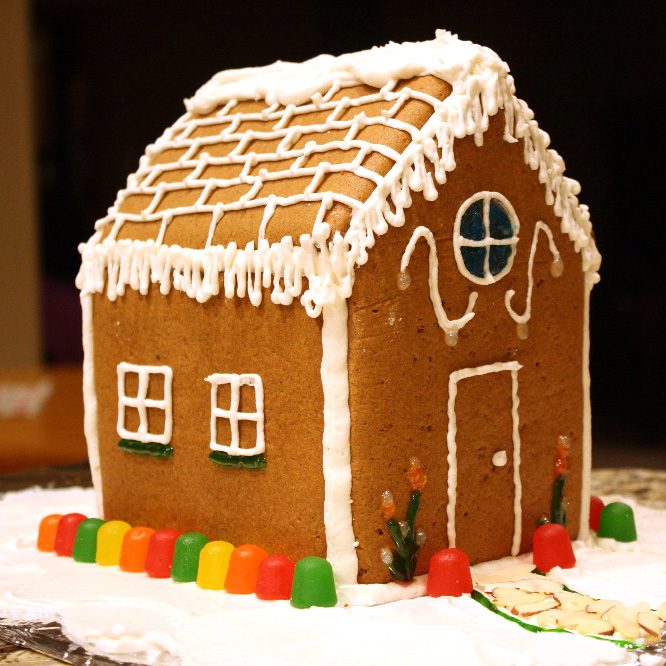 Yesterday was St. Nicholas Day, which we celebrate as the Belgian Christmas in our household. The girls woke up to their wooden shoes under the Christmas tree, filled with gold-wrapped chocolate coins, accompanied by small presents. It's the kind of holiday where we might normally make Belgian speculaas cookies. This year, as you can see, we did something a bit different: we made a gluten-free gingerbread house.
In our combined 67 years on this earth, neither Kelli nor I have ever made a gingerbread house, gluten-free or otherwise. As we scoured the Internet looking at images of other people's houses for inspiration, we realized two things: a) people make some very impressive gingerbread houses, and 2) they must set aside at least an entire weekend, and quite possibly more time, to make it happen. We allocated part of one day (to make the gingerbread) and part of one evening (to assemble the house).
For the gingerbread, we used a recipe nearly identical to that used for the gingerbread boy and girl cookies that top our gingerbread cupcakes in Artisanal Gluten-Free Cupcakes. The dough yields a chewy gingerbread that's still sturdy enough to use for architecture. But the dough comes with a warning: it's pretty wet and sticky, and working with it on the scale of making the wall and roof pieces for the gingerbread house caused Kelli to describe it as "a special kind of hell." Makes you want to try the recipe, doesn't it?
If you're not planning to eat your gingerbread house—and does anyone really eat these things, after they've sat on the kitchen counter getting stale for a week?—take this advice: add more flour than we call for to make the dough drier and easier to work with. Your entire holiday season may be happier for it. But if you decide you want to eat your gingerbread house and want the gingerbread to have better texture, consider yourself warned.
Meanwhile, to hold all the pieces together—not to mention the make the snow, icicles, door, windows, etc.—we used Alton Brown's recipe for royal icing. The stuff is super sweet, but it has some amazing qualities: it dries from soft to hard in lightning-fast time, and once it hardens, the stuff is strong. I'm only half joking when I say that I could use royal icing in place of thin-set mortar to re-tile our kitchen.
But enough talk, on to the recipe.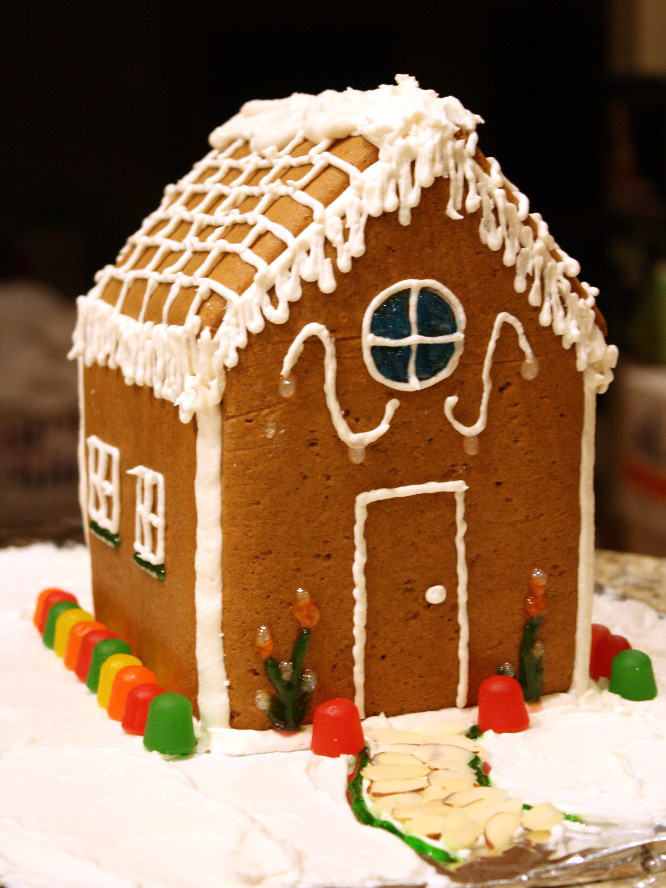 Gingerbread House
Makes enough gingerbread for 1 average-size house
Ingredients
1/2 cup packed brown sugar
12 tbsp salted butter (1 1/2 sticks), room temperature
2/3 cup molasses
1 tsp GF pure vanilla extract
2 large eggs
3 1/4 cups Artisan Gluten-Free Flour Blend
1 tbsp xanthan gum
1 tsp GF baking soda
2 tsp ground cinnamon
2 tsp ground ginger
1 tsp ground allspice
1 tsp ground cloves
1/2 tsp salt
Steps
1. Cream together the brown sugar and butter in an electric mixer until light and fluffy, then add the molasses and vanilla extract.
2. Stir in the egg, mixing to incorporate.
3. In a separate bowl, combine the flour, xanthan gum, baking soda, spices, and salt, then add to the mixing bowl and incorporate.
4. Divide the dough, wrap each half in plastic, and refrigerate for at least 30 minutes.
5. Roll out the dough between sheets of plastic wrap to a thickness of 1/4 inch or so.
6. Place paper templates for your wall and roof pieces over the plastic wrap, then use a pizza cutter to gently make indentations through the plastic wrap in the dough. Then remove the top layer of plastic wrap and use the pizza cutter to fully cut the dough.
7. Leaving the pieces on the plastic wrap, very carefully transfer the whole set—plastic wrap and all—onto a cookie sheet or similar. Place in the freezer and let set until the dough is firm, about 10 minutes. Remove from the freezer and remove unwanted dough, leaving only your gingerbread house pieces on the bottom layer of plastic wrap. Carefully transfer off the plastic wrap without stretching or otherwise distorting to a cookie sheet. (Remember, you need your pieces to be the same size, so that they all match up when you go to assemble your gingerbread house!)
8. Preheat the oven to 375 deg F.
9. Bake for about 10 minutes, until slightly brown and set at the edges and the gingerbread is firm but still slightly chewy.
10. Let the cookies rest on the cookie sheet for 5 minutes, then cool on a wire rack.
11. Meanwhile, prepare the royal icing.
12. Assembly: having a second set of hands can be quite useful for actually assembling your gingerbread house. Have one person hold two adjacent wall pieces together at a right angle, while the second person uses a pastry bag and tip to pipe a bead of royal icing up the inside of that corner. Repeat with all four corners of the house. Then use royal icing to adhere the roof pieces.
13. Finally, decorate to your heart's content!
Degrees of Free-dom
This recipe is: gluten-free, soy-free, nut-free, peanut-free, fish-free, shellfish-free, vegetarian.
Enjoy!
–Pete