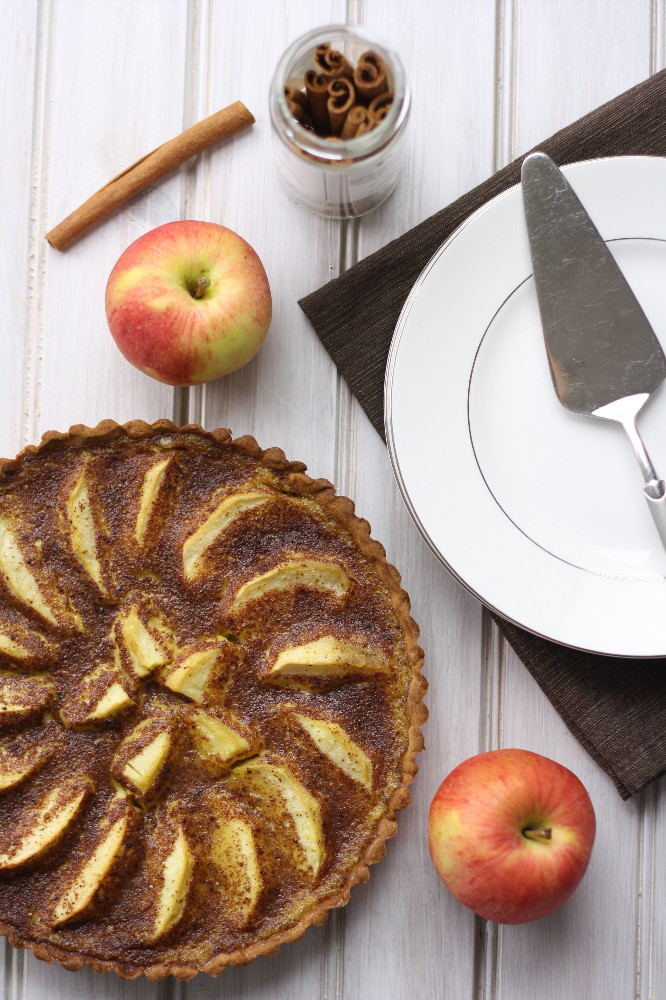 Welcome to another fabulous edition of the Gluten-Free Ratio Rally! When we saw that this month's theme was tarts, we faced a familiar conundrum: our cookbook Artisanal Gluten-Free Cooking already has a (in our opinion) pretty tasty tart (filled with rich pastry cream and topped with fresh fruit), so how would we challenge ourselves with something new for the Rally?
As evidenced by last week's recipe for cider donuts, it's peak apple season here in the Hudson Valley. Not surprisingly, then, we did what we often do when it comes to developing new recipes: we went for flavors and ingredients that were seasonally and locally inspired.
The result is this fabulous tart. We started with our usual pastry crust, but added cinnamon. In lieu of pastry cream, we opted for a cinnamon custard. During baking, much of the cinnamon bubbles to the surface, giving the tart a wonderful rustic look. And for the piece de resistance, we added sliced apples that had been poached in spiced cider.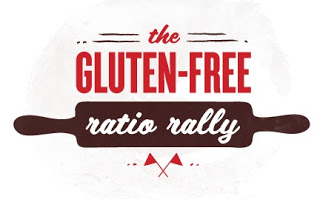 Let me tell you: I'm a guy who loves his apple pie every fall. In fact—I'm almost sure I've told this story before—on special occasions each fall, my grandmother used to make an apple pie for the family and a smaller personal apple pie for me, because I loved it so much. Now hear this: this Spiced Cider-Poached Cinnamon Apple Tart just may be better than my grandmother's apple pie. Or at least my memory of it. And that's not a claim I make lightly.
Next, an apology: we didn't calculate the ratio for this recipe, as we normally would for a Ratio Rally post. Life has just been too hectic lately, and we were simply focused on delivering a delicious recipe, ratio or not.
But if you're craving more Ratio Rally goodness (and who isn't?!), head on over to Charissa at the Zest Bakery blog. She's hosting this month's Rally, where you'll find links to about a dozen other tarts, ranging from sweet to savory.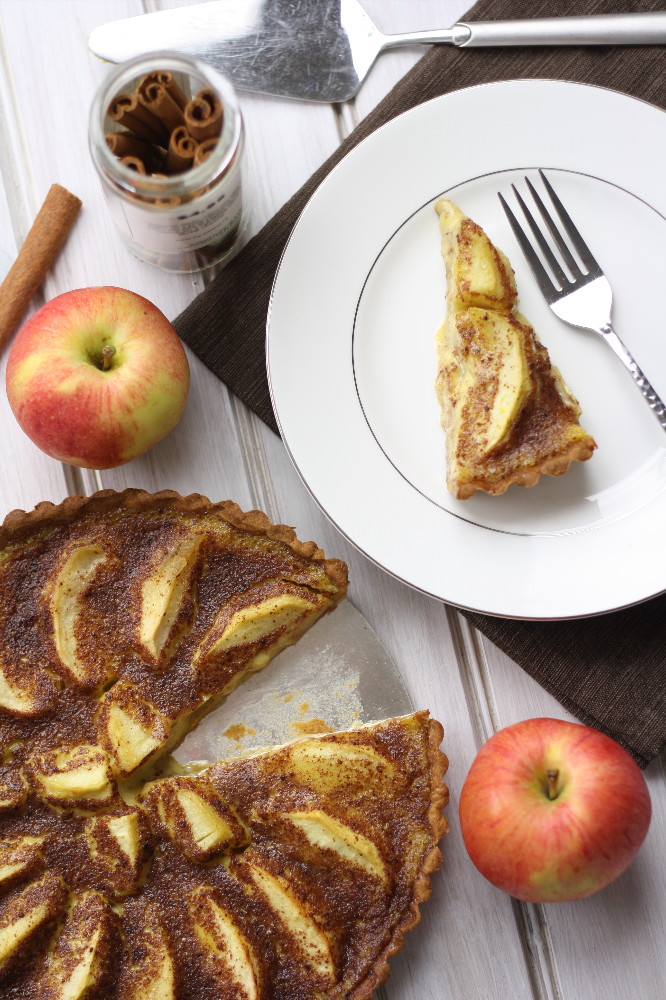 Spiced Cider-Poached Cinnamon Apple Tart
Makes one 9-inch tart (10-12 servings)
For the apples:
5 cups cider
1/4 cup packed dark brown sugar
1 cinnamon stick
5 whole cloves
1 inch ginger, peeled and sliced
1/2 lemon, sliced
3 granny smith apples, peeled, halved, and cored
1. Mix all ingredients through the lemons in a 4-quart saucepan.
2. Add the apples, cover, and bring to a boil over medium-high heat.
3. Once it comes to a boil, remove the lid, turn down to medium-low heat, rotate the apples, and summer for 10 to 15 minutes, until the apples are soft.
4. Remove from the poaching liquid, let cool, and cut each half apple into four slices.
For the crust:
84 g (6 tbsp) softened butter
75 g (1/2 cup + 2 tbsp) powdered sugar
3 egg yolks
1 whole egg
188 g (1 1/2 cups) Artisan Gluten-Free Flour Blend
1 tsp xanthan gum
1 tsp ground cinnamon
5. In a stand mixer with the paddle attachment, beat the butter and powdered sugar until fluffy.
6. Add the egg yolks and egg, one at a time, mixing until incorporated.
7. In a separate bowl, combine the flour, xanthan gum, and cinnamon and whisk.
8. Add the dry ingredients to the egg mixture and mix until smooth.
9. Wrap the dough in plastic wrap and chill in the refrigerator for 30 minutes.
10. Preheat the oven to 350 deg F. Meanwhile, press the dough into a 9-inch tart shell.
11. Baked weighted for 15 minutes. (Line the dough with parchment paper, and fill the tart with rice, beans, pie weights, or similar.)
12. Remove the weights, and bake an additional 5 to 10 minutes, until light golden.
13. Remove from the oven.
For the custard:
1 cup heavy cream
2 egg yolks
1/2 cup sugar
1 tsp ground cinnamon
1/4 tsp ground nutmeg
14. Whisk all ingredients together.
To finish the tart:
15. Arrange the sliced apples in the baked tart shell.
16. Pour the custard over the apples.
17. Bake an additional 30 to 35 minutes at 350 deg F, until the custard is brown and just set. (It should jiggle a little, not a lot.)
Degrees of Free-dom
This recipe is: gluten-free, peanut-free, tree-nut-free, fish-free, shellfish-free, soy-free, vegetarian.
Notes
You can use a spoon to core each apple half.
Enjoy!
–Pete