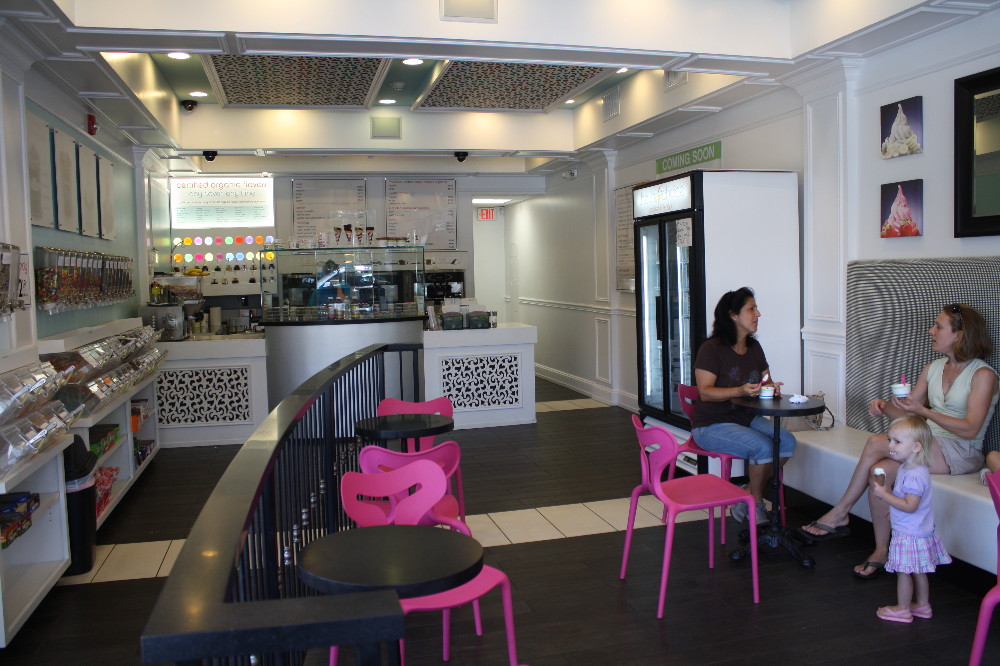 The Lite Choice in Babylon village, New York
On a recent weekend, we were strolling through Babylon village on the south shore of New York's Long Island. It was around midday, the sun was glaring down, and all of us were hot. We needed to cool off. We wanted ice cream.
Fortunately, Babylon's vibrant main drag boasts no fewer than three ice cream parlors. Two had been around for a while. One was the new kid on the block: The Lite Choice. We popped inside, the immediate blast of cool air was unbelievably refreshing.
Eating gluten-free at an ice cream shop—especially one that focuses on soft serve—is usually no big deal. You watch out for flavors such as cookie dough and Oreo, which would have gluten, and otherwise you're usually in the clear. But The Lite Choice makes a point of specifically saying that all their flavors are gluten-free. Why? Because they offer some 40 flavors of all-natural ice cream.
How? All of their flavors are based on the same 6 or 8 "standard" soft serve flavors, to which they add syrup. You see those bright, colored dots in the back left of the photo above, just below the lit white sign? Those are some of the many flavors.
As we stood contemplating our options, we must have been discussing the gluten-free status of the flavors with our girls, because the young girl behind the counter chimed in and offered: "We do have gluten-free cones, as well. Both wafer and sugar." Really?
By default, we just assume that we'll order our ice cream in a cup. It didn't even occur to us to see if they had GF cones. And then something else occurred to us: our girls had never experienced eating ice cream from a cone. Decision made.
We ordered a mix of vanilla and chocolate ice creams on both sugar and wafer cones. All were delicious. Kelli branched out and tried one of the exotic flavors, which she thought tasted a bit artificial, even though it's in theory all natural.
That's also when we discovered one point of attention should you find yourself in one of The Lite Choice's many NY metro area locations. If you're ordering one of the exotic flavors that requires a syrup, they blend/mix the ice cream and syrup. This location had two blenders: one was a dedicated peanut-free blender; the other was used for everything else. Which means that it is also used to blend shakes and smoothies and cups of ice cream that may have non-gluten-free toppings. If you're sensitive, be wary. Stick to the stock flavors that come straight out of the soft serve machine and into a cup or onto a gluten-free cone.
To the store's credit, the young girl working the counter shared this info with us, and I can only hope that other workers at this and other locations are as attentive as she was.
In the end, The Lite Choice was the right choice for us. To walk into an ice cream parlor on a hot, sunny, summer day and order gluten-free ice cream cones was a real treat.
–Pete