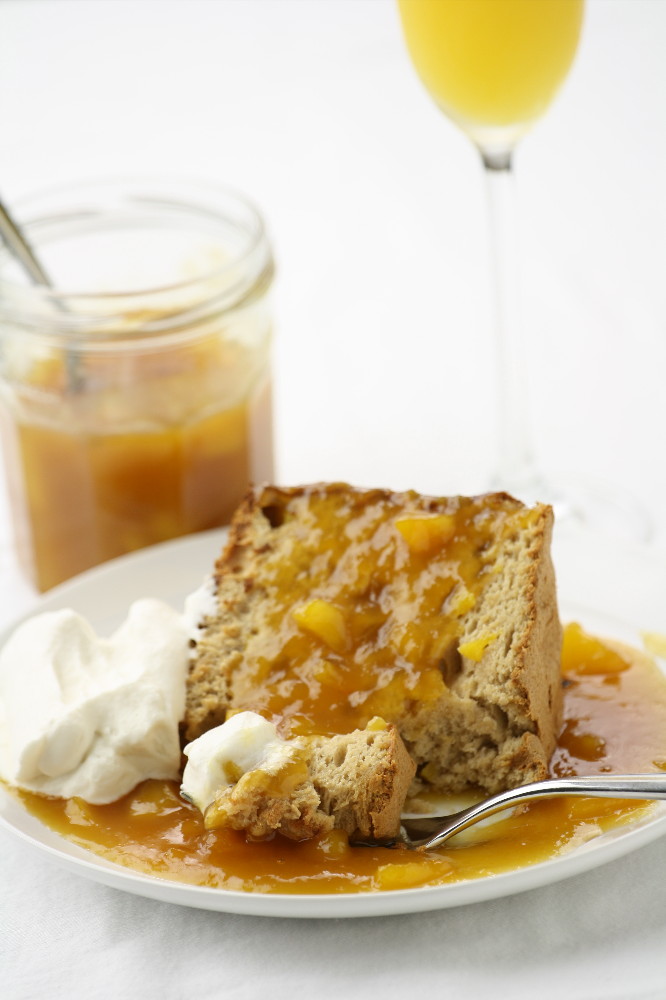 Happy Ratio Rally Day, everyone! It's that time of the month again … when gluten-free bloggers tackle a common theme and come up with all sorts of versions of delectable baked goodies. This time around, we're focusing our energies on angel food cake, a sweet, light, airy, egg-white-based cake.
I know we're biased, but we think we have a pretty awesome traditional (albeit gluten-free) angel food cake in our cookbook, Artisanal Gluten-Free Cooking. For the Ratio Rally, we wanted to think outside the box (or at least outside the angel food cake pan). It's summer, and peaches are in season, so that was a natural fit for our style. We also opted to forgo white sugar in favor of brown sugar for more of a "caramel" look and taste to the cake.
Dare I say, we were successful!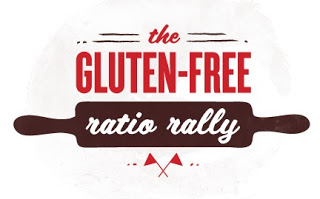 Admittedly, we didn't pay particularly close attention to the ratio this time around. We were more focused on having the brown sugar and the moisture from the peaches not sabotage our whipped egg whites and their cake batter.
But in the end, we got a decent ratio nonetheless. Our ratio of brown sugar : egg whites : flour turned out somewhere in the vicinity of 3.5 : 3: 1. We'll take it!
And for more angel food cake goodness, be sure to head over to Gluten Free[k], where Caleigh is hosting this month's Rally! Happy baking!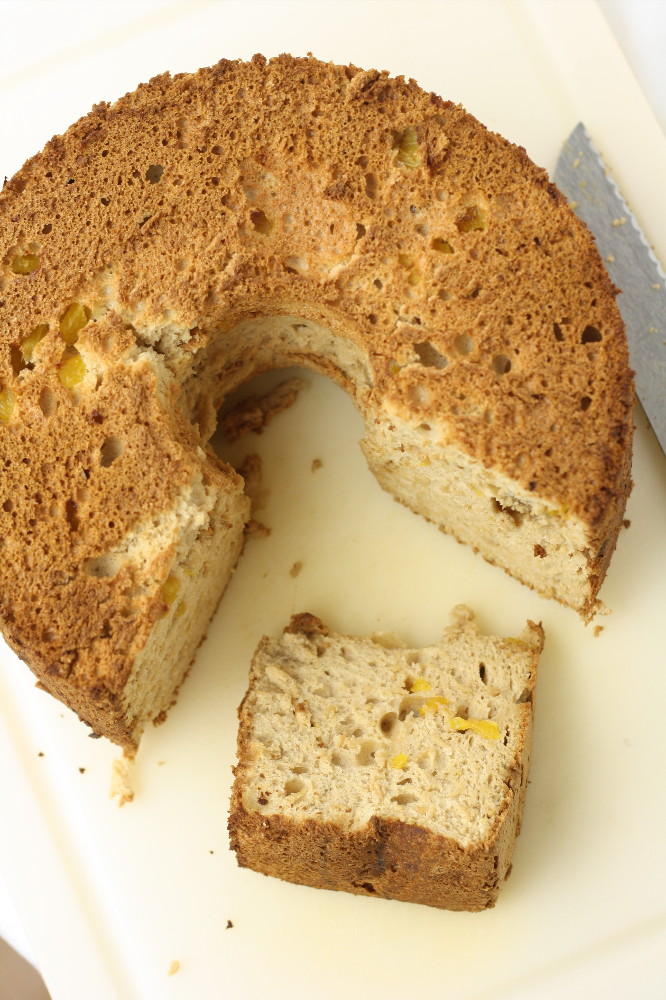 "Caramel" Peach Angel Food Cake
Makes 1 cake
Ingredients
376g (1 1/2 cups) egg whites
2 tsp GF vanilla extract
1/2 tsp GF almond extract
1 1/2 tsp cream of tartar
1/4 tsp salt
460g (2 cups) packed brown sugar, divided
125g (1 cup) Artisan Gluten-Free Flour Blend
1 1/2 tsp xanthan gum
1 peach, pitted, peeled, and diced
Steps
1. Preheat your oven to 350 deg F. Remove the top rack, leaving the lowest rack.
2. In a mixer with the whisk attachment, whip your egg whites, vanilla, almond, cream of tartar, and salt until you get soft peaks.
3. While the egg whites continue to whip, add 173g (3/4 cup ) brown sugar, a little at a time, until stiff peaks form. Take the bowl off the mixer.
4. In a separate bowl, combine the remaining 287g (1 1/4 cups) brown sugar, plus the flour and xanthan gum, until the mixture looks like sand.
5. Sift the mixture into your into egg whites a little at a time. After each addition, fold the mixture into the egg whites, taking care not to collapse the egg whites.
6. Fold in the diced peaches.
7. Spread the cake batter into a 10-inch angel food cake pan.
8. Put it on the lowest rack of the oven and bake for 40 minutes, until cracks in the top are dry and a toothpick inserted into a crack comes out clean.
9. Remove from the oven, invert, and let cool completely upside down.
10. Serve with peach sauce (recipe follows) and whipped cream.
Degrees of Free-dom
This recipe is: gluten-free, dairy/lactose/casein-free, peanut-free, fish-free, shellfish-free, soy-free, vegetarian.
Notes
To make this recipe nut-free, omit the almond extract.
Caramel Peach Sauce
Ingredients
115g (1/2 cup) packed brown sugar
57g (1/4 cup) butter
2 tbsp peach schnapps
3 peaches, sliced
Steps
1. Heat the sugar, butter, and schnapps over medium heat while stirring, and let simmer one minute.
2. Add the peaches, bring to a boil, then turn down to medium, and simmer for 4 minutes, until the peaches are very soft.
3. Use an immersion blender to partially puree the sauce.
4. Return to the heat, and simmer over medium 5 more minutes, until it achieves a syrup consistency.
Degrees of Free-dom
This recipe is: gluten-free, peanut-free, tree-nut-free, fish-free, shellfish-free, soy-free, vegetarian.
Notes
To make this recipe dairy/lactose/casein-free, use a non-dairy substitute for the butter.
Enjoy!
–Pete