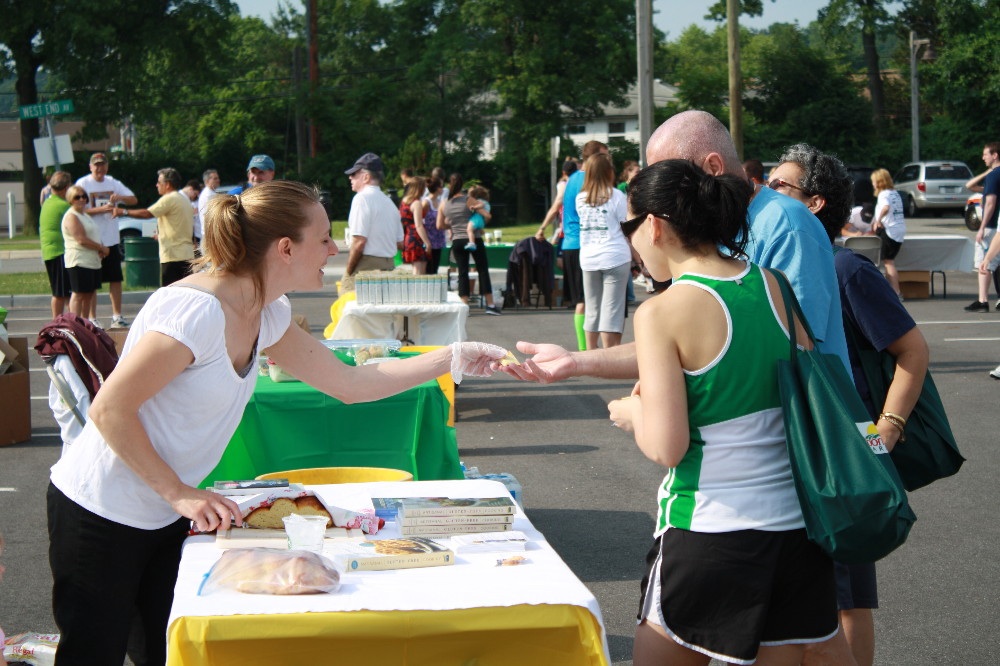 Kelli shares a sample of freshly-baked, gluten-free challah bread.
This past Sunday, we set our sights on the village of Oyster Bay, on Long Island's north shore, for the inaugural Long Island Making Tracks for Celiacs 5k event. We had plenty of reasons to attend: I grew up on Long Island. The event was fairly local to where we currently live in the Hudson Valley (less than 2 hours of driving in the car). It supports a great cause (the Center for Celiac Research at the University of Maryland). And we wanted to show our support for event organizer Craig Pinto, founder of the Kicking 4 Celiac Foundation and a former pro athlete profiled in The Gluten-Free Edge (which comes out next month).
The Making Tracks for Celiacs events have grown over the years. The website says it's been going from 2001 through 2012 and that the event is in its 11th year. Well, unless it skipped a year, one of those numbers is wrong. (If you count, 2001 through 2012 is 12 years of events, making 2012 the 11th anniversary but the 12th year. But I digress…) Regardless, one thing is clear: in that decade of fundraisers, they've raised more than $2 million. This year included more than a dozen fundraisers across the country, including the inaugural one on Long Island.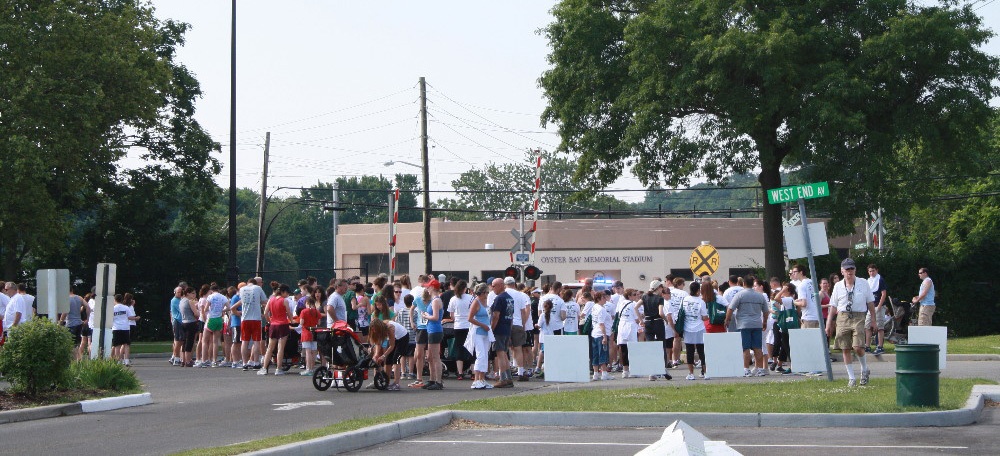 Runners assemble near the starting line for the 5k run/walk.
More than 200 registered participants—ranging in age from 5 to 72—turned out for the event. Rain early threatened to dampen the event, literally and figuratively, but it mostly held off, giving way to warm temperatures, blue skies, and bright sunshine. Kelli was up early, baking fresh gluten-free challah bread to share with attendees. Then we loaded up the car and made our way to Theodore Roosevelt Memorial Park right on the water.
Hot and iced Starbucks coffee, a rockin' DJ, and about a dozen vendors—including some familiar brands plus some local gluten-free bakeries—made for a great central hub of activity.
Soon it was time for the 5k portion of the morning. I had planned on taking it easy and making it a family affair; my legs weren't exactly fresh. It would be my fourth consecutive day of running, including a 12-mile trail run the day before. Kelli was going to stay with our table at the vendor fair, and I was going to put the girls in our double-wide Chariot jogging stroller and take them with me. But as the 9am start time loomed, the girls decided it would be more fun to stay and play, which left me on my own for the 5k.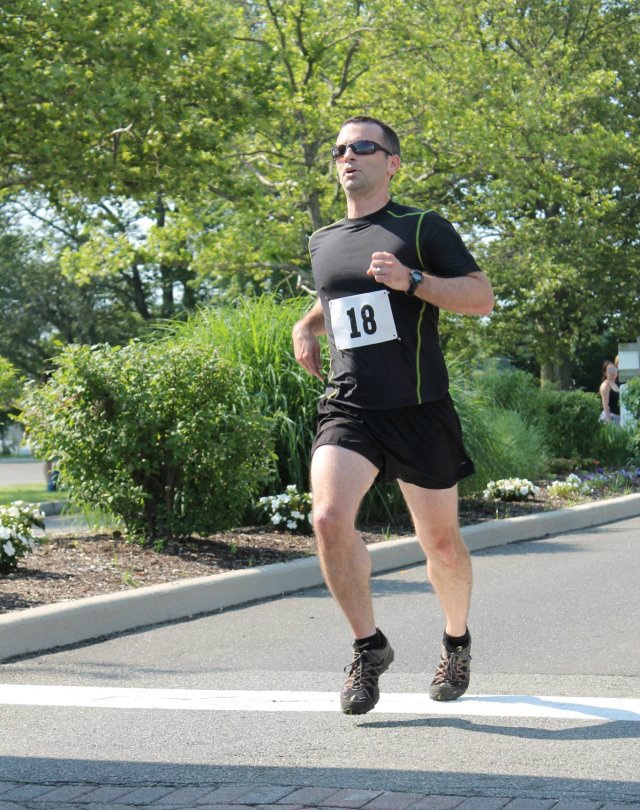 Crossing the finish line. Photo courtesy Craig Pinto.
And so, instead of lining up in back with the stroller crowd, I toed the front of the starting line with the other "serious" runners. Pinto fired the starting gun and we were off on a picturesque road loop through the hills of Oyster Bay.
I took off running pretty hard. It was "only" 3.1 miles—compared to a 50-mile trail ultra that might take me 10 hours, this would be over in just over 20 minutes. But I knew it'd be tough none the less … while I have plenty of endurance, my training and my fitness are not built for speed, which is kind of the name of the game if you're going to be competitive in a 5k. I was pretty much red-lined, running right at my lactate threshold, the whole time.
The guy who eventually won the race (a collegiate track runner, as I recall) took off like a rocket. I lost sight of him by the first mile marker, and never saw him again. He finished a full four minutes ahead of me, which is a huge gap in a race of this distance.
For me, the race neatly fell into thirds. The first mile was relatively flat, and a handful of other runners pushed past me. Then we hit the hills, and that's where I got my revenge, re-passing them and improving my position. The final mile was all about pushing as hard as I could through the finish line, since it'd all be over soon.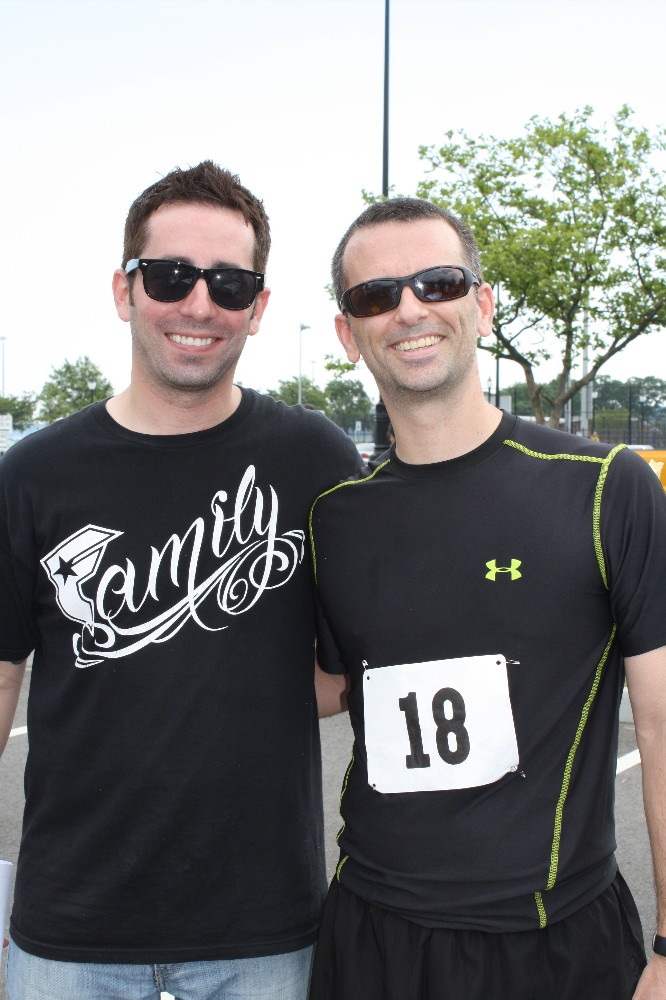 With event organizer Craig Pinto.
I crossed the finish line in 21:11, which equates to a 6:50 per mile pace (which I'm pretty sure I haven't run since I graduated from high school 15 years ago).
Awards were handed out in four age groups: 19 and under, 20 to 29, 30 to 39, and 40 and over. I placed 4th overall, and to my delight, I won my age group!
My two favorite parts of the day, though, were: a) watching all the finishers come across the finish line, from young children to moms and dads pushing jogging strollers to teams of families and friends, and b) chatting with everyone who came by our table at the vendor fair after the run. It was great to once again connect with the gluten-free community in person, sharing stories, sharing insights, and being reminded once again why we work so hard at this.
–Pete