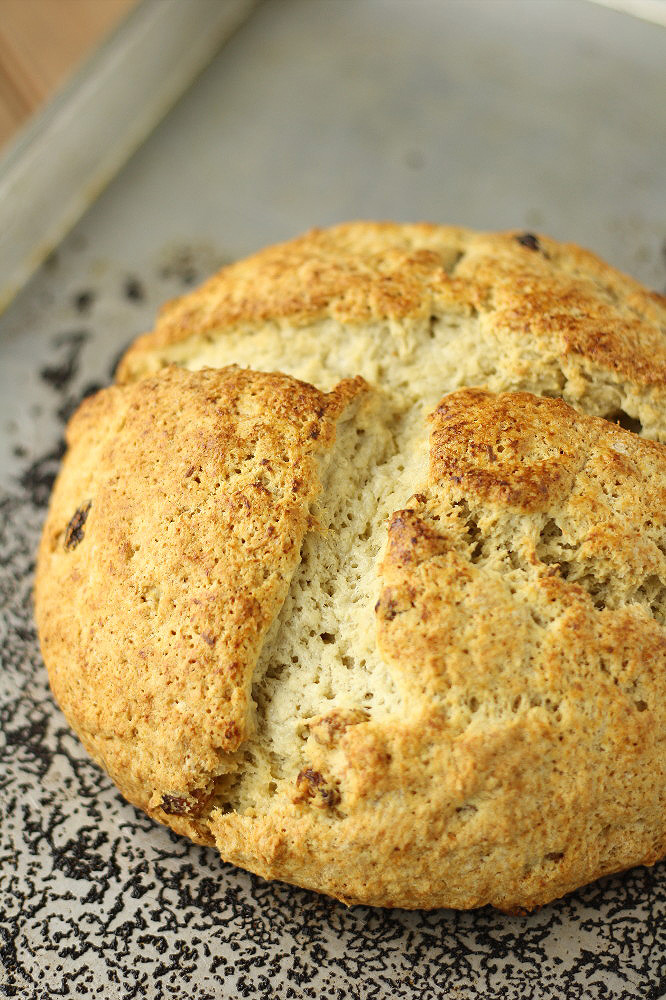 Yes, St. Patrick's Day was a few weeks ago, but we wanted to share this delectable recipe today for another reason—this upcoming weekend (April 14-15) Kelli and I will be at the Gluten & Allergen Free Expo in Chicago where we're co-teaching (along with Beth Hillson) the Bread & Beyond class on Sunday.
Making delicious gluten-free breads at home isn't nearly as difficult as some people think. In the class we'll teach bagels, baguettes, and focaccia. Today's recipe for Irish soda bread is a great example, too. It's flakey, moist, very tender, and subtly sweet. It's sort of like a huge scone, except that it's Irish soda bread.
The next time you're looking to make a yeast-free quick bread (where the buttermilk and baking soda/powder react to form carbon dioxide), put this recipe near the top of your list!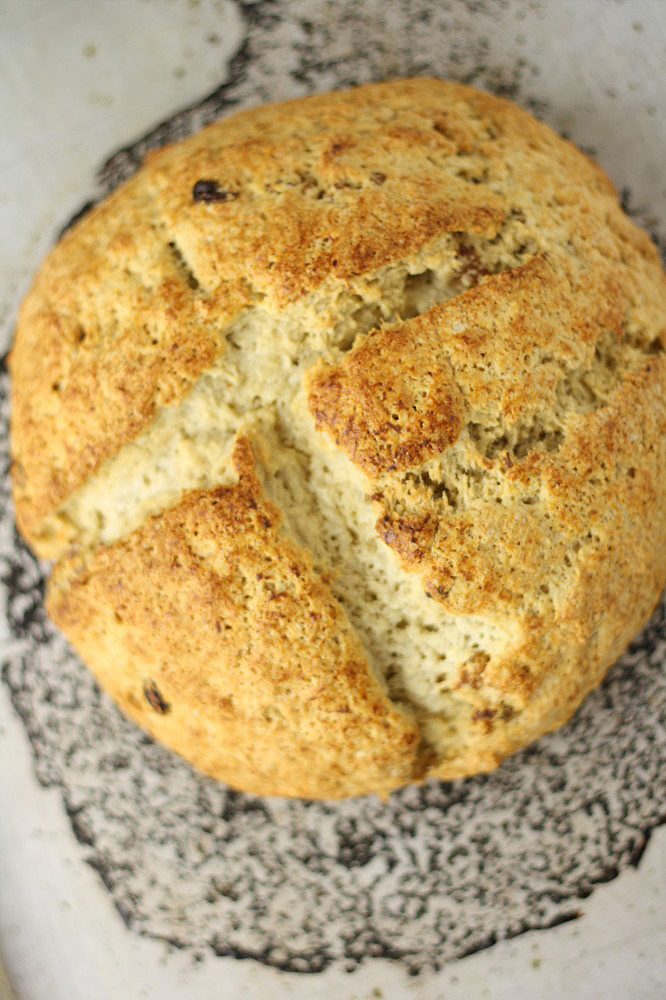 Irish Soda Bread
Makes 1 loaf
Ingredients
375g (3 cups) Artisan Gluten-Free Flour Blend
1/4 cup sugar
1 tsp baking soda
1 tbsp GF baking powder
1/2 tsp salt
1/2 cup (8 tbsp, aka 1 stick) cold butter
1/2 cup golden raisins
1 cup buttermilk
1 egg
Steps
1. Preheat the oven to 350 deg F.
2. Combine the flour, sugar, baking soda, baking powder, and salt.
3. Cut the butter into the flour mixture to make pea-size crumbs, then add the golden raisins and toss to combine.
4. Mix together the buttermilk and eggs, then add to the flour-butter mixture. Use your hands to mix together to form a wet dough.
5. Place a little melted butter on your hands (to prevent the dough from sticking), form the dough into a large ball, and place on a greased cookie sheet.
6. In a separate bowl, mix together 1 tbsp melted butter and 1 tbsp room temperature buttermilk. Brush the mixture onto the loaf, then cut an "X" into the top of the bread loaf.
7. Bake for 55 to 60 minutes, until golden brown.
Degrees of Free-dom
This recipe is: gluten-free, peanut-free, tree-nut-free, fish-free, shellfish-free, soy-free, yeast-free, vegetarian.
Nutrition Info
Per 1/16 wedge of bread loaf: 166 calories, 7g fat, 25g carbs, 4g protein, 300mg sodium, 4g sugars, 3g dietary fiber, plus at least 40% RDA manganese, at least 20% RDA selenium, and at least 10% RDA phosphorous.
Enjoy!
–Pete