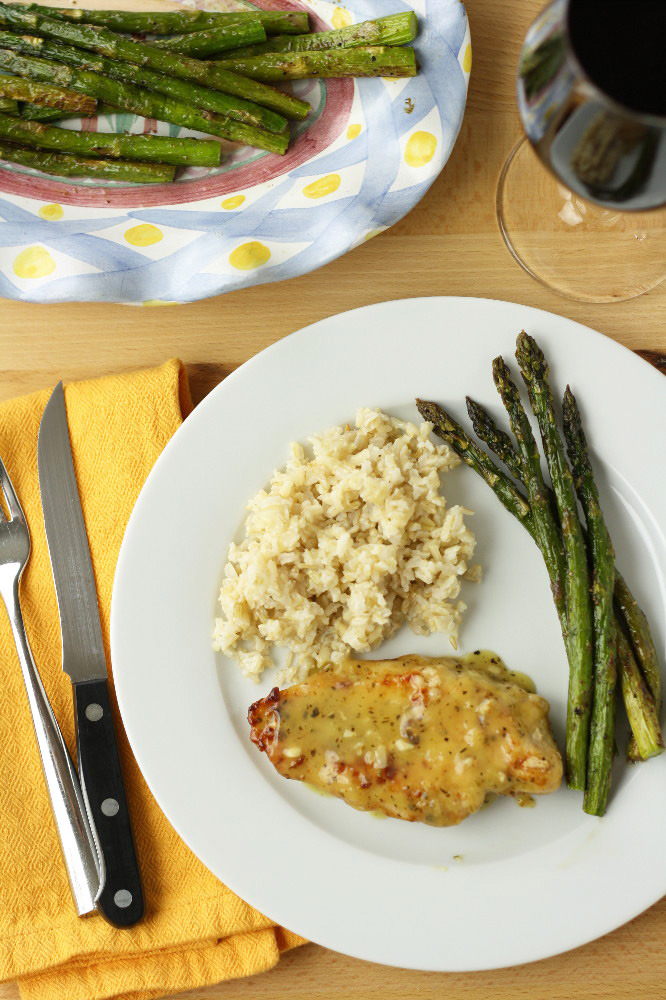 I don't know what prompted the craving, but lately we've been on a huge thin-chicken-breast-in-an-easy-pan-sauce kick. We've been making such dishes about once a week. In recent weeks, the menu has included chicken piccata, chicken marsala, and most recently, orange-herb chicken. For this dish, we paired the chicken with brown rice and asparagus, though any number of sides would work well.
The orange-herb version in particular has several inspirations. For one, it's similar to a citrus-herb marinade we're working on for grilled pork loin. For another, it still seems to be the peak of orange season; our fridge is perpetually stocked with copious amounts of navel oranges that are tasting about as good as they have all winter long. We couldn't resist pulling that orange onto the dinner plate, and the orange-herb sauce for this chicken fits the bill wonderfully.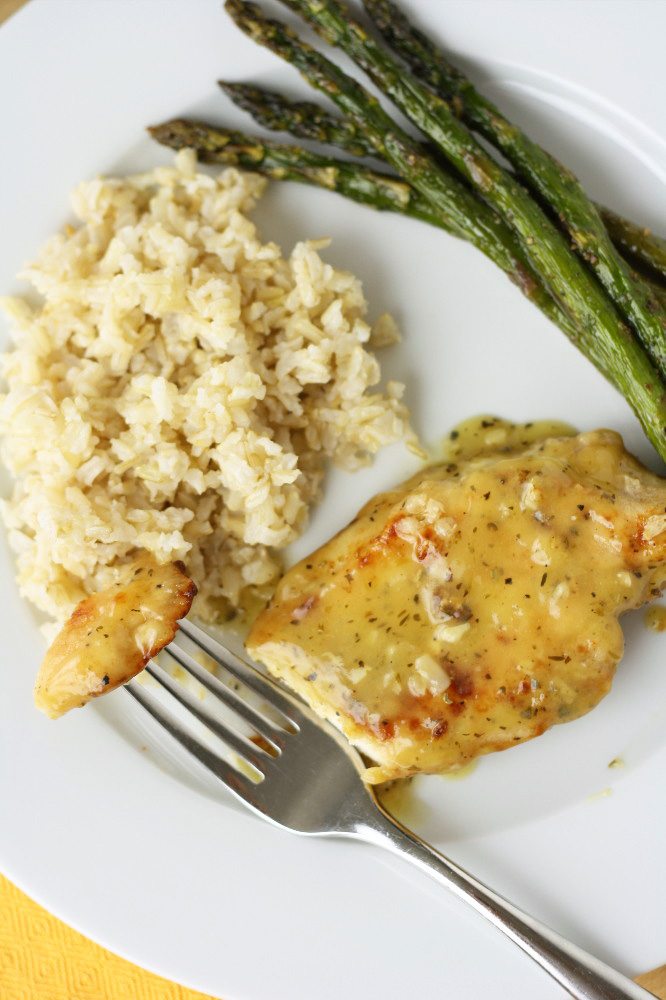 Orange-Herb Chicken
Makes 3 servings
Ingredients
3 chicken breasts (boneless, skinless)
1/4 cup Artisan Gluten-Free Flour Blend (or any all-purpose GF flour)
Salt and pepper
4 tbsp butter
1 tbsp olive oil
1 tsp Herbs de Provence
1/2 cup orange juice
2 tsp cornstarch
1 cup GF chicken stock
Steps
1. Use a meat mallet (or rolling pin) to flatten the chicken breasts between two pieces of plastic wrap.
2. Season the flour with salt and pepper, and dredge the chicken in the flour.
3. Melt 1 tbsp of the butter and the olive oil in a large skillet over medium-high heat. Add the chicken (in batches, if necessary) and cook 5 minutes per side, or until done. Remove the chicken from the pan.
4. Add the remaining 3 tbsp butter and the herbs to the pan.
5. Whisk the cornstarch into the orange juice until dissolved fully. Then add the orange juice and the chicken stock to the pan.
6. Bring to a simmer and cook 5 to 8 minutes, stirring regularly, until the sauce reaches a desired thickness. Season to taste with salt and pepper.
7. Return the chicken to the pan and toss in the sauce to coat.
Notes
For this recipe, we lightly pounded the chicken breasts, but didn't pound them flat into a true thin paillard. Either way will work. Just make sure you cook the chicken through fully!
Degrees of Free-dom
This recipe is: gluten-free, egg-free, fish-free, shellfish-free, peanut-free, tree-nut-free, soy-free, refined-sugar-free.
Nutrition Info
Per serving (1 chicken breast with sauce): 500 calories, 23g fat, 16g carbs, 56g protein, 180mg sodium, 1g dietary fiber, 4g sugars, plus at least 130% RDA niacin, at least 60% RDA vitamin B-6 and selenium, at least 40% RDA phosphorous, at least 20% RDA vitamin C, and at least 10% RDA vitamin A, vitamin B-12, iron, magnesium, manganese, riboflavin, thiamin, and zinc.
Enjoy!
–Pete
Recipe nutrition info approximate, calculated using SparkRecipes.