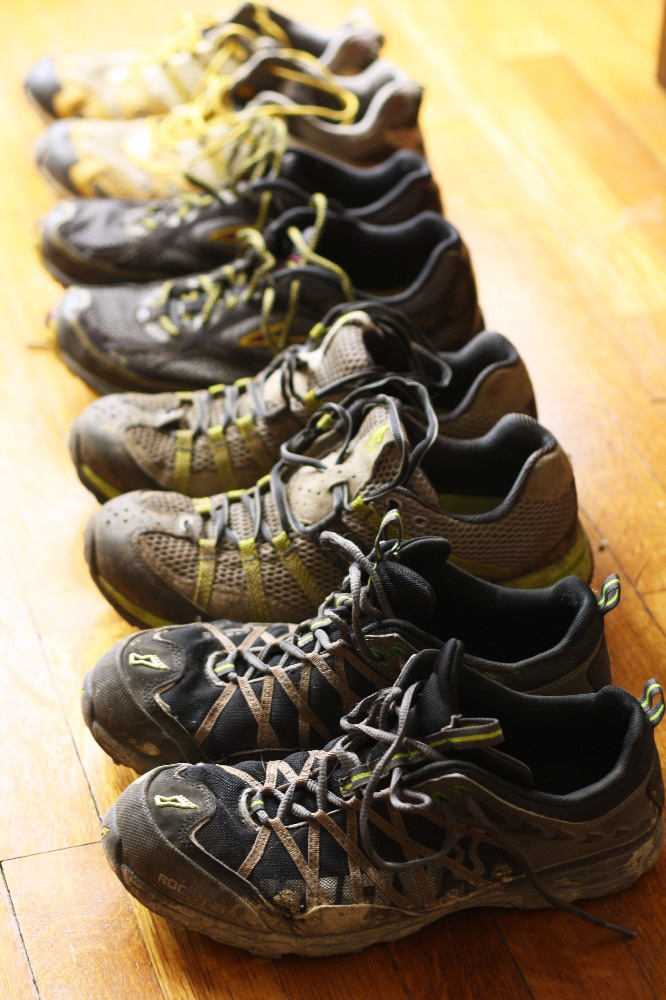 What has life been like for you since going gluten-free? It's a seemingly simple question, one you can answer from a variety of perspectives. Talk about the food. Talk about health. Talk about community.
Me? I can talk about my shoes. My trail running sneakers, to be exact. Carrie Bradshaw had her Manolo Blahniks, her Jimmy Choos, her Christian Laboutins. I have my La Sportivas, my Montrails, my Inov-8s. Peek in my closet, and a pile of dirty, worn trail running sneakers will tell you what I've been up to since going gluten-free in early 2007.
Those yellow sneakers in the back of the photo? Those are La Sportiva Fireblades. Three consecutive pairs of those shoes got me through adventure racing and off-road triathlons, right up to the Xterra U.S. national championship at the end of the 2009 race season.
Next up came Brooks Cascadias (two consecutive pairs, in fact), which I wore as I transitioned into ultramarathon trail running and competed in my first Virgil Crest Ultra—and the 1st Annual Gluten-Free Ultramarathon Challenge—in 2010.
Second from the front you'll find my Montrail Mountain Masochist trail runners, which I started using late last year. They're supportive shoes with a full rockplate underfoot, for times when the trail gets really rough and my feet need a little something extra.
And right in the front of the photo? Those are my Inov-8 RocLite 295s, my go-to trail runner. I just wore those for a 10-mile run (technically, it was 9.8 miles, but who's counting?) on Wednesday night. Love them.
What do all those shoes have to do with the gluten-free life? For me, one word: progress.
Because there, in that photo at the top of this blog post, is a picture that encapsulates so much of what has happened since I went gluten-free: I regained my health. I regained and built upon my athleticism and passion for endurance sports. I found community—in family, in friends, in blogging colleagues, in you, our readers, in fellow athletes. And I found food—food that fuels my body and my soul, and sustains me in ultra endurance racing as in life. That's what I call progress.
Progress has figured prominently lately in other ways, as well.
We're just a few months away from the release of two new book titles: the revised and expanded 2nd Edition of Artisanal Gluten-Free Cooking (with Kelli) and the new The Gluten-Free Edge: A Nutrition and Training Guide for Peak Athletic Performance and an Active Gluten-Free Life (with Melissa of Gluten-Free for Good). I'm sure I don't have to tell you just how much progress we've made to get to this point where the books are in layout and going through final review before heading off to the printer soon.
And then there was our January trip to St. Croix, which we wrote about extensively this week (part I, part II, and part III). That trip was all about recovery for me—physical, psychological, emotional. Since then, in roughly 8.5 weeks of training, I've lost 12 pounds and logged nearly 250 miles of trail running, including an auspicious start to the race season at the Febapple Frozen 50k. I'd call that progress, too. And I'm making more progress week by week, as I prepare for my second race of the season: the North Face Bear Mountain Endurance Challenge 50-miler the first weekend in May, which is just 7 weeks away!
Lastly, progress also comes to mind with the 3rd Annual Gluten-Free Ultramarathon Challenge, to raise money for the National Foundation for Celiac Awareness. Two weeks in, the first donations have come in and we're on our way to reaching my goal of raising at least $5,000 to benefit the gluten-free community. Our progress thus far is modest—we're 4% of the way to the grand goal—but like running an ultramarathon, this is about slow, relentless, forward progress. It takes time, and it takes patience, but progress will be made. Won't you help me take the next step? Click on the image logo or link in the upper right of the blog to go to the fundraising page. (Plus, you might win a book!) Thank you for your support!
How about you? What has life been like for you since going gluten-free? How have you measured progress? I'd love to know!
–Pete