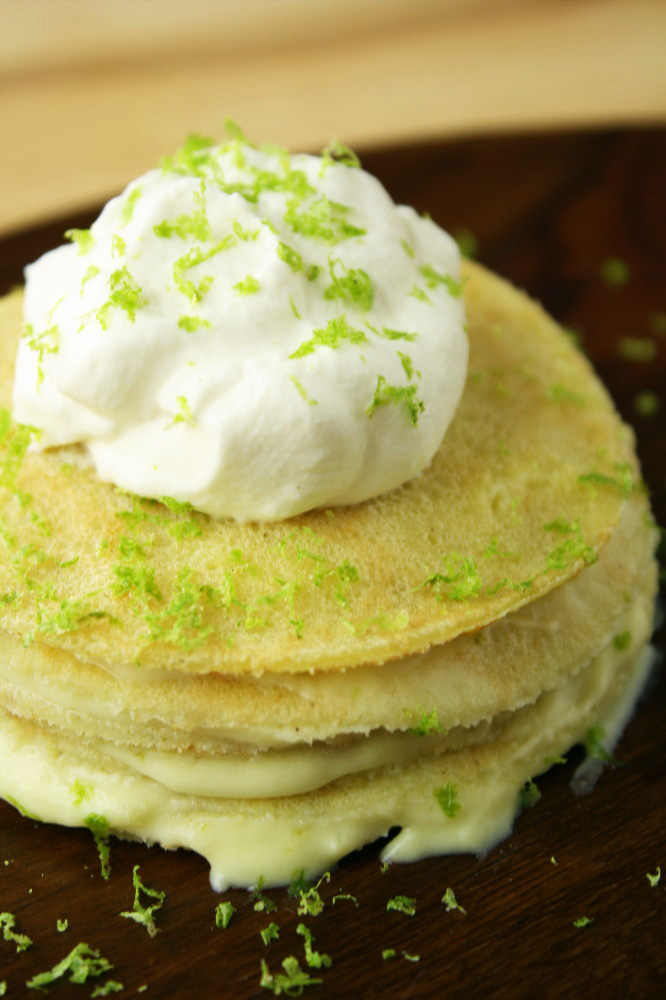 After missing the last two Gluten-Free Ratio Rallies, we're getting back in on the action this month with the theme of crepes. This month No One Likes Crumbley Cookies is hosting the Rally. After you read this post, be sure to head over there to find links to lots of other tasty crepe recipes, including a few savory crepes, and plenty of sweet ones, too.
The working ratio for crepes was flour : liquid : egg in a ratio of 1 : 2 : 2 (or 1 : 4 for flour : everything else). As usual, it was interesting to see if we—and our blogging colleagues—settled on a similar ratio or something different.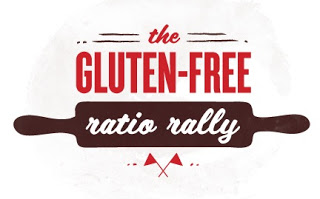 When it came time to decide which kind of crepe we'd make, we had to put on our thinking caps. We love our base crepe recipe, which you'll find in Artisanal Gluten-Free Cooking. Today's crepe recipe is based on it. We've also done some crepes before on the blog, such as dessert crepes with vanilla ice cream and a blueberry sauce, and breakfast crepes with a cherry-pomegranate sauce.
At one point I suggested we do something with crepes and orange zest. Kelli was quick to point out that what I was proposing sounded an awful lot like Crepes Suzette, perhaps the classic crepe preparation. Too cliche? To obvious? Probably not. But we moved on anyway.
We finally settled on Key Lime Crepes—a stack of crepes layered with a dairy-free coconut-lime pastry cream. Traditionally, crepe stacks would be made of full-sized crepes, with individual portions cut away as wedges, like a slice of pie or cake. We decided to give the crepe stack an unconventional twist. From our full-sized finished crepes, we cut out a series of identical crepe rounds that we made into individual stacks. The result is an elegant and easy dessert!
Key Lime Crepes
Makes 8 full-size crepes
Ingredients
3/4 cup (94g) Artisan Gluten-Free Flour Blend
2 tbsp sugar
2 eggs (100g)
1 cup (240g) milk
1 tsp GF pure vanilla extract
2 tbsp (28g) melted butter
Steps
1. Mix together the flour and sugar.
2. Add the eggs, milk, and vanilla, and mix well.
3. Add the melted butter, and mix just until combined.
4. Grease a skillet (we used a nonstick version) with butter or cooking spray and heat over medium-high heat. Pour 1/4 cup batter into the pan, and spread the batter thin by tilting pan around.
5. Cook the crepe for about 45 seconds, until it begins to dry.
6. Flip the crepe (a fork is helpful), and cook on the second side briefly. The finished crepe should be blond to light golden brown.
7. Repeat with the remaining crepe batter.
8. To make the crepe rounds: Use a water glass, large circular cookie cutter, or other implement to cut out identical circles of crepe. You should get 3 mini crepe rounds per 1 full-size crepe. (The crepe scraps make a tasty snack while you're working on this dessert!)
9. To assemble the key lime crepes, place first crepe on a plate, spread a thin layer of cream (recipe follows), add another crepe on top, another layer of cream, and continue, using 6 mini crepe rounds per stack. Makes 4 servings/crepe stacks.
10. Top with whipped cream (traditional or dairy-free). Garnish with additional lime zest.
Notes
With some relatively minor adjustments, the crepe ingredients could be "idealized" to:
100g flour
100g eggs
250g milk
30g butter
2 tbsp sugar
1 tsp vanilla
This would yield a ratio of flour : liquid : egg of 1 : 2.5 : 1. If you add in the melted butter as a liquid, it gets very close to 1 : 3 : 1, or 1 : 4 for the ratio of flour : everything else in the base working ratio above. Not too shabby!
Degrees of Free-dom
This recipe is: gluten-free, peanut-free, tree-nut-free, fish-free, shellfish-free, soy-free.
The coconut – key lime pastry cream recipe that follows below is dairy-free. To make the crepes dairy-free as well, replace the milk and butter with dairy-free alternatives.
Coconut – Key Lime Pastry Cream
Makes 1 1/4 cups
Ingredients
One 13.5-ounce can coconut milk
3 tbsp sugar
1 tbsp cornstarch
2 egg yolks
1/4 cup lime juice
Zest from 1 lime
Steps
1. Scald the milk.
2. Whisk together the sugar and cornstarch, add to the egg yolks, and whisk until the eggs become light in color.
3. Temper the egg mixture into the milk, bring to a boil for about 1 minute, and turn off the heat.
4. Whisk in the lime juice and zest.
5. Let cool.
Notes
If you don't have key limes, you can easily substitute the larger Persian limes.
Degrees of Free-dom
This recipe is: gluten-free, dairy/casein/lactose-free, peanut-free, tree-nut-free, fish-free, shellfish-free, soy-free.
Enjoy!
–Pete