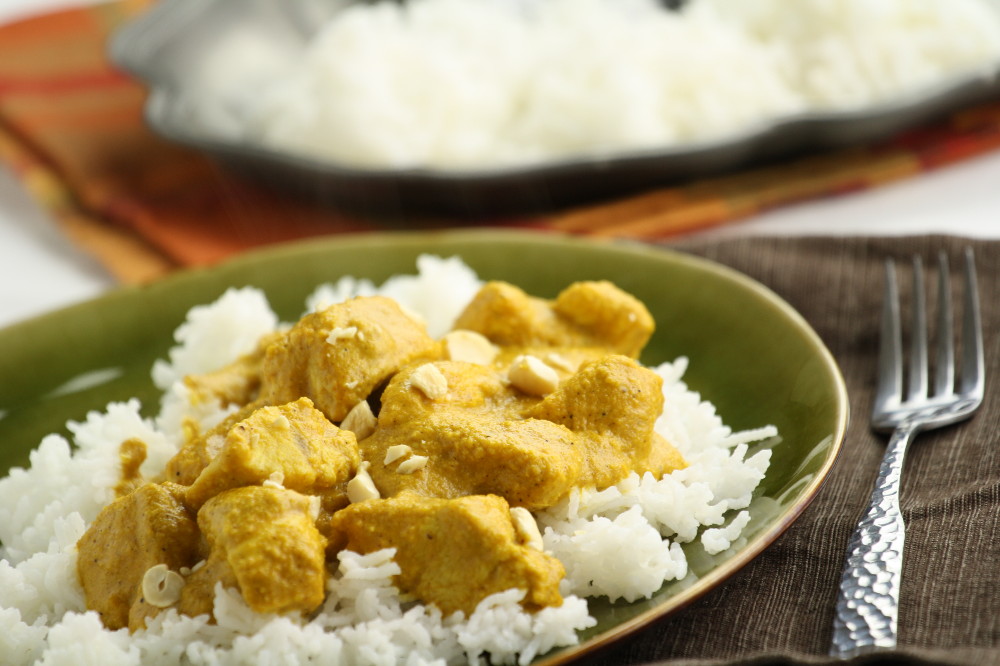 When it comes to Indian cuisine, we're suckers for a good chicken tikka masala. As often as we return to that familiar, favorite stand-by, we also do enjoy branching out. Today's recipe for chicken korma—with an almond-and-cashews-based sauce—is a good case in point.
At the recommendation of a co-worker, we headed to the town of Fishkill, New York to Tanjore Cuisine of India. In addition to two orders of tikka masala—one mild for the girls and one medium for us—we also placed an order for chicken korma. In short, it was delish: a smooth, creamy sauce of cashews and almonds; perfectly moist chicken; rich flavors. We knew we'd have to develop a version of our own.
Today's recipe is the first iteration of that process. I'm calling it version 1.0, because I anticipate there being a future, updated-and-improved version. Not that this version is inferior in any way, but we're going to continue to tweak it in search of a very particular flavor profile. But in the meantime, there's no reason why we—and you—can't enjoy the recipe as is.
Chicken Korma
Makes 6 servings
Ingredients
1 1/2 lbs boneless, skinless chicken, cubed
Salt
1/4 cup cashews
1/4 cup blanched almonds
1/2 cup boiling water
1 onion, sliced
3 tbsp olive oil
2 garlic cloves, minced
1 tbsp ginger, minced
1 1/2 tsp ground coriander
1 1/2 tsp cumin
1 1/2 tsp turmeric
1 tsp garam masala
3/4 cup diced tomato (fresh, canned, or frozen)
1 cup GF chicken broth
1 cup heavy cream
Steps
1. Lightly salt the chicken and cook over medium-high heat until it is cooked through. Add a tbsp of olive oil to the pan if necessary.
2. Meanwhile, soak the nuts in the boiling water for 15 minutes. Then, puree the nuts and hot water together in a food processor or blender until smooth.
3. When the chicken is done, remove from the pan. Add the 3 tbsp olive oil and onions to the pan and cook over medium heat until the onions are very soft, about 10 minutes.
4. Add the garlic and ginger, and cook until fragrant.
5. Add the spices, and cook for one minute.
6. Add cream, tomato, chicken stock, pureed nuts and water. Bring to a simmer, and cook for 10 minutes. Then use an immersion blender to puree the sauce until smooth.
7. Add the chicken back in, and simmer an additional 10 to 20 minutes, until you reach the desired consistency and flavor intensity.
8. Serve over Basmati rice.
Notes
If desired, garnish with chopped/crushed cashews.
Degrees of Free-dom
This recipe is: gluten-free, egg-free, peanut-free, fish-free, shellfish-free, corn-free, soy-free, refined-sugar-free.
Nutrition Info
Per serving (does not include Basmati rice): 400 calories, 28g fat, 8g carbs, 30g protein, 105mg sodium, 2g dietary fiber, 0g sugars, plus at least 60% RDA niacin, at least 30% RDA vitamin B-6, phosphorous, and selenium, and at least 10% RDA vitamins A and E, copper, iron, manganese, magnesium, riboflavin, and zinc.
Enjoy!
– Pete
Recipe nutrition info approximate, calculated using SparkRecipes.