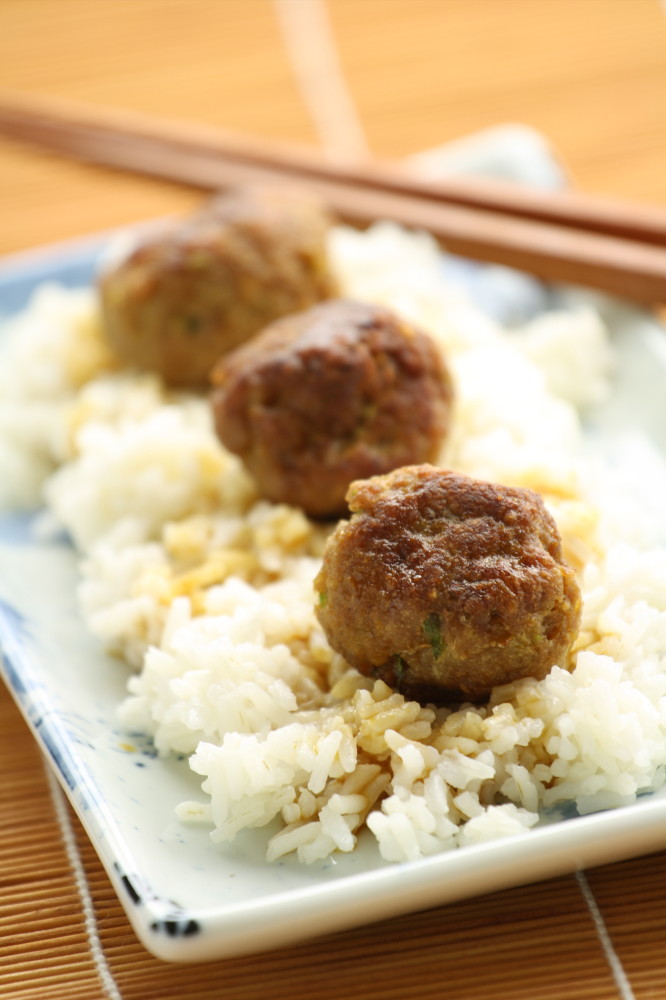 Happy Friday! After blogging all week about what we've been up to lately, we thought it was high time we got back to our roots with a good ol' gluten-free recipe. Kelli recently whipped up these delicious Asian meatballs. They start with our "standard" meatball base—lean ground turkey, GF bread crumbs, and egg—and swap out traditional Italian seasonings for Asian-inspired flavors. The result is dee-licious!
Asian Meatballs
Makes 18 meatballs
Ingredients
3 scallions
1 garlic clove
2 tsp fresh ginger root
10 oz ground turkey
3/4 cup fine GF cracker crumbs
1 egg
1 tbsp tamari wheat-free soy sauce (or GF soy sauce)
1 tsp sesame oil
Extra light olive oil
Steps
1. Preheat the oven to 350 deg F.
2. Mince the scallions, garlic, and ginger in a food processor.
3. Transfer to a medium bowl, and add the ground turkey, cracker crumbs, egg, tamari, and sesame oil. Mix well.
4. Form into 18 equally-sized meatballs.
5. Heat a tablespoon or two of olive oil in a skillet over medium-high heat. Brown the meatballs, turning occasionally to brown on all sides.
5. Transfer the meatballs to a baking tray and bake in the oven for 15 minutes, or until done.
6. Serve over rice and drizzle lightly with your favorite GF Asian sauce/marinade.
Notes
If you don't have crackers to make crumbs, you could substitute any plain, unseasoned GF bread crumb.
Degrees of Free-dom
This recipe is: gluten-free, dairy/lactose/casein-free, fish-free, shellfish-free, peanut-free, tree-nut-free, corn-free, refined-sugar-free.
Nutrition Info
Per serving (6 meatballs): 330 calories, 16g fat, 22g carbohydrates, 26g protein, 627mg sodium, 2g dietary fiber, 2g sugars, plus at least 10% RDA of calcium, folate, iron, manganese, niacin, riboflavin, selenium, and thiamin.
Enjoy!
– Pete
Recipe nutrition info calculated using SparkRecipes.