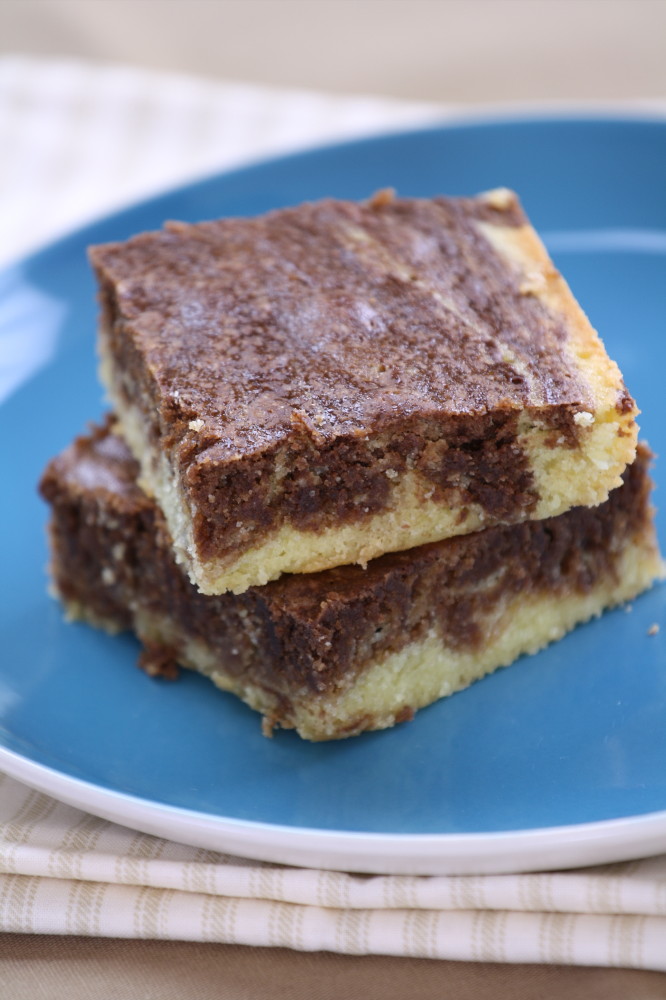 Whew! What a whirlwind this time of year is. The run-up to the holidays, while fun, can get insane. Thanks to the coincidental timing of birthdays, I feel like that's especially true in the Bronski household. In the span of six short weeks, we have: my birthday, Thanksgiving, Kelli's birthday, St. Nicholas Day, Marin's birthday, St. Lucia Day, Christmas, and New Year's.
On top of it all, this year Kelli and I have been busy putting final touches on the 2nd edition of Artisanal Gluten-Free Cooking, and I've been additionally swamped cranking through another book project due just after the New Year (as in…due January 2, 2012!). Oh, and like many of you—workers, and parents, and working parents alike—there's that whole "day job" thing. Thank goodness we have a tropical vacation planned for the second week of January. We're going to need it!
When it came time to celebrate Kelli's birthday, I asked her what she wanted for dinner, and what kind of cake she'd like. For dessert, she demured, saying I was too busy to worry about that sort of thing. If I did anything at all, she just wanted some nice brownies. I couldn't let that happen.
With Marin as my sidekick and kitchen helper, I decided to combine Kelli's request—brownies—with her favorite cake flavor—almond. I based today's recipe off the Almond Cake and Brownie recipes in the 1st edition of Artisanal Gluten-Free Cooking, but I adjusted ratios and ingredient quantities so that the yield of the two batters matched more closely, had similar texture, and was convenient to measure.
The result was superb. Great texture—moist and chewy. When the cake was still warm from the oven, the chocolate flavor was dominant. As the cake cooled, the almond became more and more pronounced, especially on the morning of the day after, when Kelli and I agreed the flavors had achieved full harmony. Try it for yourself and see!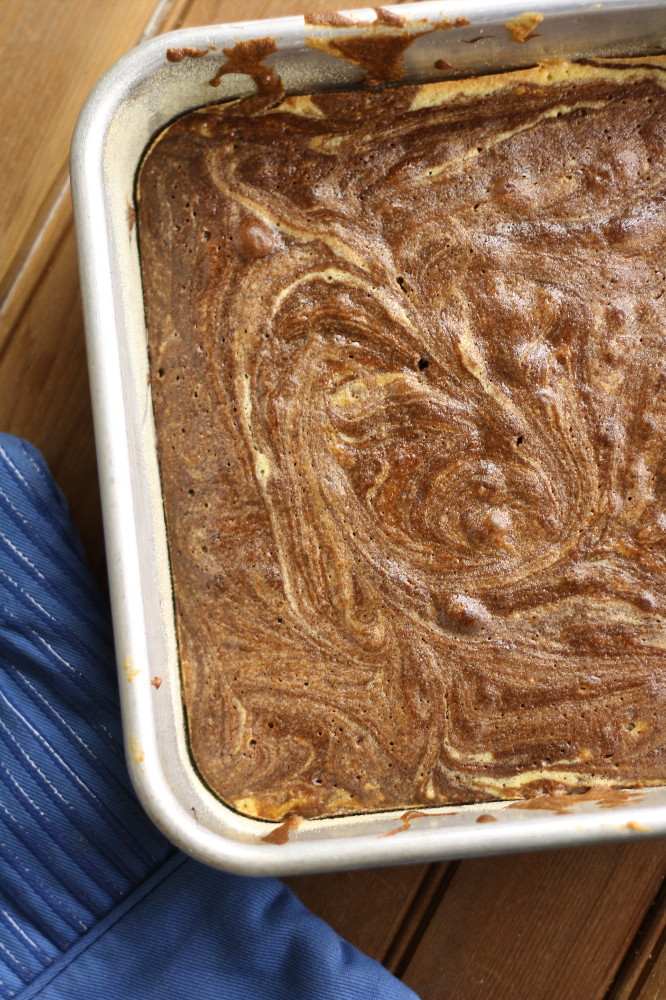 Almond Chocolate Brownie Swirl Cake
Makes one 9×9-inch pan
Almond Cake Ingredients
5 oz GF almond paste
1/2 cup sugar
2 eggs
1/2 cup (1 stick) butter, softened
1/3 cup (41 g) Artisan Gluten-Free Flour Blend
Chocolate Brownie Ingredients
1/4 cup (1/2 stick) butter
1/2 oz baking chocolate
1 1/2 tbsp cocoa powder
1 egg
1/4 cup sugar
1/4 cup packed brown sugar
1/2 tsp GF vanilla extract
1/4 cup (31 g) Artisan Gluten-Free Flour Blend
Steps
1. Grease a 9×9″ baking pan, sprinkle with flour, and shake out any excess. Preheat your oven to 350 deg F.
2. Start by making the almond cake batter: In a stand mixer, combine the almond paste and sugar until well mixed.
3. Add half the eggs, then the softened butter, then the rest of the eggs.
4. Add the flour and mix well, just enough to fully combine. Pour into the prepared pan and spread into an even layer.
5. Continue by making the chocolate brownie batter: Melt the butter, chocolate, and cocoa together in saucepan on the stovetop.
6. Remove from the heat, stir in the eggs, sugar, and vanilla and mix until smooth.
7. Stir in the flour until combined. Spread over the almond cake batter in a second even layer.
8. Use a knife, the handle of a spoon, whatever, to swirl the batters together. There's nothing scientific about this part…have at it!.
5. Bake for 30 min, or until a toothpick inserted into the center comes out clean.
Enjoy!
This recipe is: gluten-free, peanut-free, fish-free, shellfish-free.
– Pete