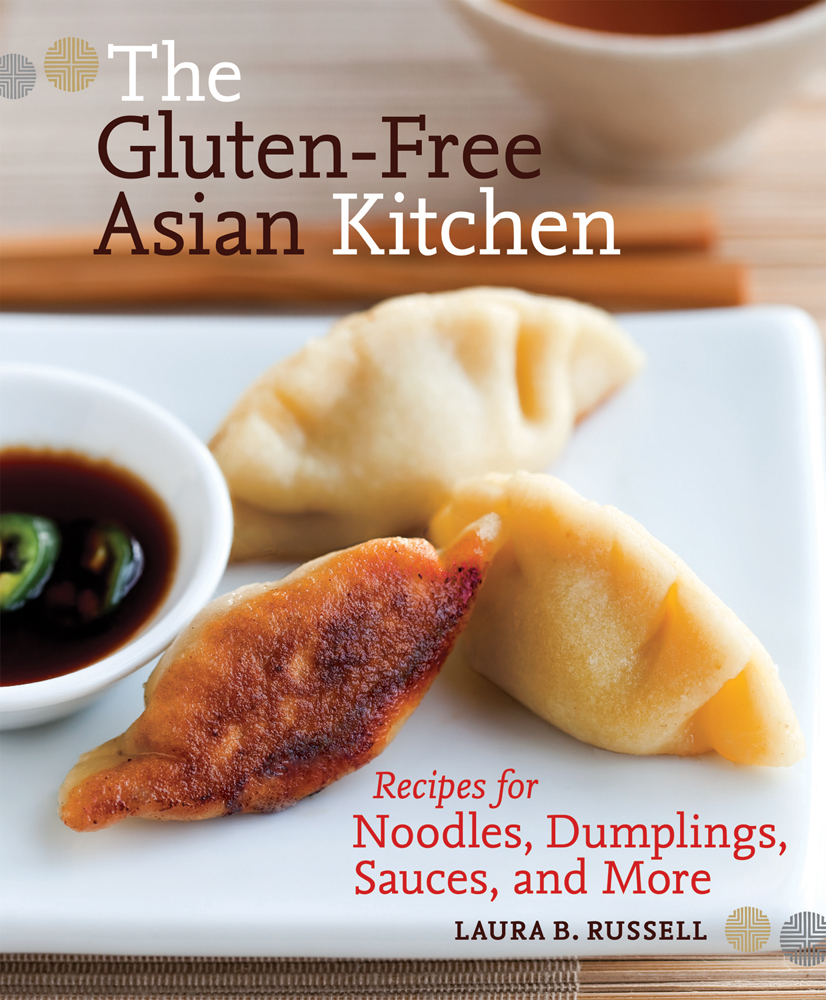 We're just one day away from Thanksgiving! Apart from all of the wonderfulness that it entails, this means that we're also two days away from Black Friday and the official start to the holiday season. Maybe you're looking for gifts for family or friends. Maybe you're hosting dinner parties, or holiday meals, and are looking for new recipes to jazz up your kitchen and dinner table. Well, today we're kicking off a blitzkrieg of cookbook reviews. And we're doing it in style, with The Gluten-Free Asian Kitchen, by Laura B. Russell.
Russell is a former associate editor at Food & Wine cookbooks, the "Gluten Freedom" columnist for the Oregonian, a frequent contributor to Prevention, and a gluten-free blogger. The Gluten-Free Asian Kitchen is her debut as a cookbook author. The book was released earlier this year by Ten Speed Press.
It includes more than 120 diverse recipes. Those recipes are divided into sections: sauces and stocks, skewers and snacks, dumplings and savory pancakes, noodles, rice, vegetables and tofu, seafood, poultry, meat, sips and sweets. Approximately every third recipe has a full page color photo. The photos – by photographer Leo Gong – are gorgeous. The layout and photography combine to make this one of the more visually stunning gluten-free cookbooks we've seen.
As Russell notes in the book's introductory section, it includes a range of recipes – those that are naturally gluten-free, those that are GF with simple ingredient swaps (i.e. tamari wheat-free soy sauce for conventional soy sauce), and more elaborate workarounds. The introductory material also includes an extremely valuable section that defines Asian ingredients, some of which may not be familiar to American cooks. Plus, Russell lists their probable gluten-free status (always, usually, sometimes, rarely, never), and lists product manufacturers for GF versions. She also notes whether you're likely to find the ingredient in a grocery store, natural foods store, or specialty Asian market. It makes for an incredibly comprehensive resource.
Throughout the book recipes that call for an ingredient that may or may not be GF are highlighted in red, with a "GF" icon next to it. It's an elegant approach to reminding readers when to be extra vigilant, and one from which other gluten-free cookbook authors could take a lesson.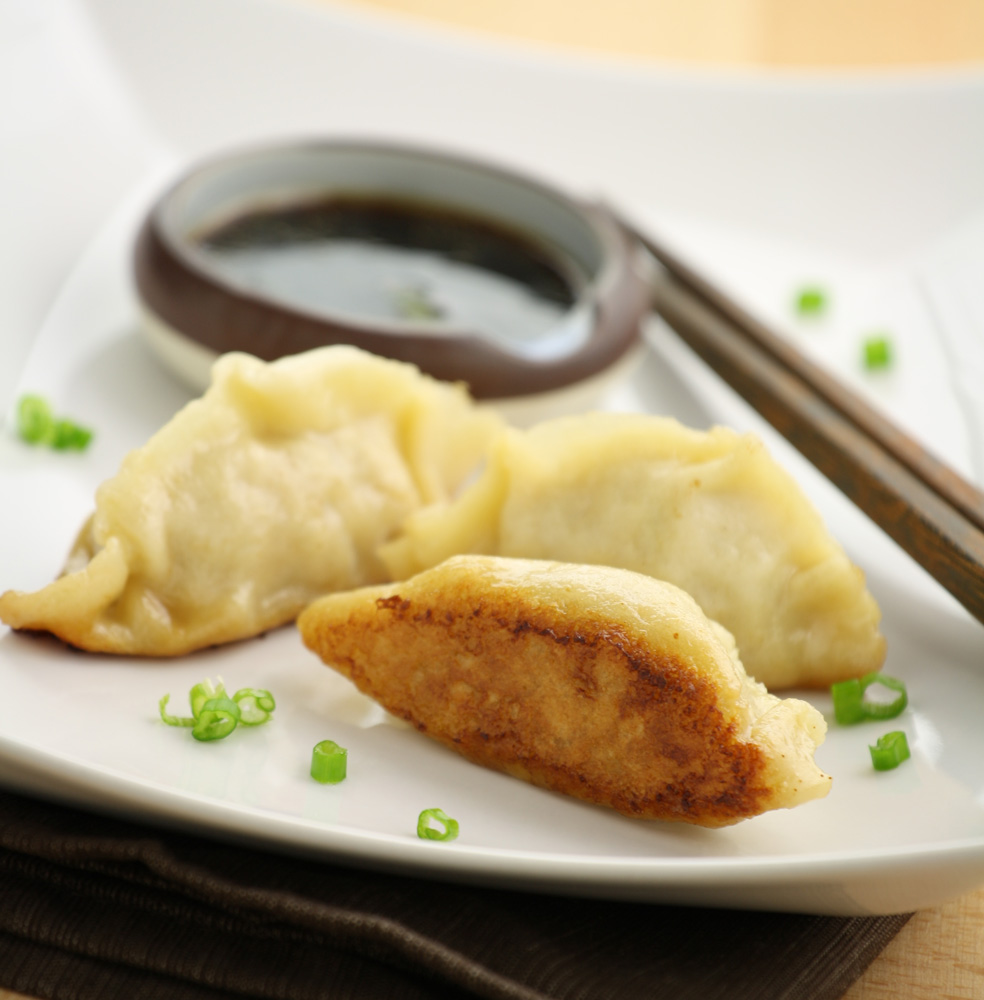 We started off by making the book's cover recipe, Gingery Pork Pot Stickers. The cover photo immediately reminded us of a food vender, Sister's Pantry, we'd frequent at the Boulder Farmers Market. They sold amazing dumplings, but alas, they weren't gluten-free, and so we hadn't had a dumpling – gluten-free or otherwise – since before 2007 when we switched to the gluten-free diet.
Russell's pot stickers were time consuming and labor intensive to make. This is not a criticism, just a fact of life. We find that often, the more elaborate gluten-free recipes (such as our own tortellini) involve an investment of time and energy. It's the price of admission. Having tasted Russell's pot stickers, the price for this recipe is more than worth it. These dumplings are phenomenal. You'd never know they're gluten-free. The gingered pork has bold, well-balanced flavors. The texture of the dumpling wrapper is sublime – a nicely browned, crisp bottom; moist and tender from steaming elsewhere. The dish finishes with a simple but flavorful dipping sauce (which we made with jalapeno pepper from our garden).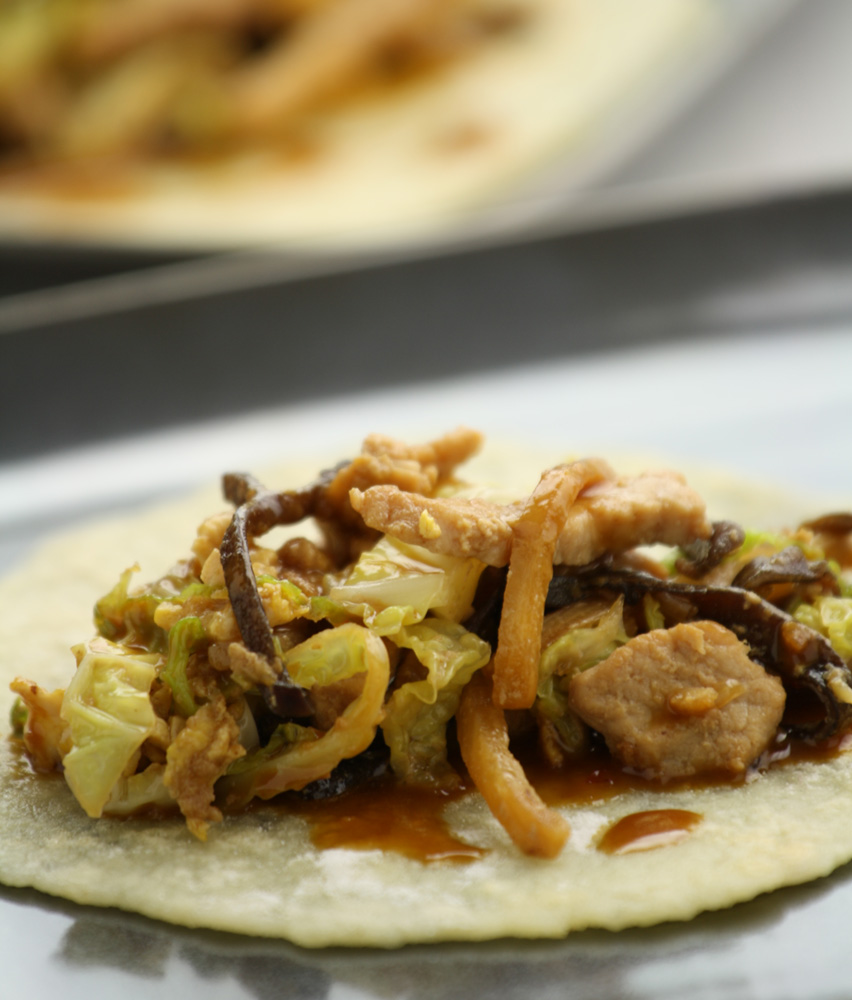 Next up we made the Mu Shu Pork. As with the dumplings, I can tell you exactly when was the last time we had mu shu pork. It was circa 2005, when we picked up an order of mu shu pork from P.F. Chang's prior to seeing James Taylor in concert in Denver, Colorado. This gluten-free version has been a long time coming for us!
With this recipe, Russell hit another home run. It was similarly labor intensive, and so it's something we won't make every day. But it was a real treat, and has earned a slot in our rotation of go-to meals. Our girls loved it, too. Kelli in particular was in heaven. The Chinese pancakes that form the base of this recipe start with a near identical dough as the dumplings, but are treated differently. The pancakes had superb texture – moist, smooth, pliable. The black wood fungus, Savoy cabbage, and bamboo shoots were nice additions to the filling. The seasoned pork was excellent. We agreed that Russell's gluten-free version is better than the P.F. Chang's version we had years ago.
As a matter of personal preference, we would have enjoyed more cabbage in the filling. Also, we didn't use the extra salt called for in the recipe. We made a from-scratch Hoisin sauce, since we couldn't find a GF version at our local markets, and that provided enough saltiness for us. One final note: at the end of dinner, we found ourselves with extra filling, and could have used 50% more pancakes. Even so, the filling was great the next day reheated and served simply in a bowl. (Update: 11/23/11 – Chatting this afternoon, Kelli and I remembered that the girls had eaten at least four of the pancakes before we sat down to dinner. Had we had a full batch of pancakes, the ratio of filling to pancakes would have been perfect. That's also a testament to how good the pancakes are!)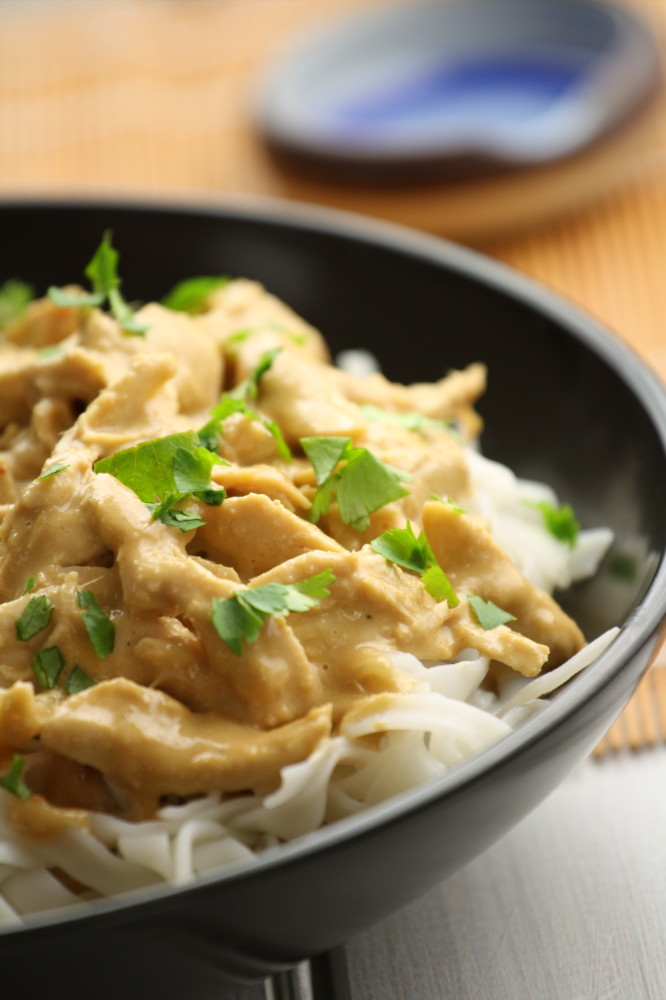 For a final dish (we're testing three recipes from each cookbook we review) we made the
Shredded Chicken with Creamy Sesame Sauce.
It was significantly easier to make than the previous two recipes. You boil, steam and shred chicken. Whip up the creamy sauce in a blender. Serve over rice noodles or your base of choice. Top with freshly chopped cilantro. Bada bing, bada boom. Done.
The shredded chicken – boiled and steamed in low sodium chicken stock – turned out moist and tender. Tahini paste gave the sauce its rich, creamy flavor, while classic Asian ingredients, such as soy sauce and ginger, rounded out the flavor. For the sake of the girls, we omitted the red pepper flakes from the sauce. The creamy sesame sauce tasted a touch salty by itself, but once we combined it with the chicken and plated it over a bed of rice noodles, everything fell into balance.
I will say that we made a few adjustments to the sauce. As we were preparing dinner, we looked at how much sauce the recipe made, how much chicken we had, and how much rice noodles we boiled up, and decided that we didn't have enough sauce to go the distance. So, we made a double batch of sauce, and also thinned it out with a bit of GF chicken stock from when we boiled the chicken. This gave us a better thickness for tossing with the noodles. No matter how you make it, though, it's a versatile sauce that would go well over chicken (as in the recipe), vegetables, rice, lentils.
Additional thoughts
Overall, we found Russell's recipes to be easy to follow, with specific, accurate instructions that gave results just as her recipes indicate they would. Also, following her advice in the book, we found many ingredients – some of which we couldn't locate anywhere else – at our local Asian market. Of the ingredients that
were
available at our area supermarkets, many were significantly less expensive at the Asian market.
Conclusion
As both a gluten-free and an Asian foods cookbook, The Gluten-Free Asian Kitchen is a double-niche book. If you're gluten-free and into Asian cuisine, this book is a no-brainer. It's a must-have for your cookbook collection. Plus, this book has very little overlap with gluten-free cookbooks that are already on the market. It's filling an important void.
As a cookbook, period, it's beautiful. Great photos, great recipes, great layout. Anyone can enjoy the recipes in this book…gluten-free or not.
In the interest of trying to quantify our subjective experience (for this and future cookbook reviews), we'll be using a five star ratings scale, with "points" earned as follows:
Layout and design = up to 1 star
Is the book appealing to the eye? Intuitive to navigate? Sensibly organized?
Photos = up to 1 star
Are there photos? Are they in color? How many photos are there? Are they good photos?
Recipe quality = up to 2 stars
Most importantly, how good is the food? Are recipes easy to follow? Do they deliver as promised?
Overall impression = up to 1 star
How well does the book achieve its vision?
And so, how does The Gluten-Free Asian Kitchen rate?
Layout and Design: 1 star
Photos: 1 star
Recipe Quality: 2 stars
Overall Impression: 1 star
Rating: 4.75 out of 5 stars 5 out of 5 stars
This book is top-notch. The dumplings and mu shu pork especially were ethereal. Don't take our word for it. Make them for yourself. Now. You won't regret it.
For our part, we're excited to continue cooking our way through the book's recipes…
– Pete
Book cover image courtesy the author. Cookbook provided by the publisher.