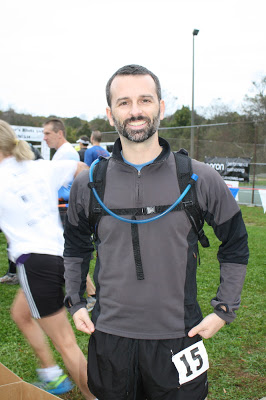 7:45am, shortly before the start of the Bimbler's Bluff 50K Ultra
Kenny Rogers said it in "The Gambler" – You got to know when to hold 'em; know when to fold 'em; know when to walk away; know when to run.
This past weekend, I raced in the Bimbler's Bluff 50K, a trail ultramarathon in southern Connecticut. That decision – of when to stick with it and when to call it quits – was the theme of the day.
For a full week leading up to the race, I had gotten less than 5 hours of sleep per night. I was going to bed routinely at 2:00am. Life's been busy with many irons in the fire. That sort of schedule may have worked for me in college, but not anymore. And that's no way to get your body strong for an ultra.
On Saturday, I did a good job with my pre-race gluten-free nutrition. Dinner that night was a heaping bowl of whole grain brown rice pasta with turkey bolognese (ground turkey in a tomato-based sauce). Later that night I had some more high-octane fuel.
I also laid out my food for the race the next day. At 32-33 miles, this was a shorter race than the Virgil Crest Ultra from one month ago, run at a faster pace. As such, the nutritional needs were different. I basically did a simplified version of my Virgil Crest foods, with an emphasis on carbs: GU energy gels, chocolate, oranges, apple slices with peanut butter, Gatorade, water. Simple and effective.
I turned in for bed at 11:00pm that night. It was the first time in 7 or 8 days I'd gone to be before 2. But because I woke up shortly after 4:00am to drive to the race start, it still ended up being a very short night.
We arrived at the race venue in southern CT around 7:00am. Before the race even started, I was feeling tired and fatigued. This was not a good thing. Yet, I somehow thought I could overcome it, thought I could simply run through the fatigue, that it wouldn't matter. Mind over matter can only take you so far, however. The body can give up, despite the mind's best intentions.
The fact that I thought I could just will myself to overcome the fatigue was perhaps one indication that I wasn't coming into this race with the proper mindset. As I would soon discover, I both underestimated the course and overestimated my self confidence. That's a dangerous combo. In some respects, it was a rookie mistake. I shouldn't have made it, but I did.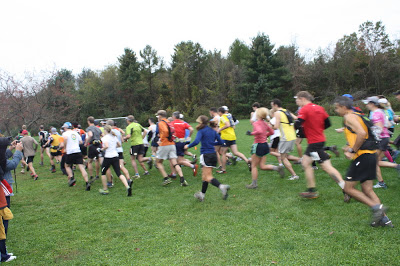 Racers head off from the start of the Bimbler's Bluff 50K
The 8:00am race start was cold and cloudy. Most of us began the race in long sleeves. It was good race weather for me, much better than if it'd been hot and sunny (and worse, humid).
In the first miles, my legs felt sluggish and heavy. It was hard to get into my rhythm. I discovered that though the course didn't have nearly the elevation gain and loss of Virgil Crest, it still had its ups and downs (both literal and figurative). There was a lot of elevation change hidden between the topo lines, not immediately recognizable on the course map. But the hills were there, none the less.
I wasn't sure if my legs felt heavy from the 2-hour car ride that morning, or from the fact that I'd done just one training run 8 days earlier, followed by nothing all week because I'd been too busy, or if something else was amiss.
Aid Station 1 came quickly. I was running fast, despite the fatigue with which I started the race. If this ultra was a cycling race, there would have been a breakaway, a chase group, and a long, strung-out peloton. The breakaway took off like a rocket. I was part of the leading edge of the chase group, in great position. At the aid station, I paused briefly to shed my long sleeve shirt, allowing most of the chase group to run past me. I fell in behind them and we all continued on at roughly same pace.
I re-passed some of them on the rocky downhills. Many racers slowed down in the steep, unsure footing. For those moments, I felt like a mountain goat, cruising downhill, skipping from rock to rock, moving quickly. It gave me a temporary boost of confidence. The confidence would be short lived, though.
Slowly but surely, I was self-destructing. Some of it was just dumb luck. For example, at one point, my right foot knocked a large rock up into the air. As I continued running, my left foot kicked it like a soccer ball, sending it hard directly back into my right ankle bone. I couldn't have done this if I tried. Suffice it to say that I saw stars. I limped for what felt like a good 200 meters before I could resume my normal gait. By the end of the race, the swelling made it look like I had a secondary ankle bone next to my real one.
I also made the wrong choice in footwear. I raced in my Inov8 RocLite 295s. They're a lightweight naturalistic trail running shoe with minimal heel-to-toe drop and with aggressive treads. I wore them for every mile of the Virgil Crest 50-Miler one month ago, and loved them. But the Bimbler's Bluff 50K proved to be a much rockier course than expected. With the fallen leaves, seeing the sharp rocks was difficult. Sometimes, they were simply unavoidable, whether you could see them or not. It made for tough going for my feet. Had I known this about the course, I would have worn my Montrail Mountain Masochists, which have a full rock plate (Montrail calls it a Trail Shield) in the sole of the shoe, protecting your foot. What's that they say about hindsight?
Then came the Bluff for which the race is named. It involves a steep ascent to the summit cliffs of a small forested peak that overlooks a scenic rural valley. It's basically a mandatory power hike section. There's no running up that thing. As I topped out and resumed my run, my left calf seized in a cramp. I broke my stride, leaned against a sturdy tree and stretched my leg. This was uncharted territory for me. In the 6+ years I've been endurance racing, since early 2005, I've never had a muscle cramp. At all. And my left calf was just the beginning. Over the course of the next miles, my right calf threatened to cramp up. Then my left quad started threatening to cramp up. What was going on?
What's more, my right ankle – which I rolled trail running back in July or so – was acting up.
At this point, it felt like a lot more was going wrong than was going right. About the only thing that was going well was the nutrition. I was drinking a lot, keeping well hydrated. I was eating well, pushing in lots of nutrtition… GU packs every 30-45 minutes, chocolate, apple slices with peanut butter, oranges, Gatorade.
But that wasn't enough to keep this boat from sinking. I'd been stressed all week. I was overworked, sleep deprived, you get the picture. I expected the race to be a time to sort all that out, to let go of it and recharge. Trail running is often a valuable time for me to "re-set" my system. Only this time, it didn't reset. The tension just threatned to boil over. The macho, stoic man in me is reluctant to admit this publicly, but there were a handful of times during race when I thought I might shed a few tears. This was an odd experience for me. That kind of thing seldom happens to me… the whole crying thing. (For the record, I didn't shed any tears during or after the race, though I came close…)
What that all boiled down to was that my heart and mind were not in the race. I felt defeated. And as my body continued to fight against me, I felt my morale and motivation sinking further.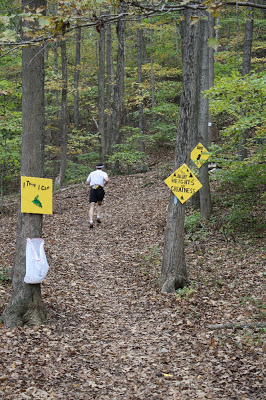 A racer begins his ascent of the infamous Bluff.
Stop running and commence power hiking in 3… 2… 1…
By the time I arrived at Aid Station 4, after 22 miles, I had serious doubts about continuing. Physically, mentally, emotionally, it wasn't my day. Normally, a trail ultra of that distance (32+ miles), over that terrain (mostly rolling hills), at that pace (roughly 10 min per mile), should be no problem for me. But it was. Something was majorly off.
I told Kelli as much when I ran into the aid station, where she and the girls were happily waiting.
"I know that you can finish this race, if you want to," she said re-assuredly. "But is it worth it?" That was the million dollar question.
After an agonizing few minutes, having contemplated the decision, I walked over and told the aid station volunteer with a clipboard and spreadsheet that I was withdrawing.
I looked over her shoulder and watched as she flipped the page, found my bib #, and scribbled the initials "DNF" next to my name. Did Not Finish. It was my first DNF. In any race. Ever.
If you compete for long enough, every racer has a DNF at some point. This, I think, is a nearly universal truth of endurance racing. I don't know why I thought I'd be immune to it.
In the past, as I've thought about this hypothetical future moment (which had just become my present reality), I always envisioned it as a moment of crushing disappointment. Surprisingly, it wasn't. In some ways, it was a relief. Did this mean I had given up? I don't think so. I think that deep down I knew that this was the right decision to make.
Kelli was right. Sure, I could have finished, but at what cost? I was in rough shape. I had to think about the rest of the year…the girls, the busy holiday season, two looming book deadlines, the 2012 race season. I'd been burning the candle at both ends for too long. Heck, if my candle had 3 or 4 ends, I'd be burning those, too. I feel like I've been flirting dangerously with chronic fatigue. It's time to take a step back, to really rest, to let my body fully recover to 100%, and come back in a month or two refreshed, strong, ready to go. Besides, "it takes courage to withdraw," Kelli comforted me.
We walked as a family down the trail and to the car. I wouldn't run those last 10+ miles of the race. As I changed my clothes, from shorts into jeans, I lifted my leg to put it into my pants, and my hip cramped up. Seriously? What was wrong with me? It was another sign I had made right decision.
Yesterday, tentative race results were posted to the race website. I immediately noticed that my name is missing. Upon further inspection, it became clear that the race director didn't list the DNFs. What? I was taken aback. Did only finishers get the "honor" of being listed in the results? Was the race director trying to save us DNF folks the "disgrace" of being listed as such? My missing name was like a little extra kick in the gut. I was there. I toed that starting line. I ran for 22 hard miles. That counted for something.
Looking at the finish times of other racers, I felt a twinge of regret for pulling out of the race. Kelli had been keeping approximate track of my place in the race. At the time that I withdrew, after those 22 miles, she estimated I was right around the top 20 mark in the race. Even at my slower pace, as terrible as I felt, I likely could have finished the race in a time that would have still kept me in the top 30, in a race that had 170+ registered competitors. That's nothing to scoff at. (I wonder too how well I might have done if I'd been feeling better for the race.)
But then I reminded myself – yes, I could have done that. I could have finished the race and "salvaged" the day. But at what cost?
It has been a valuable learning experience.
I wonder – now that I have my first DNF – if it will be a gateway drug. Now that my streak has ended, and I finally have a DNF on my record, will that make it easier for me to do it again in the future. I don't think so. Now I've tasted it. I know what it feels like. And I know I don't want to do it again. This time it was the right decision to make. But I also don't want there to be a next time.
Part of my plan for assuring I don't DNF again is to get back to 100%. Doing that requires not competing for a little bit. I told Kelli as we left the aid station together, "In a few weeks, if I start talking about doing another race this fall, remind me of this conversation."
I'm going to take some time. No racing. At least for the next two months. In the interim, I'll focus on "lifestyle" fitness… a bit of late season surfing, some hiking with the girls, rock climbing, and soon, ice climbing and skiing. I'm going to get my legs pain-free. And I'll be back trail running again before not too long either. It's hard for me to stay away. But before I resume, I want to make sure that all systems are go.
Although I don't know what it is just yet, the next gluten-free endurance challenge is waiting for me around the corner. Time to look ahead to the race calendar and make some plans. In the meantime, I've got other work to do… =)
– Pete