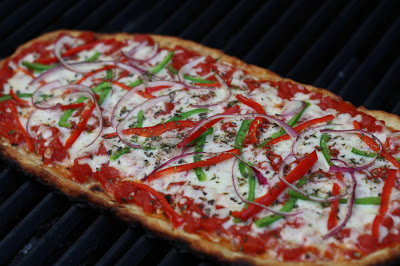 Historically, I have not been shy about professing my love of pizza here on the blog. Over the years we've posted a number of recipes. Most recently we developed our San Marzano deep dish pizza recipe. Before that, there was a recipe for spicy buffalo chicken pizza. There was a dual recipe for Sicilian and thin crust pizzas before that, in a post I titled, "The Pizzaholic." And there was a margherita pizza and others before that.
When this month's Gluten-Free Ratio Rally decided to tackle pizza, I was pretty excited. As usual with the Ratio Rally, Kelli and I wanted to challenge ourselves with a pizza we'd not attempted before. We almost immediately settled on our goal: a grilled pizza, cooked over an open flame.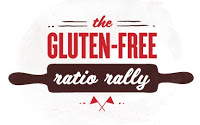 Now, I don't want to let the cat out of the bag here, and I don't want to overly pat ourselves on the back, but oh my gosh. This pizza is good. No, this pizza is great. Kelli declared it possibly the best pizza we've ever made. And we tend to have a pretty high opinion of our pizzas, so this is saying something. The delicious char and unmistakeable grilled-ness on the slightly crunchy yet chewy crust. The fresh vegetables. The balance of sauce and not too much cheese.
But, you don't have to take our word for it. Try the recipe and see for yourself! And while you're at it, head on over to Karen R.'s blog, Cooking Gluten-Free. She's hosting this month's ratio rally, and you'll find links to lots of other tasty gluten-free pizzas there!
As for the ratio of the recipe itself, the participating bloggers began with a starting ratio of 5:3 flour:water. The more we work with gluten-free doughs, the more we like those doughs to be pretty wet. With the case of something like a pizza dough, we like for it to be right on the edge between workable by hand and too wet/sticky. The result, for this pizza, was a ratio of 1:1. We used flour and water in equal quantities by weight.
Regardless, the end result is what matters, and this time around, the result was divine, and I don't mind saying so.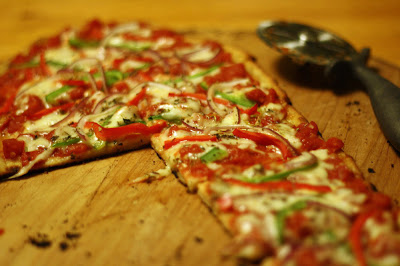 Grilled Pizza
Makes 1 pizza, Serves 2-4
Ingredients
For the dough
175g warm water (3/4 cup)
1 tbsp honey (or sugar)
2 1/4 tsp active dry yeast
1 tbsp olive oil
175g Artisan Gluten-Free Flour Blend (about 1 1/3 cups plus 1 heaping tbsp)
1 tsp xanthan gum
1 tsp salt
For the pizza
250-275g crushed San Marzano tomatoes (about 2/3 of a 14.5-ounce can)
110g shredded mozzarella cheese (about 4 oz)
1/4 red bell pepper, sliced thin
1/4 green bell pepper, sliced thin
1/4 red onion, sliced thin
Dried oregano
Dried basil
Steps


To make the crust
1. Preheat your oven to 500 deg F.
2. Combine the water, honey/sugar, and yeast in a bowl and let stand until the yeast is well activated, about 5 minutes.
3. Stir in the olive oil. In a separate bowl, combine the flour, xanthan gum, and salt. Add the liquids and mix to form a dough that is soft but not sticky to the touch. Drizzle a little bit of olive oil into the bowl and roll the dough ball to evenly coat.
4. Drizzle a liberal amount of olive oil onto a cookie sheet and press the pizza dough into a thin crust shape, approximately 15″ x 7.5″, or whatever will fit comfortably on your grill. Let rise 10 minutes.
5. Par-bake the crust in your pre-heated oven for 10 minutes. Meanwhile, preheat your grill to 500 deg F, then decrease the flame. (How much you decrease the flame will depend on your grill – you want to get good grill marks and char on the bottom of your pizza, but don't want to burn the crust before you melt the cheese and cook the toppings.)
6. Use a spatula to separate the pizza crust from the cookie sheet, and transfer to a pizza paddle, if desired.
To make the pizza
7. Spread the tomatoes/sauce on the par-baked crust, then add the shredded cheese, then the sliced vegetables, and finally a light sprinkling of the dried herbs.
8. Finish the pizza on the hot grill, baking for about 5 minutes, until the cheese is melted and the toppings are cooked.
Enjoy!
This recipe is: gluten-free, egg-free, peanut-free, tree-nut-free, fish-free, shellfish-free, soy-free.


This recipe is easily made dairy-free with the use of dairy-free cheese. This recipe is refined-sugar-free as long as you don't use sugar to activate the yeast.
– Pete