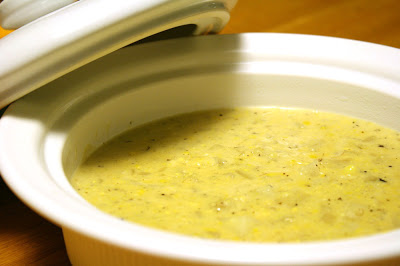 As novice gardeners, we've been delighted with many of our successes, but we've also faced some challenges, and had our share of failures. Our cantaloupe never took off (we blame the intense shade caused by our community garden neighbor's seven-foot-tall sunflowers). Some critters kept stealing the sugar snap peas we planted, before they had a chance to germinate. We allowed our green onions to get choked out by weeds before they were mature enough to better fend for themselves. Fortunately, on the average we've had more of the success than the failure.
One thing that has persistently plagued us, though, has been determining when the time is right to harvest ears of corn off the stalk. Sometimes the ears haven't filled out with kernels completely yet. More often, we've waited too long and the corn is over the hill. Some astute readers noticed this in the corn pics from last week's garden-centric Friday Foto. (And a big thanks to the experienced gardeners among you who emailed us with tips!)
Needless to say, we were left with quite a few ears of corn that weren't exactly in their prime for steaming and eating fresh right off the cob. What to do? We made this delicious corn-and-potato chowder. With the nights slowly beginning to turn cooler in our neck of the woods, it's a great evening dish that combines the harvest of late summer with the warm comfort of hearty fall cuisine.
Corn Chowder
Makes about 6 servings
Ingredients
4 strips bacon
1 medium onion, diced small
2 garlic cloves, minced
2 tbsp Artisan Gluten-Free Flour Blend (or any all-purpose GF flour blend)
3 cups GF chicken stock
2 medium potatoes, cubed small (Yukon gold or similar)
5 ears corn, cut from the cob
1 cup half-and-half
1 tbsp red wine vinegar
Salt and pepper, to taste
Steps
1. Cook the bacon in the bottom of a heavy saucepan (4 quart capacity or so) until well-done. Remove the cooked bacon. Crumble once cool enough to touch.
2. Add the onion and garlic to the bacon drippings. Saute over medium-high heat until the onions are translucent.
3. Add the flour and stir to coat the onion and garlic.
4. Add the chicken stock and bring to a simmer.
5. Add the potatoes and cook until soft, about 20 minutes.
6. Puree all but 1/4 cup of the corn. Add all of the corn, plus the half-and-half, and simmer for 10 minutes.
7. Add the vinegar and reserved bacon. Season to taste with salt and pepper.
Enjoy!
This recipe is: gluten-free, egg-free, peanut-free, tree-nut-free, fish-free, shellfish-free, refined-sugar-free, soy-free.
Finally, on a non-recipe-related note, I just wanted to conclude this Friday Foto that immediately precedes Labor Day Weekend with a big thank you. Just since Wednesday, two days ago, when I posted my last ultramarathon training update, we've made more progress toward my National Foundation for Celiac Awareness fundraising goal. We're now approaching $1,400 raised, 27% of the way toward my goal of $5,000 ($100 per mile).
This effort has been getting some good traction on Twitter today, and I have to extend a second big thank you to all the bloggers who are tweeting and sharing the endeavor.
Before you log off and enjoy the long weekend, please check out the fundraising page and consider making a donation today. Every dollar counts, and every dollar helps the gluten-free community! Thanks for your support!
With just a few weeks to go until the race, this is going to be a big training weekend for me. Until next week…
– Pete