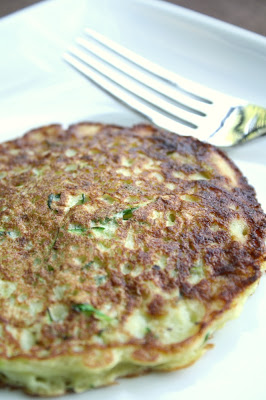 After much anticipation, our garden is at last producing a regular harvest. The cilantro (photo below) has gone in dishes ranges from chicken tikka masala to pad thai. We've been enjoying almost nightly mojitos, with freshly muddled mint. And basil – combined with tomatoes and other vegetables – will go into a cold pasta salad for dinner tonight. The Swiss chard is ready, the carrots coming along nicely (I ate one fresh last night, rinsed of soil, but otherwise unadulterated). I'm long overdue to post a photo roundup of the garden. Maybe next week, I hope. I just need to snap some more photos to show the progress!
By far, though, our greatest producer (at least so far) has been the zucchini. It always seems there's another one or two to harvest. Several have been at least as big as my forearm. Having this constant supply of zucchini has been wonderful, but it has also challenged us to use the vegetable in new ways.
Witness today's Zucchini Pancakes (photo above). Full credit for this creation goes to Kelli, who whipped up this great recipe. At first glance, they appear to be nothing more than "regular" pancakes with some shredded zucchini in them. But I can assure you, through personal experience, that they are much more. They are moist and savory and surprisingly rich-tasting. Kelli said it best when she described each pancake as a personal quiche. Try them and see for yourself!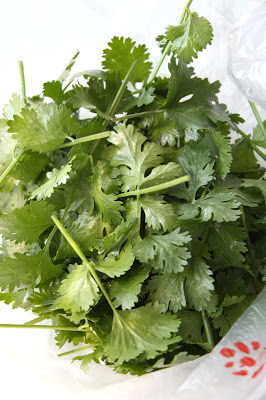 Zucchini Pancakes
Makes 24 pancakes
Ingredients
1.5 lbs zucchini (1 very large), shredded
1 medium onion, diced small
2 garlic cloves, minced
3 eggs
1/2 cup Artisan Gluten-Free Flour Blend
2 tsp GF baking powder
Dash each salt and pepper
Butter and olive oil (equal parts, for skillet)
Steps
1. Combine the zucchini, onion and garlic.
2. Add the eggs.
3. Add the flour, baking powder, salt and pepper. Mix/whisk well.
4. Ladle or spoon the batter onto a greased skillet over medium-high heat.
5. Flip when the edges are set.
Enjoy!
This recipe is: gluten-free, dairy-free, peanut-free, tree-nut-free, fish-free, shellfish-free, refined-sugar-free.


Note: For these zucchini pancakes, we greased the skillet with a combination of equal parts butter and olive oil. The olive oil lowers the smoke point, while the butter imparts flavor.


– Pete