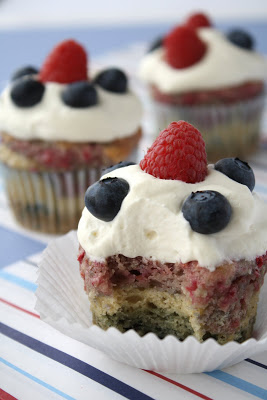 It's the eve of the Fourth of July weekend, which – if you live in the United States – means only one thing: summer party time. (Well, that and maybe barbeques… and beaches… and fireworks… and patriotism… but you get my drift.)
From a food standpoint – and speaking from personal experience – the weekend can be indulgent. It's also prime season for fresh berries. So why not combine those two things in the form of a cupcake? Fresh fruit in an indulgent cupcake. What could be better?
Today's Friday Foto and recipe comes from our new cookbook, Artisanal Gluten-Free Cupcakes. And, this particular recipe was inspired by Kelli's aunt, who makes a red, white and blue cake every year for…you guessed it…the Fourth of July!
True to our style of gluten-free baking, these babies are 100% from scratch. We use no artificial colorings…only natural, fresh fruit purees, which impart both great flavor and color, and which lend a moist, tender crumb to the cupcakes. Each one is like a sweet bite of summertime.
Red, White, and Blue Cupcakes
Makes 24 cupcakes
Ingredients
1 cup raspberries
1 cup blueberries
3/4 cup salted butter (1 1/2 sticks), room temperature
1 3/4 cups sugar
2 tsp GF pure vanilla extract
2 large eggs, room temperature
2 large egg whites, room temperature
1 cup milk
1/4 cup sour cream
3 cups Artisan Gluten-Free Flour Blend
2 tsp xanthan gum
2 1/2 tsp GF baking powder
1 tsp GF baking soda
1/2 tsp salt
Steps
1. Preheat the oven to 350 deg F. Line standard cupcake tins with paper liners.
2. Puree the raspberries and set aside. Ditto for the blueberries. (But keep them separate!)
3. With an electric mixer, cream together the butter and sugar until fluffy, then add the vanilla.
4. Add the eggs and eggs whites – one at a time – mixing to incorporate after each addition.
5. Add the milk and sour cream. Mix until combined.
6. In a separate bowl, combine the flour, xanthan gum, baking power, baking soda, and salt. Mix with a whisk to sift the ingredients and break up any lumps.
7. Add the dry ingredients all at once to the sugar-egg mixture. Mix for about 10 seconds at medium-low speed to incorporate.
8. Scrape down the sides of the bowl and mix at high speed for about 5 seconds, just until the batter is completely mixed and smooth.
9. Divide the batter into thirds. Place each in a separate bowl.
10. Add the pureed raspberries to one bowl of batter and mix to incorporate. Ditto for the blueberries. Leave the remaining bowl with plain cake batter.
11. Divide the blueberry batter evenly among the paper-lined cups. Smooth the top of the batter with two water-moistened fingers.
12. Add a layer of plain vanilla batter to each cup. Again, smooth the tops.
13. Finish by dividing the raspberry batter among the cups, so that you have a three-layer cupcake in each. Again, make the tops of the batter as smooth as you can.
14. Bake for 25 minutes.
15. Allow the cupcakes to cool in the tins for 10 minutes. Then remove from the tins and let cool completely on a wire rack.
Finish the cupcakes by topping with fresh whipped cream, and decorate with fresh blueberries and raspberries.
This recipe is: gluten-free, peanut-free, tree-nut-free, fish-free, shellfish-free.
To make alternate versions of these cupcakes (such as dairy-free or egg-free), follow these guidelines for baking allergen-free cupcakes.
Enjoy!
– Pete