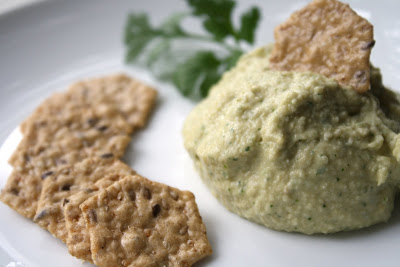 Over the years, Kelli hasn't been shy about professing her love for all things cilantro. (I'm a fan, too, though she definitely has me beat.) When it came time to plan and then plant our garden earlier this season, there was no question that at least one herb would be on the list: cilantro. And lots of it. In fact, we planted 3 six-foot-long rows of the stuff.
Those rows are finally robust enough that we're going to start harvesting some cilantro (photo below). Alas, for the photo of the hummus above, I must confess that we used purchased fresh cilantro. When we made the hummus and took the photo two weeks ago, our own cilantro wasn't yet ready. But that's about to change!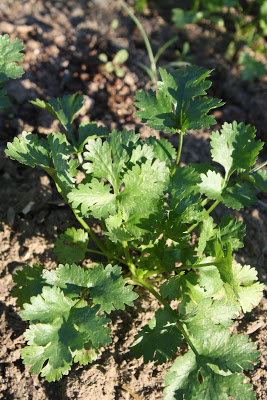 Cilantro Hummus
Makes about 2 cups
Ingredients
One 15.5-ounce can chick peas (retain half the liquid from the can)
Juice of 1/2 a lime
1 garlic clove
2 tbsp tahini paste
3 tbsp olive oil
1/4 cup cilantro leaves and stems
Salt to taste
Steps
1. Pulse everything in the food processor. Bada bing, bada boom. Done.
This recipe is: gluten-free, dairy-free, egg-free, peanut-free, tree-nut-free, fish-free, shellfish-free, refined-sugar-free, vegetarian, vegan.


– Pete