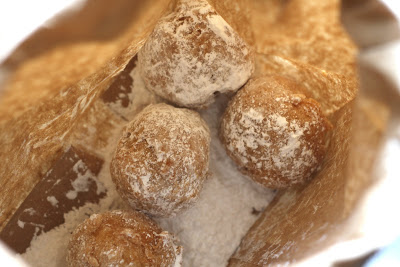 If you caught our Gluten-Free Ratio Rally post at the beginning of the month – when we made Almond Choux Florentines – you know that the most recent theme was pate a choux, a versatile French pastry dough. We were so pleased with the results that we wanted to keep the pate a choux love going with a follow-up recipe for beignets.
With my love for silly puns, word play and (in theory) clever titles, I desperately wanted to call today's post "Taming of the Choux." But by convention the Friday Foto is always named for the recipe. By that measure, I thought of calling this recipe "Binge-ts," since I had a bit of a bingeing problem while eating the beignets. In the end, though, I called it like it is.
Beignets are the brilliant result of combining pate a choux with deep frying. They're often finished with a generous topping of confectioner's sugar, and sometimes filled with fruit. In these respects, beignets can be considered in the same family as Italian zeppoli. And yet, beignets are a pastry all their own. The moist, tender, egg-y pate a choux really comes through. And they puff up beautifully with giant pockets of air while they're being fried.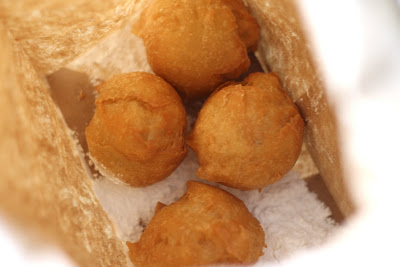 Beignets as today's Friday Foto are apropos, not just because they continue the pate a choux theme, but also because one week from today we head to the Big Easy – New Orleans – where we're doing a cupcake baking demo and book signing at the annual conference of the American Library Association. We'll be on the cookbook stage from 2:30-3:30pm on Saturday, June 25. Come on by and see us!
Also, the following week, on Wednesday, June 29, I'll be leading a National Foundation for Celiac Awareness webinar, "Nutrition and Training for the Gluten-Free Athlete." There will be 30 minutes of informative presentation, followed by 30 minutes of structured Q&A. The webinar begins at 1:00pm Eastern time, so people can catch it on their lunch breaks. Best of all, it's free to register! Sign up and join me and the NFCA!
Finally, Father's Day is this coming Sunday, June 19. The Stir at CafeMom.com published an article, "Father's Day Recipes for a Gluten-Free Dad." The centerpiece of the article was Barbeque Pulled Pork, excerpted from our first cookbook, Artisanal Gluten-Free Cooking. They called it "dude food" that's "free of gluten, but full of deliciousness." Sounds good to me.
And at last, the recipe for beignets: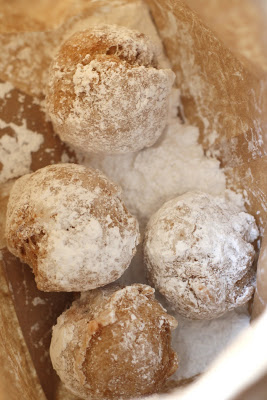 Beignets
Makes about 24 pastries
Ingredients
300g water (about 1 1/4 cups)
100g salted butter (7 tbsp + 1 tsp OR 1 stick less 2 tsp)
1 tsp sugar
1 tsp salt
180g Artisan Gluten-Free Flour Blend (about 1 1/2 cups)
200g eggs (4 large)
Confectioner's sugar
Steps
1. Preheat a pot of oil to 350 deg F.
2. Add the water, butter, sugar, and salt to a saucepan and bring to a boil.
3. Remove from the heat, add the flour all at once, and stir vigorously until it forms a dough ball and pulls away from the sides of the pot.
4. Transfer the dough to a stand mixer and beat with a paddle at low speed until the dough cools (it will still be warm to the touch).
5. With the mixer at medium speed, add the eggs slowly and beat until they're completely absorbed and the batter is smooth.
6. Use rounded spoonfuls to fry dollops of dough in batches, as the size of your pot allows. (Our beignets "turned" themselves while frying, but you can always turn them yourself to ensure even browning on all sides. They'll roughly double in size as they fry and puff up with air pockets.)
7. When they are deep golden brown, transfer to paper towels or a brown paper bag and let drain.
8. Toss in confectioner's sugar while still warm. (A small paper bag works great for this. Add some confectioner's sugar, drop a few beignets in, roll the top closed, and shake vigorously to coat. This method totally reminded me of the zeppoli I used to get at carnivals as a kid.)
Enjoy!
This recipe is: gluten-free, peanut-free, tree-nut-free, fish-free, shellfish-free.
– Pete
P.S. In the spirit of bloggerly love, we've also posted this recipe over at Simply Sugar and Gluten-Free's Slightly Indulgent Tuesday post.