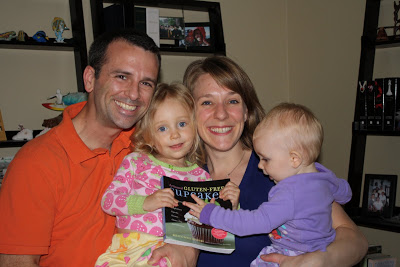 It's an exciting week in the Bronski household. Our second cookbook, Artisanal Gluten-Free Cupcakes, is here! The first copies arrived in our mailbox. If you pre-ordered the book, your copy should already be in the mail to you, too. It's in-stock at Amazon, and brick-and-mortar bookstores (such as Barnes & Noble) should have the book in-stock nationwide within the next week or two. Hooray!
We're terribly excited, and terribly proud, of our sophomore effort. If we put our heart and soul into Artisanal Gluten-Free Cooking (which we did), then Artisanal Gluten-Free Cupcakes also contains our blood, sweat and tears. It was a labor of love, but it was also a labor, period. Brainstorming cupcake flavors. Developing and testing (and re-testing) recipes. Taking photos. Writing oodles of useful instructional info. All with our second young daughter often strapped to Kelli's chest, and while negotiating a move from Colorado to New York.
But here we are on the other side of that process, enjoying the sweet, dessert-y fruits of that labor.
Along the way, I'd conservatively estimate that we baked 1,000 cupcakes, and went through 125 cups (15.5 kg or 34+ lbs) of our Artisan Gluten-Free Flour Blend. I'm not going to even try to estimate how much sugar and butter we used. A lot.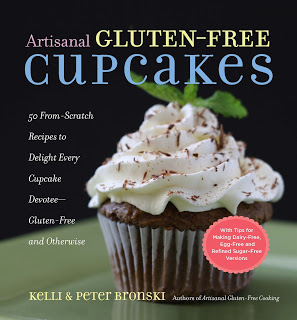 As for the book itself, here's what you can expect:
It includes 50 cupcakes, each and every one of which is accompanied by a full-page, color photograph.
The recipes run the gamut.
There are Classics, such as Vanilla with Chocolate Frosting, Chocolate with Vanilla Frosting, and perennially popular Red Velvet.
There are Fruity cupcakes, such as Mango Mania, Very Strawberry, and Red, White and Blue (a layered cupcake with vanilla, blueberry and raspberry cake batters).
There are Nutty cupcakes, such as Almond Addiction, Hazelnutty, and even Sweet Potato Walnut.
For the chocolate lovers out there, there are Chocoholic cupcakes, including Chocolate Mint (the cover photo), Mocha, Chocolate Raspberry, Chocolate Peanut Butter, and many more.
There are Filled cupcakes with sweet surprises inside, such as our Jelly Donut cupcake (like a Dunkin' Donuts jelly donut!), Key Lime Pie cupcake, Fruit Tart cupcake, Caramel Apple Pie, and more.
And there are what we call Extraordinary cupcakes that go above and beyond the normal call of cupcake duty. Such as Poached Pearfection, which includes a vanilla bean and white wine poached pear cake, topped with a salted caramel buttercream (modeled after our wedding cake). Or the Snickerdoodle cupcake. Or the Cannoli cupcake, where each cupcake is topped with a genuine, authentic (but gluten-free), from-scratch Sicilian cannolo. Or the Dulce de Leche cupcake.
There's tons of useful frontmatter in the book before you even get to the recipes. Info about different gluten-free ingredients and baking tools. Tips for successful gluten-free baking. Detailed, photo-by-photo, step-by-step instructions for making filled cupcakes, making a great Italian buttercream, and working with a pastry bag and piping tips to create different frosting designs. The recipe for our Artisan Gluten-Free Flour Blend, including the measurements for both baking by volume (cups) and for baking by weight (grams).
And lastly, there's an informative appendix with detailed information about making dairy-free, egg-free, refined-sugar-free, and vegan versions of our cupcakes and frostings.
We cover a lot of ground. I hope this doesn't come across as boastful. It's certainly not meant that way. We're simply excited and proud…and breathing a sigh of relief now that much of the heavy lifting of writing a new cookbook is done.
You also don't have to take our word for it. Head on over to our sister site, Artisan Gluten-Free, and see what other folks are saying.
Finally, stay tuned for a cupcake cookbook giveaway! In the meantime, thank you for your continued support! This cookbook is for you…
– Pete