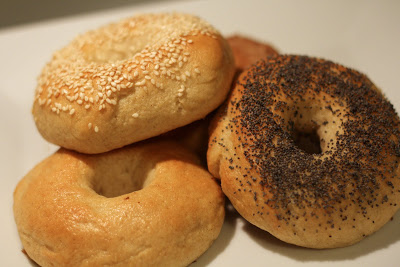 NOTE: Today's Monday Makeup (as so I've dubbed it) was meant to be last week's Friday Foto, which obviously didn't happen. But I have a good excuse: I was in the hospital. I usually try not to let personal matters affect the public face of the blog (unless they have relevance to the gluten-free lifestyle). This time it was unavoidable. I've been in and out of the hospital several times, actually, over the past 2.5 weeks. First with an antibiotic-resistant staph infection. Then with tick-borne erhlichiosis. I'll spare the particulars… suffice it to say that I've been through the ringer, I'm fatigued, have weeks of recovery ahead of me, and have had to withdraw from the first races of the summer season. Sigh. But life marches on, and so does this blog post, which I've been super excited to share. Here it is, as it would have appeared on Friday, had I not been hooked up to an IV in a Hudson Valley hospital:
There are some things in life about which I have absolute conviction. One of them is bagels. I'm a native of Long Island, NY. I have a bit of a love-hate relationship with the island. There are some things I adore about it… the ocean, beaches and surfing, the wineries and agriculture of the East End, the seafood, fishing and boating, the lacrosse. And there are things I could do without… incessant traffic, overpopulated overdeveloped suburbia, people who refer to it as "Strong Island." But one fact about Long Island is indisputable: it has the best bagels. Ever. In the world. Period.
Some people say it has to do with the water. I once knew a friend of a friend, a guy from Long Island, who moved to Florida and opened an incredibly popular bagel shop. His secret? He reportedly imported his water from Long Island. Every town has at least one, if not several, bagel shops. Early in the mornings on weekends, they'll be packed with customers waiting to take home a dozen or two fresh, hot bagels for their family's breakfast.
If you have never had a proper Long Island bagel, then I fear my attempt at describing it will fall far short of the sublime reality. First, they are boiled before being baked. This is a crucial step in the bagel-making process. They have a smooth, shiny, slightly crunchy exterior. And a moist, doughy, tender interior. They are best consumed fresh – hot straight from the oven; cooled later the same morning; or perhaps toasted the day after. That's it. You don't let them get stale. You don't store them in the freezer for later. You eat them now, and next weekend, go back to the bagel shop to get more.
Lox. Cream cheese. Peanut butter and jelly. Pizza sauce and mozzarella cheese. Butter. Ham and egg. Nothing at all. The Long Island bagel is the perfect delivery mechanism for any of the above.
And of course, these famed, exalted Long Island bagels of which I write have one very large drawback: gluten. It's been long enough that I can't remember the last time I had a proper Long Island bagel, and since I was diagnosed with Celiac Disease in early 2007, I know that I won't have one ever again. Unless I do something about it and make a proper Long Island bagel for myself.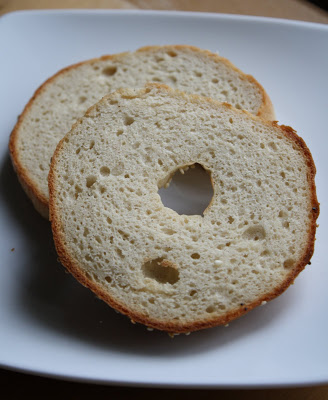 There are, of course, some gluten-free bagels to be found. A handful of bakeries, such as Mariposa, offer them. And Udi's and Kinnikinnick sell them in supermarkets fairly widely. Of the gluten-free bagels I've had, though, they've all lacked "authenticity." One thing or another about them just hasn't been right, hasn't matched up to the ideal in my mind of the perfect, quintessential Long Island bagel. And since the bagels are pre-made, and even perhaps found in the freezer section at the supermarket, you're never going to get a fresh, from the oven, hot and doughy on the inside gluten-free bagel. All the more reason to make your own.
There are, also, some gluten-free bagel recipes to be found on the Internet. Of the 6 or 7 I read, the ingredients and methods varied wildly. Many of the photos seemed to suggest a "bagel" quite different than the one I was aiming to make. I turned my attention elsewhere…to researching authentic gluten bagel recipes. With that knowledge in-hand, I made some important modifications to make a gluten-free version, and then made many more important modifications as my gluten-free bagel recipe went through 8 rounds of recipe testing over the course of about 2 months. The results, I believe, speak for themselves.
True to form, these bagels are boiled, then baked. They have a smooth, shiny, slightly crunchy outside. They have a moist, doughy inside. They are the gluten-free equivalent of a Long Island bagel. (Though I won't go so far as to say it is exactly like a Long Island bagel…) I would put good money, though, on a wager that these will be some of the best gluten-free bagels you'll have.
I'll admit right now so you're not surprised – they're a bit labor intensive. Working efficiently, it takes about 2.5 hours to go from "start" to "hot fresh bagels from the oven." But the result is worth it. (And the bagels can be allowed to cool, then sliced, and then stored in the freezer for later enjoyment…) I tested the recipe in 4 bagel batches, but I recommend multiplying the recipe so that your time spent yields more bagels for the effort!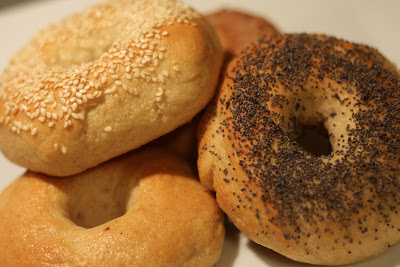 Bagels
Makes 4 bagels
Ingredients
3/4 c warm water
1 1/2 tbsp sugar
1 tbsp yeast
298g Artisan Gluten-Free Flour Blend (~2 1/4 c plus scant 2 tbsp)
7 g salt
1g xanthan gum (~1/4 tsp plus 1/8 tsp)
2 large egg whites
Non-stick cooking spray
Extra light olive oil
1 large egg white
Water
4 heaping tbsp sugar
Toppings (sesame seeds, poppy seeds, etc.)
Steps
Preparing the Dough
1. Set your oven with one rack in the middle, and one rack on the bottom. Place a deep 9X9 or 9X12 or similar baking pan on the bottom rack. Preheat to 200 deg F. When the oven reaches temperature, turn it off, and leave the door closed.
2. Meanwhile, bring a full teakettle of water to a boil. Turn off and let stand on the stove.
3. Spray a cookie/baking sheet with non-stick spray.
4. Add the 3/4 c warm water to the bowl of a stand mixer. Add the 1.5 tbsp sugar and stir until dissolved. Stir in the yeast and let sit about 5 minutes, until the yeast activates and forms a thick "yeast cake" on top of the warm sugary water.
5. In a separate small bowl, whisk together 124g (1 cup) of flour with the salt and xanthan gum.
6. Add the egg whites to the yeast mixture, and beat briefly with the paddle attachment. Add the flour mixed with salt and xanthan gum, and mix at slow, then medium, then medium-high speed until well-mixed. Scrape down the sides of the bowl with a spatula and briefly mix again.
7. Add 124g more (another 1 cup) of flour to the main mixing bowl. Again using the paddle attachment, mix at medium speed until well-mixed. Scrape down the sides of the bowl and briefly mix again.
8. Add the remaining 50g flour to the main mixing bowl. Switch to the dough hook and mix until all flour is incorporated and well-mixed, and forms a wet dough ball. Scrape down the sides of the bowl and briefly mix again.
9. Remove the dough hook, drizzle a bit of olive oil down the sides of the bowl, and toss the dough ball to coat evenly.
Forming the Bagels (Keep going! You're doing great!)
10. Pour some olive oil into a small cup or ramekin.
11. Liberally olive oil a smooth work surface. Turn out the dough ball onto the work surface. Olive oil the blade of a serrated knife. Cut the dough ball in half, and each half in half again, so that you have four equal quarters.
12. Liberally olive oil both hands, and roll each dough quarter between your hands, like you're making a large meatball, until the dough forms a perfectly smooth ball. (Take the time to make sure it's perfectly smooth. Any wrinkles or creases in the dough ball will get amplified as imperfections in the finished bagel as it rises.)
13. Place each smooth dough ball on the pre-greased baking sheet, evenly spaced apart by at least several inches. Gently pat down each dough ball to form a disc – you're aiming for thick hockey puck, not thin hamburger patty. (Again, try to keep the dough as smooth and undisturbed as possible…)
14. Dip your index finger in olive oil, then punch your finger straight down through the center of each dough disc, until you're touching the baking sheet beneath. Then, keeping your index finger in contact with the baking sheet, swirl it in a circle to enlarge the bagel hole, until about the size to fit a golf ball. Re-olive oil your finger as necessary if it's sticking to the wet dough.
15. Use a silicone or other brush to brush each bagel with a thin coating of olive oil.
16. These next instructions should all happen as quickly as possible: Place the baking sheet with the bagels on the middle rack of the oven. Pour the hot teakettle water into the baking pan on the lower rack of the oven. Shut the oven door. Whew!
17. Let the bagels rise in the warm, humid oven for 1 hour. No peeking!
Boiling and Baking the Bagels (Stay motivated! You're almost there!)
18. When there are 30 minutes left on the bagel rise, add 2 liters of water to a large, wide saucepot. Add 4 heaping tbsp sugar (about 1 heaping tbsp per half liter of water). Cover and bring to a boil. When a boil is reached, reduce the heat to low and hold temp until you're ready to boil the bagels.
19. Mix 1 egg white with equal parts water and whisk to make a basic egg wash.
20. When there are 15 minutes left on the bagel rise, remove the bagels from the oven and let them finish rising in a warm location, such as on the stovetop. Remove the baking pan filled with hot water from the lower rack of the oven. (Be careful!) Preheat the oven to 425 deg F.
21. At the end of the 1 hour bagel rise, place the baking sheet of bagels in the oven and "flash bake" them for 4 minutes, then remove from the oven. (This "sets" the bagels so they hold their shape for boiling.) Reduce the oven temp to 400 deg F. Flip the bagels over so they're upside down. Turn the stovetop burner on full blast to bring the pot of sugar water to a full boil.
22. Use a spatula to transfer the bagels to the boiling water. Depending on the size of your bagels and the size of your pot, you may be able to do one at a time, two at a time, or more. Boil the bagels for 3 minutes per side. Remove them from the water with a slotted spoon and return them to the baking sheet. (Turning them upside down after the flash bake, and then flipping them once during the boil, should ensure that they're right-side-up when you remove them from the boil and return them to the baking sheet.)
23. Brush each bagel with the egg wash, and while the egg wash is still wet, sprinkle the bagels with any desired toppings, such as sesame seeds, poppy seeds, or cinnamon sugar.
24. Bake at 400 deg F for about 22 minutes, until golden brown on the outside.
Enjoy!
This recipe is: gluten-free, dairy-free, peanut-free, tree-nut-free, fish-free, shellfish-free.


Don't be intimidated by the sheer number of steps in this recipe. It's really pretty straightforward, and I include a lot of detail to give you the greatest chance for success!


– Pete
P.S. In the interest of bloggerly love, we've also posted this recipe over at Simply Sugar and Gluten-Free's Slightly Indulgent Tuesday post.