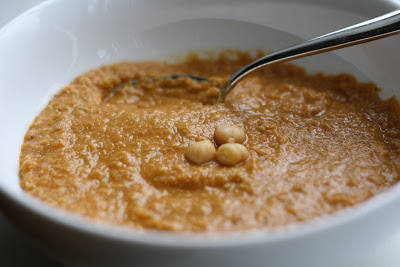 If you caught our Black Bean Soup recipe from one month ago, you know that we've been big into pureed bean soups lately. Today's recipe falls right in line. Packed with chickpeas, peppers, onions, mushrooms, tomatoes and peanut butter, it's a surprisingly hearty and "meaty" soup (despite the fact that it has no meat…).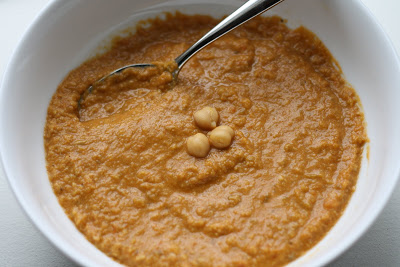 Peanut Butter Chickpea Soup
Makes 2-4 servings
Ingredients
4 garlic cloves, minced
1 green bell pepper, diced
1 green cubaneli pepper, diced
8 oz white mushrooms, sliced
1 medium onion, diced
1 14.5-ounce can diced tomatoes, no salt added
1 15.5-ounce can chickpeas, rinsed and strained
16 oz GF vegetable or chicken stock
1/3 cup natural peanut butter (lightly salted, no sugar added)
Olive oil
Dash ground cumin
Dash ground coriander
Dash ground turmeric
Salt and pepper (to taste)
1/4 lemon
Steps
1. Saute the garlic and peppers in a bit of olive oil in a medium saucepan, until the garlic is fragrant and the peppers are soft.
2. Add the mushrooms and saute until the mushrooms are soft, too.
3. Add the remaining ingredients through and including the spices. Stir to mix well.
4. Cover and simmer for 15 minutes. Remove the lid and simmer uncovered 5 minutes more.
5. Puree the soup with a handheld immersion blender.
6. Simmer 5 more minutes, or until desired consistency is reached.
7. Season to taste with salt and pepper. Add a squeeze of fresh lemon juice to brighten the flavor.
Enjoy!
This recipe is: gluten-free, dairy-free, egg-free, tree-nut-free, fish-free, shellfish-free, vegetarian (with vegetable stock).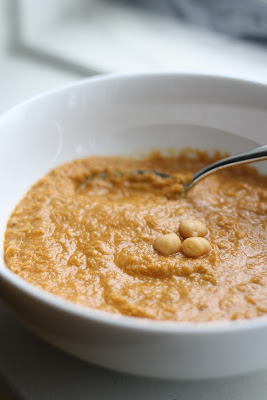 Have a great weekend!
– Pete
P.S. In the interest of bloggerly love, we've also posted this recipe over at Simply Sugar & Gluten-Free's Slightly Indulgent Tuesday post.