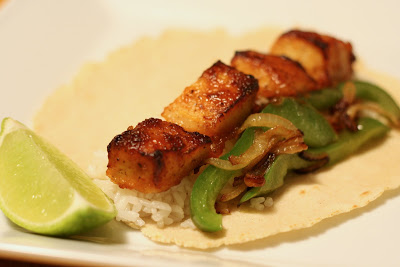 As I went to bed last night, I fully expected to wake up to a winter wonderland this morning. The mid-Hudson Valley was under a Winter Storm Warning, and in our neck of the woods, we were expecting 6 inches or more of heavy, wet snow. I can now report that we received exactly zero inches of accumulation. Which leads me to conclude that either a) the National Weather Service was playing an April Fools prank on us all, or b) the meteorologists got their forecast wrong (not that that ever happens…).
And so here I am, beating the same old drum… we're caught in a climatological purgatory, straddling winter and spring. To try to help push Mother Nature decidedly in the direction of spring, I'm channeling a dish we posted in a Friday Foto one year ago, in April 2010. Mahi-mahi fish tacos. Back then, the preparation was simple – fresh fish, seasoned with salt, pepper, fresh garlic, and lemon juice. This time around, we've kicked the fish tacos into high gear, with a chipotle agave marinade. We've broiled them again, but this time we've cut the fish into cubes before coating in the marinade. The result is an oh-so-perfect balance of moist, white fish inside to caramelized deliciousness outside.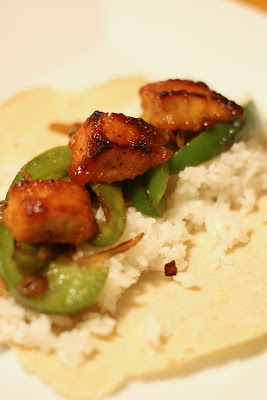 Chipotle Agave Fish Tacos
Makes 2-3 servings
Ingredients
1/2 tsp salt
1 tsp garlic powder
1/2 tsp chipotle powder
1/2 tsp black pepper
3 tbsp agave nectar
3 tbsp olive oil
1 lb mahi-mahi or other firm white fish, cubed
Steps
1. Preheat the broiler in your oven or toaster oven.
2. Combine all ingredients through and including the olive oil in a medium bowl and whisk to mix well.
3. Add the fish and toss to coat.
4. Place the fish, evenly spaced, in a shallow baking/roasting pan. Drizzle the fish with any remaining marinade from the bowl.
5. Broil for about 8 minutes, or until the marinade begins to caramelize, and the fish flakes easily and is fully opaque through the center. During broiling, brush the fish every 2 minutes or so with the marinade in the pan.
6. Serve with a wedge of lime.
Enjoy!
This recipe is: gluten-free, dairy-free, egg-free, peanut-free, tree-nut-free, shellfish-free, refined-sugar-free.
Note: If your marinade seems too thick, add one additional tbsp each of agave nectar and olive oil. Also, if the fish is caramelizing on top too quickly before it's cooked through, you can always carefully turn over the cubed fish to expose the bottom sides to the broiler.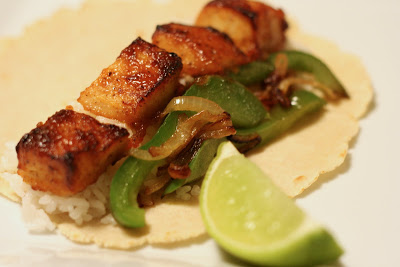 The fish has a great sweetness with a little bit of following heat (from the chipotle). Squeezing a bit of fresh lime juice over the top really brightens the flavor. We've paired it with fresh corn tortillas, jasmine rice, and sauteed peppers and onions, but you can go as tame or wild as you like your tacos to be!
Have a great weekend!
– Pete
P.S. If you love this recipe, you'll also definitely want to check out our recipe for ancho-agave shrimp!