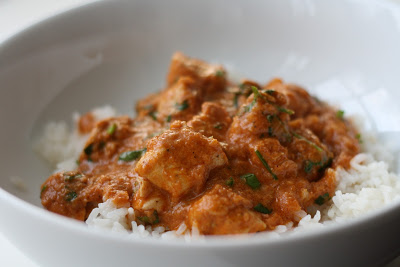 More than a year and a half ago, we posted a Friday Foto recipe for chicken tikka masala. It was a favorite of ours then, and has remained a favorite since. But over time, the recipe – as we make it regularly at home – has undergone some major changes, such that the version we make so often today is pretty much a distinct recipe from what we made back then.
This was partly a result of natural "drift" in the way we prepared the dish. But it also has been an intentional shift driven by two motivations. 1) The original dish included chicken grilled with a yogurt marinade. We wanted to simplify the preparation to make the dish easier to make and more accessible. (Hence, no grilling and no pre-marinade.) 2) We wanted a better depth of flavor in the sauce, or at least a slightly different flavor profile. Today's Friday Foto is the result.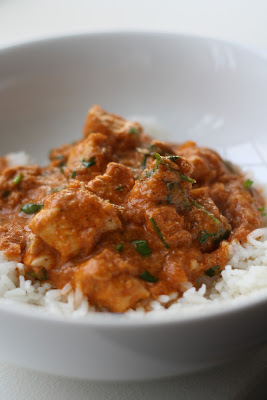 Chicken Tikka Masala 2.0
Makes 4 servings
Ingredients
3 boneless, skinless chicken breasts, cubed
Olive oil
Salt and pepper
1 tbsp butter + 1 tbsp olive oil
1 medium onion, sliced
1 large garlic clove, minced
1 tbsp fresh ginger, minced
1/2 tsp cayenne pepper (optional)
2 tsp ground cumin
2 tsp paprika
1 tsp garam masala
1 14.5-ounce can tomatoes (diced, no salt added)
1 cup heavy cream
1/2 cup GF chicken stock
1/3 cup fresh cilantro, chopped
Steps
1. Heat a bit of olive oil in a large skillet over medium-high heat. Saute the chicken until cooked, seasoning with a dash each of salt and pepper. Remove from the pan and set aside.
2. In the same skillet, over medium heat, melt the butter and the additional tbsp of olive oil. Saute the onion, garlic and ginger, until very soft, about 10 minutes.
3. Add the spices and stir to combine. Cook for one additional minute.
4. Add the tomatoes, heavy cream and chicken stock. Using a handheld immersion blender, puree until smooth.
5. Simmer uncovered for 10 minutes. Add the chicken, and simmer for an additional 10-20 minutes. (Simmering for longer will yield a richer, more intense flavor and thicker sauce.)
6. Add the fresh cilantro immediately before serving. Serve over rice.
Enjoy!
This recipe is: gluten-free, egg-free, peanut-free, tree-nut-free, fish-free, shellfish-free, refined-sugar-free.
– Pete
P.S. In the interest of bloggerly love, we've also posted this recipe over at Simply Sugar & Gluten-Free's Slightly Indulgent Tuesday post.