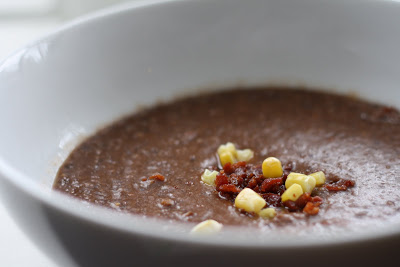 Lately we've been making a lot of pureed soups. They're a great way to sneak lots of different vegetables into a super tasty dish. Plus they're easy to make and easy to clean up! Today's black bean soup recipe is a perfect example. Kelli dreamt up the recipe, though I'll take credit for the addition of the corn, which makes for a nice sweet touch to the dish.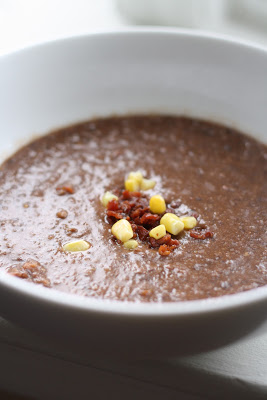 Black Bean Soup
Makes 2-3 servings
Ingredients
3 strips bacon
1 small onion, diced
1 garlic clove, minced
1/2 tsp ground cumin
1/4 tsp ancho chili powder
1/2 cup diced tomatoes with liquid (from a can)
1/4 cup corn kernels, plus extra for garnish
1 15.5-oz can black beans, rinsed
2 cups GF chicken stock
Salt and pepper to taste
Steps
1. Cut the bacon strips in half, then cook in a medium saucepan until crispy. Remove the bacon and set aside. When cool, crumble.
2. Saute the onion and garlic in the bacon fat over medium heat, until the onions are soft and translucent.
3. Add the spices and saute for 30 seconds more.
4. Add the tomatoes, corn, beans and chicken stock, plus 2/3 of the crumbled bacon, and puree with an immersion blender.
5. Bring to a boil, turn the heat down to simmer and cook uncovered for 15-20 minutes, until reduced by at least 1/3 and until the soup reaches the desired consistency.
6. Season to taste with salt and pepper.
7. Serve, garnishing each bowl with corn kernels and crumbled bacon.
Enjoy!
This recipe is: gluten-free, dairy-free, egg-free, peanut-free, tree-nut-free, shellfish-free, fish-free, refined-sugar-free.


The recipe is easily made vegetarian by omitting the bacon and using vegetable stock in place of chicken stock, but I'll admit…the bacon really adds another dimension to the flavor.
– Pete
P.S. In the interest of bloggerly love, we've also posted this recipe over at Simply Sugar & Gluten-Free's Slightly Indulgent Tuesday post.