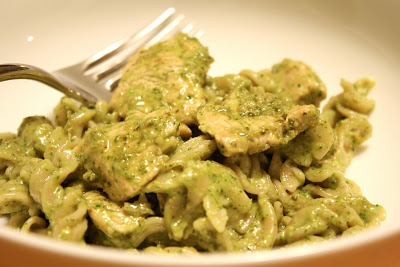 The official calendar start of spring is just 10 days away. Although part of me is not yet ready to let winter go, we're particularly excited for the coming spring because, for the first time, we've rented a 20'x20′ plot at a local community garden. It's located just one mile down the road from our house, at the Vassar Farm and Ecological Preserve.
We've bought our seeds, we're planning and prepping, and soon, it'll be growing season. I predict that, over the course of the coming months, this blog and our recipes will feature lots of fresh, homegrown produce. (Yeah!)
Cilantro will likely be one of our first harvests. It grows quickly, and it dislikes heat, preferring sunshine but cooler weather. This makes it thrive particularly well during spring. To that end, today we're featuring cilantro in an unconventional but very tasty pesto. Traditionally made with basil and pine nuts, this alternative pesto instead uses cilantro and walnuts.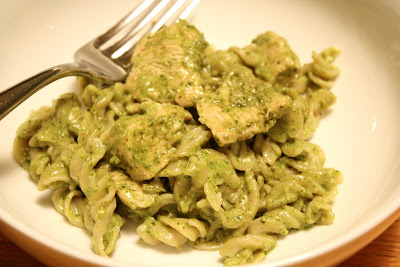 Cilantro Pesto
Makes 4 servings
Ingredients
1 bunch cilantro
1/2 cup extra light olive oil
1 cup walnuts
1/2 lime, juiced
1 tsp jalapeno pepper, de-seeded
3 garlic cloves
1 tsp apple cider vinegar
Salt and pepper
2 boneless, skinless chicken breasts, sliced or cubed
6 oz GF pasta (about 1-2 cups, depending on the noodle)
Steps
To make the pesto:
1. Combine all ingredients through and including the apple cider vinegar in a food processor and pulse until smooth. Season to taste with salt and pepper.
To prepare the dish as photographed:
2. Boil your favorite GF pasta.
3. Meanwhile, sautee the chicken in a little bit of olive oil in a skillet until done.
4. Strain the pasta, and combine with the chicken in the same pot used to boil the pasta.
5. Add the pesto, toss to evenly coat, and serve.
Enjoy!
This recipe is: gluten-free, dairy-free, egg-free, peanut-free, fish-free, shellfish-free, refined-sugar-free.
Note: The recipe is easily made vegetarian and vegan by omitting the chicken. If doing so, add vegetables and other ingredients to bolster the nutrition. (Unless you simply have a craving for a big old bowl of pasta…)
– Pete
P.S. In the interest of bloggerly love, we've also posted this recipe over at Simply Sugar and Gluten Free's Slightly Indulgent Tuesdays post.