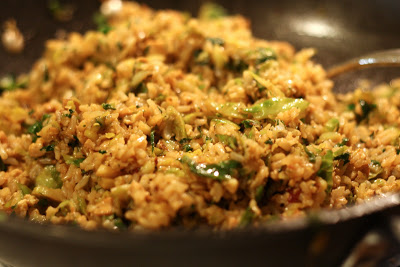 Streaks. We usually talk about them in the context of sports. Consecutive games played. Consecutive wins. Consecutive seasons with a playoff appearance. You get the idea. But streaks also happen – at least for us – in cooking. For much of the winter, we've had two streaks going: consecutive weeks eating brussel sprouts, and consecutive bimonthly fried rice dinners.
I'll just plain say it: we can't get enough brussel sprouts. To co-opt a famous SNL skit, "I've got a fever, and the only cure is more brussel sprouts." We've been eating them weekly, usually quartered, tossed in olive oil, dusted with salt, pepper and garlic powder, and roasted in the oven. (We do the same preparation with asparagus on the grill.) Sadly, the brussel sprout season is fast coming to a close…
About one month ago, we posted a recipe for chicken fried rice. We don't eat it quite as regularly as we've been devouring brussel sprouts, but it does make an appearance on the dinner table about once every two weeks. Partly, it's tasty. But also, Marin loves it. It's one of those foods that she'll consistently eat well. Fried rice nights are nights on which she happily joins the "clean plate club," as Kelli grew up calling it.
In today's Friday Foto recipe, those two worlds of brussel sprouts and fried rice unexpectedly come together in surprising and delicious ways. I came home late one afternoon/evening – neither Kelli nor I can remember exactly why – and dinner was almost ready. "We're having fried rice…with brussel sprouts and tofu," she told me. I did a double take. Fried rice with what? I loved them both independently, but had never considered putting them together. From the first bite, though, I was in heaven.
It was undoubtedly fried rice at its heart. But the brussel sprouts were prominent, too. Incredibly, it worked. The flavors complemented one another wonderfully. If I can say one thing about the dish it is this – Make it. Now. Before brussel sprouts go out of season until much later this year. If you like brussel sprouts, or fried rice, or both, you won't be disappointed.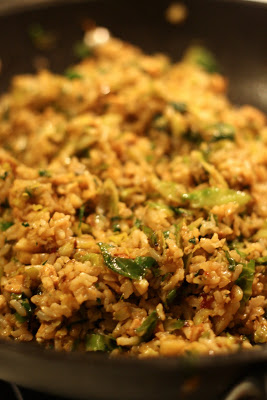 Brussel Sprout & Tofu Fried Rice
Makes 4 servings
Ingredients
brown rice (1 dry cup cooked in 2 cups water, with a touch of olive oil and salt, then cooled)
1 tsp chili sauce
2 tbsp brown sugar
3 tbsp tamari wheat-free soy sauce
2 tsp sesame oil
1 1/2 tsp dry sherry
3 tbsp water
4 oz extra-firm tofu, cut into small cubes
4 cups (about 10 oz) shredded brussel sprouts
3 garlic cloves, minced
1/4 cup chopped cilantro
3 scallions, chopped
5 tbsp olive oil
Steps
1. Cook and cool the brown rice ahead of time, or cook the brown rice, transfer to a large bowl, and pop it in the refrigerator while you work on the remaining steps.
2. Mix together the chili sauce and all ingredients through and including the water in a bowl. Add the tofu to marinate and set aside.
3. Heat 2 tbsp olive oil in a hot wok or large skillet. Add the garlic and brussel sprouts and stir fry until semi-soft and the edges of the brussel sprouts begin to brown. Remove the garlic and brussel sprouts from the wok.
4. Add 1 tbsp olive oil to the wok. Use a slotted spoon to remove the tofu from the marinade (reserve the sauce). Stir fry the tofu until golden brown.
5. Move the tofu to the edges of the wok. Add the remaining 2 tbsp olive oil. Add the brown rice and stir fry until heated and separated.
6. Pour the reserved sauce over the rice, add the stir-fried garlic and brussel sprouts, and add the cilantro and scallions. Mix everything together well (making sure the sauce evenly coats all the rice), remove from the heat, and serve.
Enjoy!
This recipe is: gluten-free, dairy-free, egg-free, peanut-free, tree-nut-free, fish-free, shellfish-free, vegetarian
– Pete