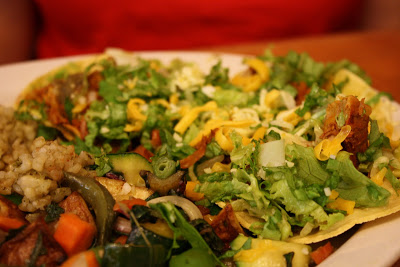 Earlier this morning I happened to peek at the National Weather Service forecast for Telluride, Colorado. Skiers, rejoice! After a short dry spell, snow is back in the forecast, starting tomorrow, and continuing for something like the next five days. If you head to this secluded but gorgeous spot in southwestern Colorado's San Juan Mountains, and you get the craving for Mexican, make haste to La Cocina de Luz, "The Kitchen of Light."
Located on Telluride's main drag, Colorado Avenue, it's open year-round and perennially popular with tourists and locals alike, always a good sign. Plus, this counter service operation has relatively affordable prices ($10-$19 per entree), a rare find in a town where many restaurants' prices are as steep as the slopes of the surrounding mountains.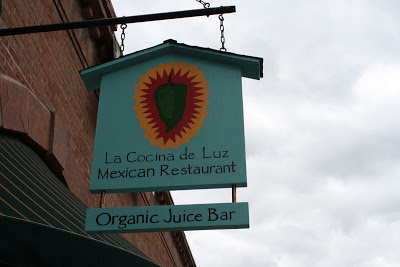 The establishment is gluten-free savvy, and serves up the usual Mexican-American fare – tacos, tostadas, enchiladas, you know the drill. They make a from-scratch margarita (ours were quite stiff!), and more recently, have started serving New Planet gluten-free beer (as diligently reported by Kate at Think Outside the Breadbox).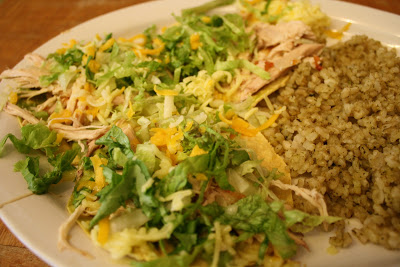 On our visit we both ordered tacos – spicy pork for Kelli and chicken for me. The photos don't nearly do the food justice. Served with a side of Spanish rice, each plate featured three soft corn tortillas, loaded up with meat, shredded lettuce, and other fixin's. Delicious. Simple food. Fresh ingredients. Casual atmosphere. Totally satisfying Mexican.
When in Telluride, if your south-of-the-border-hunger strikes and you need a gluten-free Mexican fix, this is the place to go.
– Pete