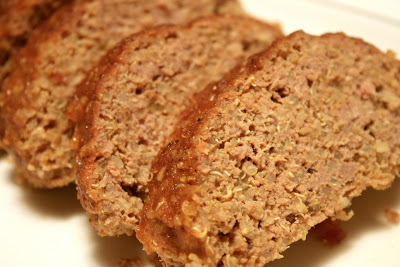 Turkey Quinoa Meatloaf
Yesterday and today have been unseasonably warm in our neck of the woods, with temperatures in the 50s. While it wistfully reminds many New Yorkers of a coming spring, I for one am glad that winter isn't over yet. (There's still skiing and ice climbing to be done!) Tomorrow temps dip once again as Old Man Winter returns (thank goodness).
Apart from the outdoor adventure aspect, the continuing season of cold and snow also still has us in a winter frame of mind with the foods we eat. Few things say "winter" (not to mention "comfort food") like a nice meatloaf.
Today's meatloaf, however, is unlike any we've made before. It contains no bread crumbs – gluten-free or otherwise – instead opting to use cooked quinoa. It may sound a little unconventional, and maybe it is, but it really works. The result is a flavorful, moist and tender meatloaf that has garnered rave reviews from family and friends. (It's also pretty healthy to boot, thanks to lean turkey and protein-rich quinoa…)
Turkey Quinoa Meatloaf
Makes 4 servings
Ingredients
1/4 cup quinoa
1/2 cup GF chicken stock
1 small onion, diced small
2 garlic cloves, minced
1 pound ground turkey
1 egg
1 1/2 tbsp ketchup
10 dashes GF hot sauce (e.g. Frank's)
2 tbsp GF Worcestershire sauce
1 tsp salt
1 tsp ground black pepper
2 tbsp light brown sugar
2 tsp GF Worcestershire sauce
Steps
1. Combine the quinoa and chicken stock in a pot, bring to a boil, reduce heat to a simmer, and cook for about 12 minutes, until all the liquid is absorbed and the quinoa is clear. Stir and turn out into a large bowl and let cool.
2. Meanwhile, prep the onion and garlic, and preheat your oven to 350 deg F.
3. Combine the cooked quinoa and all ingredients through and including the ground black pepper in a large bowl and "knead" with your hands until well-mixed.
4. Form the mixture into a loaf on a large pan.
5. Whisk together the brown sugar and 2 tsp Worcestershire sauce to make a glaze, and brush the meatloaf to evenly coat.
6. Bake for 45 minutes, or until the internal temperature measures 150+ deg F in the center with a meat thermometer (planning for 10 degrees of carryover).
7. Remove from the oven and let rest 10 minutes before slicing.
Enjoy!
This recipe is: gluten-free, dairy-free, peanut-free, tree nut-free, fish-free, shellfish-free.
– Pete
P.S. In the interest of bloggerly love, we've also posted this recipe over at Simply Sugar and Gluten-Free's Slightly Indulgent Tuesdays post.