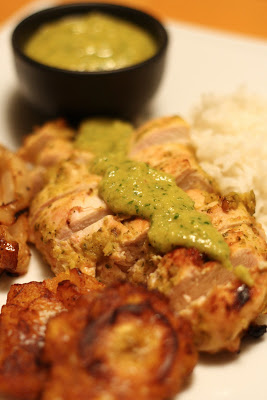 Valentine's Day is just around the corner (Monday!). In honor of the occasion, we wanted to post a romantic recipe in today's Friday Foto. At first, we weren't sure which recipe to use from our upcoming roster.
What makes a recipe romantic? Must it have a nice steak? Something red or pink? Involve wine? Maybe. Is it a special meal prepared for that special someone? Sometimes.
But for us, the most romantic meals we make are often the ones we cook together in the kitchen. They're tag-team efforts. Our romantic partnership of two people becoming one unit is embodied in the food on our plates.
From that perspective, this mango chicken recipe is as romantic as it gets. Kelli prepared the mango sauce while I grilled the chicken. The mostones were a true team effort. Kelli got the rice going while I caramelized some onions.
When it was finally time to sit at the dinner table to enjoy the meal, we could look across that table into each other's eyes and say, without words, "We made this." It doesn't get much more romantic than that.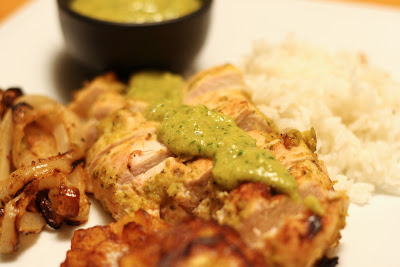 Mango Chicken
Serves 2+
Ingredients
1 mango, peeled and pitted
1/2 jalapeno pepper
1 shallot
1 garlic clove
2 tbsp cilantro
2 tbsp olive oil
Juice from 1/2 lemon
1/4 tsp ground cumin
1/8 tsp (pinch) chipotle chili powder
A dash each of salt and pepper
2 large chicken breasts
Steps
1. Add all ingredients except the chicken to a food processor and pulse to form a smooth sauce/marinade.
2. Reserve 1/2 cup of the mango sauce.
3. Preheat your grill to medium-high.
4. Use the remainder of the mango marinade to marinate the chicken and baste/brush while grilling.
5. When the chicken is done grilling, allow it to rest for a few minutes, then slice.
6. Plate the sliced chicken, and top it with some of the reserved mango sauce.
This recipe is: gluten-free, dairy-free, egg-free, peanut-free, tree nut-free, fish-free, shellfish-free, corn-free, soy-free, refined-sugar-free
* To prepare the dish as photographed, pair it with some mostones, caramelized onions, and jasmine rice.
– Pete
P.S. Update: 2/15/11 – In the interest of bloggerly love, we've also posted this recipe over at Simply Sugar and Gluten-Free's Slightly Indulgent Tuesdays weekly post…