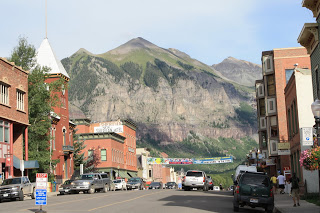 Colorado Avenue, Telluride's main drag
Tucked away in a box canyon, nestled up against the rugged San Juan Mountains, in a remote corner of southwestern Colorado, Telluride rates as one of our favorite mountain towns anywhere. It's unique, even among Colorado's mountain towns. The downtown's proximity to soaring peaks (and the subsequent postcard views everywhere you look) is rivaled by few and feels positively European, straight out of Chamonix or the like. The historic Victorian architecture, the ski resort, the restaurants, the blend of died in the wool locals with second home affluence and tourists, the authenticity of the community, and the out of the way location all make for an idyllic mountain getaway. It even has a remarkably good gluten-free scene:
Supermarkets
Clark's Market (
www.clarksmarket.com
) – On your way into town. Small by "normal" supermarket standards, but has a surprisingly diverse selection of gluten-free specialty foods.
The Village Market – On Fir Street toward the east end of town. Some gluten-free options.
The Market at Mountain Village (
www.mountaingrocery.com
) – On the mountain at the ski resort base area. Considerably more expensive than either Clark's or Village Market, but convenient if you're staying slopeside.
Restaurants
Allred's Restaurant (
www.allredsrestaurant.com
) – An excellent upscale, on-mountain dining experience with local Rocky Mountain fare. Located at Saint Sophia, the mid-station on the gondola between Telluride and Mountain Village. Does a great job accommodating gluten-free dietary needs. (Read our
review
.)
The Butcher and the Baker – A cafe with gluten-free wraps and, on Sunday mornings only, gluten-free blueberry pancakes. (Read a review at
Think Outside the Bread Box
.)
Cosmopolitan Restaurant (
www.cosmotelluride.com
) – New American cuisine. Extensive local foods featured on the menu. Does a great job accommodating gluten-free dietary needs. (Read our
review
.)
Honga's Lotus Petal (
www.hongaslotuspetal.com
) – Asian. A growing set of gluten-free menu options, including gluten-free tempura, pad thai, and curry dishes. Be vigilant about potential cross-contamination in certain dishes. (Read our
review
.)
Siam – Aside from Honga's, Telluride's other go-to spot for Asian, with some gluten-free menu options.
Local Resources
Think Outside the Bread Box
blog – Kate at TOTBB lives and works in Telluride, and is totally dialed in to the local gluten-free scene.
– Pete