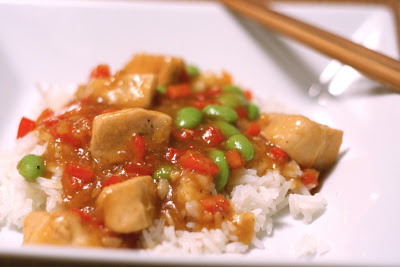 Pacific Rim stir fry with chicken, red bell pepper and edamame
I need a vacation. Pronto. (Don't we all?) I'm not talking a staycation, where you take time off from work but remain close to home. And I'm not talking about a trip, which differs from a vacation in that vacations are relaxing, while trips involve "work," such as high-altitude mountaineering in Bolivia (which we did during the summer of 2007, 6 months after I went gluten-free). No, I need a proper vacation,
Fortunately, we take a kind of vacation every time we cook. Food brings us together in the moment, but it can also transport us to other places and times. Such as this Pacific Rim stir fry, which has flavors and ingredients evocative of a 2006 trip the Big Island of Hawaii. Pineapple, ginger and tamari wheat-free soy sauce combine to create a flavorful sauce for chicken, red bell pepper and edamame. It's not quite a plane ticket to Maui, but we'll take it. (And besides…the girls' passports just arrived, so look out gluten-free world. Here we come!)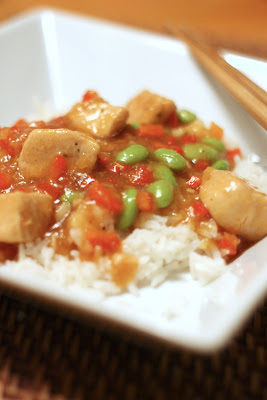 Pineapple and ginger are the stars of the sauce
Pacific Rim Stir Fry
Makes about 4 servings
Ingredients
Olive oil
1 very large chicken breast, or 2 average chicken breasts, cubed
Salt and pepper
1 heavy tablespoon minced ginger
4 cloves minced garlic
1 cup pureed fresh pineapple
2 tablespoons tamari wheat-free soy sauce
2 tablespoons cornstarch dissolved in 1/4 cup water
1/2 cup water
1/2 large red bell pepper, diced
1/2 cup cooked, shelled edamame
Steps
1. Saute the chicken in a tablespoon or two of olive oil. Season with a pinch each of salt and pepper.
2. Halfway through cooking the chicken, add the ginger and garlic. When the chicken is cooked through, remove from the pan and set aside.
3. Add the pineapple puree, soy sauce, water, and dissolved cornstarch. Bring to a boil and reduce to a simmer. Cook until the sauce thickens and the cornstarch clears.
4. Add the chicken back to the sauce in your pan, toss to coat, and cook for 3-4 minutes.
5. Add the pepper and edamame at the end for 2-3 additional minutes.
Serve over rice and enjoy!
Note: Edamame can often be bought pre-cooked, in the pods, in the freezer section of many grocery stores. To use in this recipe, as we did, defrost the edamame and remove from the pods.
This recipe is: gluten-free, dairy-free, egg-free, peanut-free, tree nut-free, fish-free, shellfish-free