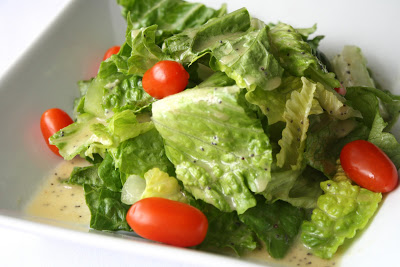 With winter firmly entrenched in our neck of the woods, our dinners have been gravitating toward the heartier, body-and-soul-warming variety. Slow cooker meals. Roasts. Stews. Soups. While delicious, after a while it all starts to feel a bit heavy. At those times, I find myself craving a fresh salad…something crisp and clean to cleanse my seasonal palate, in a sense.
Kelli's a master at whipping up from-scratch vinaigrettes on the fly. (I can't remember the last time we bought a salad dressing at the supermarket.) But this time, she really surprised me (and herself, too, I think) with this horseradish poppy seed dressing.
The prominent horseradish flavor is unlike any I've had in a salad dressing before, but it was a nice change from our usual vinaigrettes. And you know what? It really works. This dressing has "zest" and an edge as "crisp" as the crunchy bite of a fresh piece of Romaine lettuce.
Horseradish Poppy Seed Dressing


Ingredients
1/2 cup apple cider vinegar
1/2 cup olive oil
2 tbsp honey mustard
1 tsp prepared horseradish
1/4 tsp poppy seeds
Steps
Combine all ingredients.
Enjoy!
This recipe is: gluten-free, dairy-free, egg-free, peanut-free, tree nut-free, fish-free, shellfish-free, corn-free
* The recipe would also be soy-free, but prepared horseradish sometimes has soybean oil in it.
– Pete
P.S. Update: 2/1/11 – In the interest of bloggerly love, we've also posted this recipe over at Simply Sugar and Gluten-Free's Slightly Indulgent Tuesdays weekly post…