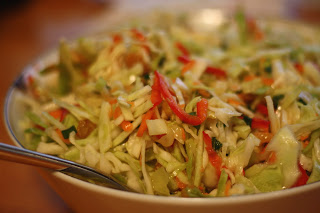 This past Sunday, we celebrated Marin's 2nd birthday. With around 15 people in attendance, we wanted to serve something that worked well for a larger group. We opted to go with pulled pork, served with a side of vinegar slaw. It has bright, clean flavors – the red pepper adds a great pop of color, and the addition of golden raisins adds some unexpected subtle sweetness.
Ingredients
1 head green cabbage, sliced very thin
1 red pepper, sliced very thin
4 scallions
1 carrot, shredded
1/2 cup golden raisins
3/4 cup sugar
1 tsp salt
2/3 cup olive oil
1 tsp dry mustard
1 cup apple cider vinegar
Steps
1. Combine the first five ingredients (through and including the raisins) in a bowl.
2. In a small saucepan, mix the other ingredients and bring to a boil. Reduce to a simmer and stir until all the sugar dissolves.
3. Pour the vinaigrette over the slaw and toss.
Note: While not strictly necessary, we recommend refrigerating the slaw and serving it cold.
Enjoy!
– Pete