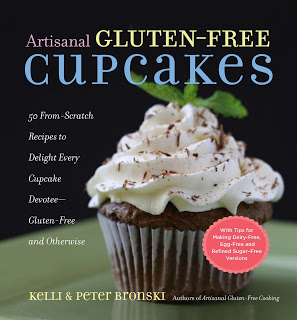 Santa arrived about 12 hours early in the Bronski household this year, and he brought us a fabulous present…a completed cookbook manuscript, which we finished and submitted to our publisher just a little while ago! This was a monumental weight off our shoulders, just in time to properly celebrate the holiday.
The photo above is a working cover, not yet finalized, of
Artisanal Gluten-Free Cupcakes
. The book's official scheduled publication date is June 2011, but we're working hand-in-hand with our publisher to see that it comes out earlier, hopefully sometime during spring. For now, it's available for pre-ordering at
Amazon
and
Barnes & Noble
.
And now, if you'll excuse me, I'm going to go hang out with my ladies, visit family for Christmas, and do a whole lot of nothing for the weekend. Have a happy holiday!
– Pete