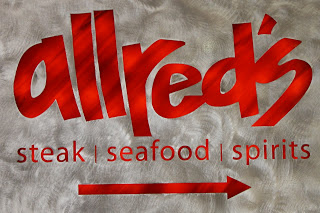 Perched high on the mountain at the St. Sophia gondola station between Telluride and Mountain Village, the view from Allred's alone might be worth dining here, even if you couldn't eat a thing on the menu. Fortunately for the GF crowd, the restaurant proves especially accommodating. They use no thickeners in their sauces and soups, much of the menu is naturally gluten-free, and perhaps most comforting of all, General Manager Carrie Smith is gluten-free. She and her staff can help you safely navigate the menu en route to an elevated GF dining experience. Granted, you'll pay for that experience. Allred's can be pricy. But the view plus the food make it a must-dine destination when in Telluride.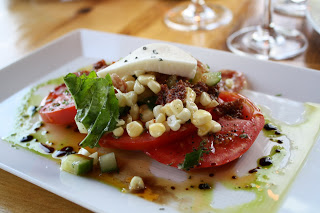 Olathe Sweet Corn and Montrose Tomato appetizer
Like many higher-end restaurants these days, Allred's is sourcing much of its menu locally. It doesn't necessarily market itself as farm-to-table, but it's in that spirit. Which is maybe best embodied by an Olathe sweet corn and Montrose tomato appetizer I had during a recent visit. Every ingredient on the plate was hit-you-over-the-head fresh and absolutely delicious. Now, keep in mind that by the time you're likely skiing in Telluride this winter, such local, seasonal ingredients won't be in season. So an appetizer like this won't likely be on the menu. But it will surely be replaced with something appropriately seasonal and tasty.
Olathe Sweet Corn soup with wild harvested local mushrooms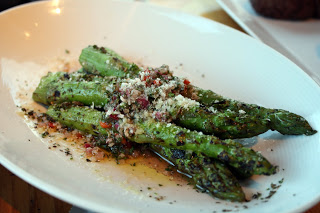 Asparagus. 'Nuff said
Sides, such as the asparagus, are served family style, which makes it great to order a number of things and share.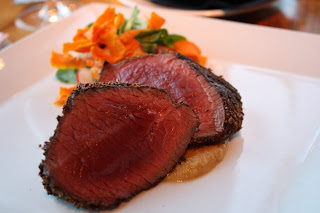 Elk loin
I never pass up an opportunity to have a truly great piece of elk, and Allred's didn't disappoint. The loin was perfectly seared on the exterior, while remaining raw in the middle, like a fine piece of sushi-grade tuna. Several sauces on the side complemented the meat, but didn't overwhelm the lean, delicate flavors of the elk.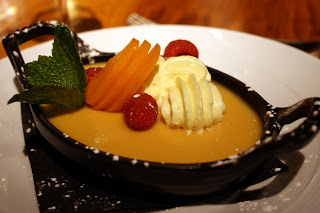 Apricot panna cotta
Finally, to conclude a very long and leisurely meal (the best way, I'm convinced, to enjoy Allred's), dessert consisted of the apricot panna cotta with a white chocolate mousse. All I'll say about it was that it tasted like an apricot creamsicle. Heavenly.
In the end, Allred's was the kind of dining experience where – having fully soaked in the view, and having spent several hours making my way through numerous courses – I left with a single sentiment: delightful.
– Pete