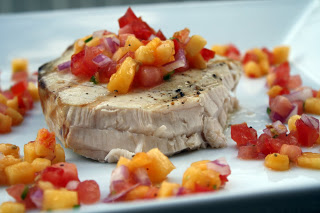 It's been nearly 15 years since I've had a bite of swordfish. In fact, I can remember quite specifically the last piece of swordfish I ate. It was during the mid to late 1990s at Claudio's in Greenport, NY. About that time, there was a growing public consciousness about the precarious state of the swordfish fishery; that overfishing had decimated the population, threatening the collapse of the fishery, if not extinction of the species. I made a decision then and there to vote with my wallet and my appetite and abstain from swordfish.
A decade and a half passed by, and over the course of that time, a remarkable thing happened. Swordfish recovered. (For more on the status of swordfish, check out the Monterey Bay Aquarium's
Seafood Watch page
on the subject.) When we saw
Marine Stewardship Council
certified sustainable, wild-caught swordfish in our local Whole Foods, Kelli and I looked at one another. The fast was over.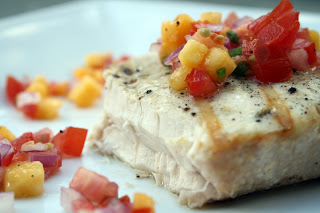 At the same time, I've also been feeling a renewed commitment to eat locally and seasonally. Not that I ever abandoned that ethos. But over the course of the last two weeks, I went to the Telluride farmers market, ate at wonderful Telluride restaurants showcasing local ingredients, went to the Santa Monica farmers market, and ate at wonderful Santa Monica restaurants showcasing local ingredients. It was like receiving an injection of motivation.
And so, when Kelli and I were brainstorming what kind of salsa we might pair with our swordfish, we both thought the same thing…Colorado produce that's local and in-season right now. Which meant Colorado-grown hothouse tomatoes, Palisade peaches from the Western Slope, and an assortment of other organic, mostly local ingredients. This recipe is the result.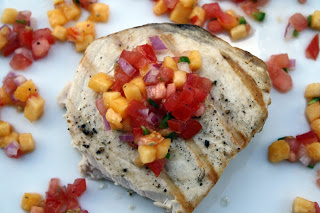 Grilled Swordfish with Peach Salsa
Peach Salsa
1 large yellow peach, diced small
1 small jalapeno, de-seeded, minced
1/2 medium red onion, diced small
2 hothouse tomatoes, diced small
1 lime, juiced
salt and pepper
Grilled Swordfish
1 to 3 lbs swordfish steak
olive oil
salt and pepper
Steps
1. To make the salsa: Combine all ingredients in a small to medium bowl. Toss to mix well. Season to taste with a dash each of salt and pepper.
2. To prep the swordfish: Rinse under running cold water and pat dry with a paper towel. Preheat your grill on high, turn the temperature down to medium heat, and well oil the grate or coat liberally with non-stick cooking spray.
3. Rub each side of the swordfish with a light coating of olive oil, and sprinkle each side with salt and pepper.
4. For a steak that's about 1.5 inches thick, grill 10-12 minutes on the first side without disturbing.
5. Then, using a very large/wide spatula (or two smaller spatulas) make sure the fish isn't sticking to the grill grate anywhere, and then carefully flip to the second side. Grill about 8 more minutes, or until the fish is opaque all the way through and flakes easily with a fork (but is still moist and tender throughout).
6. Plate the swordfish, and top with peach salsa.
Note: The peach salsa recipe makes enough salsa to go with about 3 pounds of swordfish, but you can also grill less fish and enjoy the surplus salsa with some corn tortilla chips (or reduce the recipe).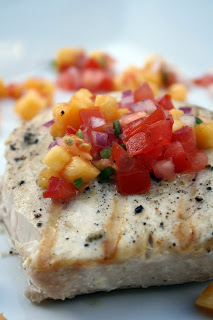 I can't think of a better way to have ended my long absence from swordfish. The moist, tender, yet firm meat was succulent. The fresh sweetness from the peaches, combined with the acidity from the lime and tomatoes, and the bite from the red onion and subtle jalapeno (not to mention the vibrant pop of color!), made for a perfect pairing with the fish, whose flavor still shone through. Enjoy!
– Pete