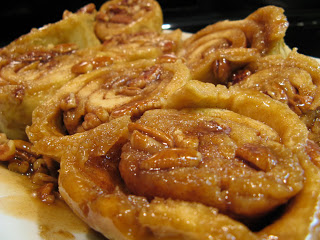 Kelli's a voracious reader of fiction.  After my aunt got her hooked on Jodi Picoult (at least, I think that's how the story goes…), Kelli worked her way through pretty much all of Picoult's novels.  Her most recent read was Handle With Care, which came out last year.  The book is sprinkled throughout with recipes (as well as, coincidentally, a character named Marin).  And on pages 343-344, you'll find a recipe for Sunday Morning Sticky Rolls.  Which inspired Kelli to modify our own Cinnamon Bun recipe (which you'll find on pages 36-37 of our cookbook) to make Sticky Buns…in all their sugary, sticky, gooey goodness.
The base dough for making the Sticky Buns is identical to our Cinnamon Buns.
For the filling, Kelli took a page out of Picoult's recipe and used 6 parts white sugar to 6 parts brown sugar to 1 part cinnamon, mixed them together, and spread the cinnamon-sugar on the dough (already brushed with some melted butter) before rolling it and cutting the rolls to size.
For the "sticky"part of the Sticky Buns, we (Kelli) made a basic caramel with brown sugar, salted butter, and corn syrup, plus some halved pecans.
Finally, to bring it all together, the caramel got poured into a 13×9 baking pan, sprinkled with the pecan halves, and lastly, loaded up with the buns, evenly spaced.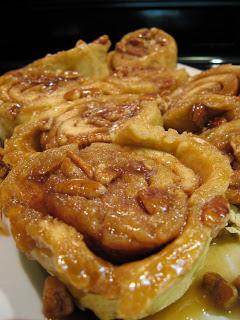 They should bake for about 35 minutes in a 350-degree oven.  (You want the dough to cook through, but don't want to cook the buns so long that the sugar turns hard.)  Turn the buns out of the baking pan onto a serving tray, so that the sticky side is on top and all of that yummy goodness oozes down into and over the buns.
Enjoy!
– Pete